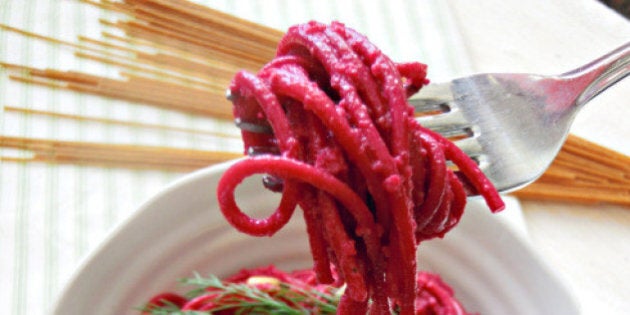 This may be the first time I've used the word "stunning" to describe a pasta dish, but oh wow, look at that colour!
This dish gets me really excited. Many pasta sauces are high in salt (tomato-based sauces) or high in fat (cream-based sauces), but not this one, thanks to the beets.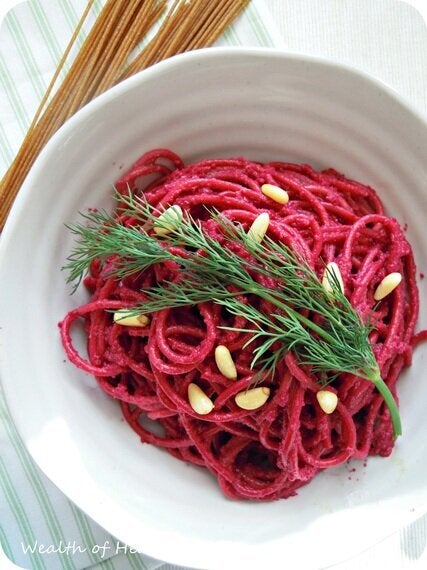 The high natural sugar content of beets satisfyingly sweetens soups, salads, and even desserts. You can also eat them raw (juiced or grated into salads), baked, steamed, pickled (and check out this delicious beetroot hummus).
But what's sweeter is the incredible nutrition they boast. Beets are packed with fibre, vitamins, minerals, and unique plant derived antioxidants. They also have special anti-inflammatory properties that can help fight heart disease and certain cancers. Beets also act as detoxifiers on the liver.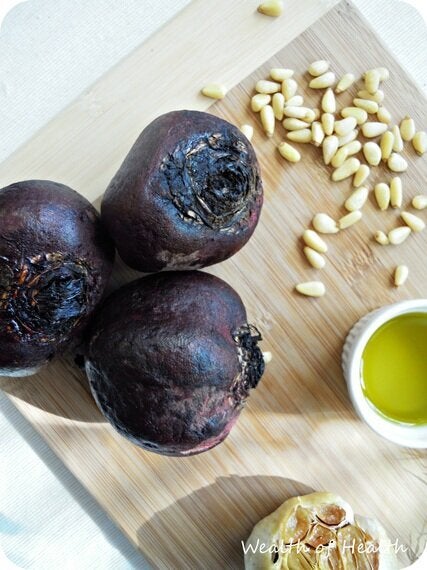 Did you know that beets were originally grown only for their leaves? Their edible leaves can be prepared just like Swiss chard or spinach. Like the root, they're also rich in nutrients.
1 lb red beets (4 to 5 medium), trimmed and scrubbed
1/2 cup roasted pine nuts
1/3 cup parmesan cheese, grated
1/4 cup olive oil (I used flaxseed oil)
1 lb (450 g) whole wheat spaghetti (or any other pasta)
-Preheat oven to 400 degrees F
-Drizzle beets and garlic clove with oil
-Individually wrap tightly in foil and roast until tender, about one hour
-Remove from oven, remove foil, and let cool
-Peel skin off beets with fingers (or a peeler) and coarsely chop
-Remove the roasted garlic from the clove
-In a food processor, combine roasted beets, garlic, oil, pine nuts, and parmesan cheese
-Pulse until smooth and creamy
-Season with salt and pepper to taste
-Cook pasta according to package directions. Drain, and return to pot
-Toss pasta with the beet mixture
-Garnish with pine nuts, Parmesan cheese, and fresh dill