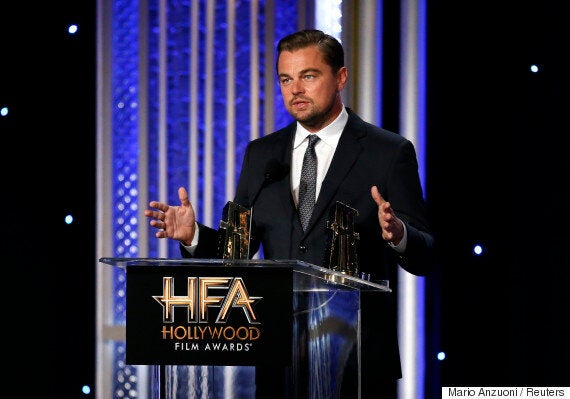 If nothing else, Before the Flood allows viewers a glimpse at Leo DiCaprio's apparently tortured thought process. The results aren't pretty, but they tell you a lot.
At the end of the day, the film is about a famous, globetrotting real-action figure, haunted by end-of-the-world nightmares.
You certainly won't learn by watching the film that, since 1990, Canadian oil sands producers have reduced per-barrel GHG emissions by an average of 30 per cent, and that some achieved reductions as high as half. You'll miss the fact the oil sands contribute only 0.15 per cent of global GHG emissions, and that just 1.6 per cent of all of emissions come from Canada.
And you'll not be told -- even during an oil sands flyover segment -- that mining is just one aspect of the Alberta industry, and a diminishing aspect at that, accounting for less than one per cent of the oil sands land area over the last fifty years of development. Information on the growing, and far less invasive in situ oil extraction techniques never makes it into the film. Nor does Alberta's climate leadership regarding plans for an emissions cap and a price on carbon. Leo doesn't mention that Canada is a global leader in energy regulation and environmental progress, either.
But like the Hieronymus Bosch poster above Leo's crib throughout his childhood, placed there by his comic-book-loving father, Before the Flood is chock full of scary images of doom and destruction. The film concludes with the usual talking points about political will, shutting down "the tar sands" and putting up windmills and solar panels in developing regions where too many inhabitants can't even afford a light bulb.
At the end of the day, the film is about a famous, globetrotting real-action figure, haunted by end-of-the-world nightmares, seeking redemption from the United Nations, the Vatican, the Democrats and Martin Scorsese, executive producer.
Before the Flood is DiCaprio's latest high-priced attempt at throwing a giant scare into anybody who ever felt a tinge of guilt about eating certain foods, drinking certain beverages, and using fossil fuels for telecommunications or transportation, heating or health care, improved literacy or just plain all-round modern living.
His message: You should all feel very, very bad.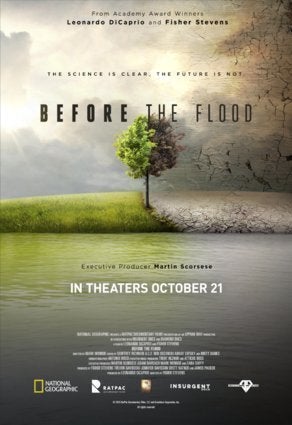 Leonardo Super Yacht Lifestyle
Leo even includes a couple of references to folks just like him -- those members of the ultra-elite who fly around the planet in private jets and party on Arab-owned super-yachts while they turn a blind eye to human rights atrocities fuelled by foreign oil supplies.
"We have to practice what we preach! Absolutely!" he claims about halfway through the film. One of the more interesting segments, it pits the uber-articulate Sunita Narain, spokeswoman for an Indian NGO against an arrogant, know-it-all DiCaprio. In short, she gives him a piece of her mind for thinking India should rely on expensive, intermittent renewable electricity when the US simply won't.
"The fact is we have to put the issues of lifestyle and (U.S.) consumption at the centre of the discussion," Narain admonishes. "Let's put our money where our mouth is." To give credit where it's due, the practical, no-nonsense Narain would turn any ill-prepared, climate-defending real action hero into an inarticulate mess.
But for an Oscar-winner, Leo sounds remarkably defensive through the discussion. You get the sense that, somewhere in the back of his mind, our famous party animal is re-thinking that time he and Jonah Hill flew via chartered 747 from Australia to California just so they could celebrate New Years Eve twice.
Everything is broken, it's all very terrifying and it's largely Alberta's fault.
Even after it's been completely discredited, great slapstick comedy never gets old.
But there's other information that shows Leo's bias toward catastrophe. Self-described "science nerd" Michael Mann, who takes up nearly five full minutes to complain about the politics of "front groups," never mentions once that his own controversial work was the subject of years of controversy among scientists.
But bias can be expected from this bunch. A quick survey of the film's backers listed in the final credits features many of the usual suspects, from Rajendra Pachauri who, after an unsuccessful run at the UN, is facing sexual harassment charges against a 33-year-old assistant, to wealthy oil-sands hater Tom Steyer to anti-pipeline zealot Mark Ruffalo to our own political antagonist Naomi Klein.
For Leo DiCaprio, the jet-setting superstar from dirty-oil-producing LA, everything is broken, it's all very terrifying and it's largely Alberta's fault.
So what did you expect? Real information? Then you'll want to give this film a miss.
Cody Battershill is a Calgary realtor and founder / spokesperson for CanadaAction.ca, a volunteer organization that supports Canadian energy development and the environmental, social and economic benefits that come with it.
Follow HuffPost Canada Blogs on Facebook