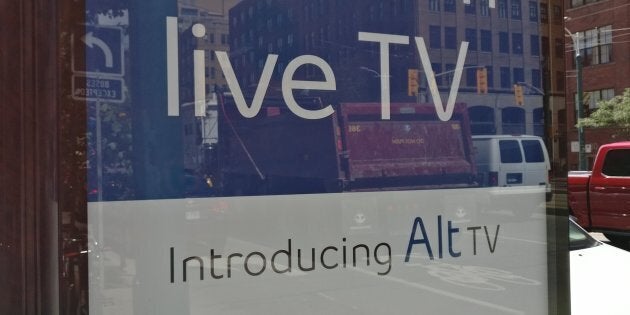 Bell Canada is standing by a decision to name its new mobile TV service "Alt TV," despite criticism from some on social media that the name evokes the "alt-right" white nationalist movement.
Bell announced the launch of Alt TV in May. For $14.95 a month, subscribers can stream up to 500 TV channels to their mobile devices. The plan is available only to subscribers of Bell Fibe Internet.
Critics pointed out at the time that the name could have negative connotations for some. But the violent incidents in Charlottesville, Va. last weekend that left 32-year-old Heather Heyer dead has renewed focus on the "alt-right," a far right movement that rejects traditional conservatism in favour of white nationalism.
Bell Canada is again coming under pressure for a name some commenters called "tone deaf."
In an email to HuffPost Canada, a Bell spokesperson explained the service's name "refers to the fact that a live TV streaming service is a new alternative" to traditional TV services.
"The name was actually chosen through an internal contest we held earlier this year with new hires in Bell's grad student program," the spokesperson wrote.
But some market experts are wondering how Bell could have overlooked the "alt-right" connotations of the name.
"I don't understand how this passed muster, given that Bell has been pretty careful about what it names things, and is a pretty conservative company when it comes to getting noticed for the wrong reasons," Mobile Nations tech analyst Daniel Bader told CBC News in May.
Bell would not say if the company has any plans to rebrand the service.
The latest on the fallout from the violence in Charlottesville: