Joining a full roster of diverse A-listers, including actress Margot Robbie, rapper Young Thug, soccer star James Rodríguez, TV personality Henry Rollins, actress and musician Zoe Kravitz, Cindy Crawford's son Presley Gerber, and Vine star Cameron Dallas, Hadid bares all for Calvin Klein's fall 2016 campaign. Shot by photographer Tyrone Lebon, it may be her raciest modelling gig yet.
Sporting not only the brands legendary sporty lingerie, but also a pair of its tight, high-waisted jeans, the 19-year-old poses topless and fresh faced in several photos, which are labelled with the "I ___ in my Calvins" tagline.
"I love in my Calvins," Hadid is heard saying in the ultra-sexy promotional video for the campaign.
And who else makes an appearance in the ads? None other than the very model who defined the brand during the '90s — Kate Moss.
Mystery man of the moment, Frank Ocean, and former Vogue creative director at large, Grace Coddington, also made surprising (yet totally delightful) appearances in the campaign.
Melisa Goldie, Chief Marketing Officer of Calvin Klein, Inc. said in a statement, "Through our fall 2016 global campaign, we push the boundaries of traditional advertising with our content and our cast. We are inviting the consumer into our world to experience personal storytelling that no other brand can offer them."
This video-led campaign follows Calvin Klein's controversial spring/summer campaign called 'Erotica,' which featured Kendall Jenner and actress Klara Kristin in a series of provocative shots, including an "up-skirt" shot, which the National Center On Sexual Exploitation (NCOSE) filed a petition against asking to have it removed.
All we have to say is we're glad to see Frank Ocean's grueling stint out of the spotlight is officially coming to an end. Thank you, Calvin Klein, for making that happen.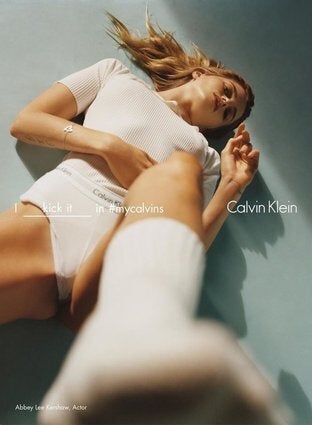 Calvin Klein's 2016 Spring Ad Campaign
Popular in the Community