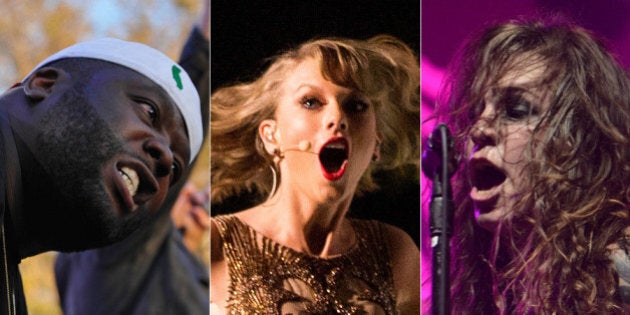 Over the past year long-lost legends DFA 1979, D'Angelo and Aphex Twin returned, electronic music continued filling fields and airwaves even as the experimental side gained more ground, Taylor Swift ditched country to take over pop, biracial rap duo Run the Jewels bum-rushed hip-hop, Against Me! brought transgender politics to punk, and Leonard Cohen continued being the coolest person on the planet at the age of 80.
Still, 2014 may not go down in music history, at least not like 1994.
The 20th anniversary of Kurt Cobain's death, not to mention alt-era landmarks like Nine Inch Nail's "The Downward Spiral" and Soundgarden's "Superunknown" (which the 90s survivors celebrated with a joint tour this summer) or Green Day's "Dookie" (which helped secure the pop-punks a spot in the Rock Hall of Fame's class of 2015) only served to accentuate how far down the spiral the music industry has sunk.
Much of the decline in sales, however, had more to do with the concurrent rise in streaming, with Google Play and Spotify both joining Rdio in the Canadian market. So more people probably listened to more music than ever before even if we were buying less.
But whatevs, that's business, and we're here to look at the music itself which arrived in an eclectic collection of quality albums that belied the format's alleged demise.
So read more about the year in music in Huffington Post Canada's list of the 90 best albums of 2014:
(Reviews are by Joshua Ostroff, Liisa Ladouceur, Ryan B. Patrick, Cam Lindsay, Trevor Risk, Stuart Henderson and Benjamin Boles)
Popular in the Community