I'm usually not one for jumping on the bandwagon of championing smartphone apps but recently I have been using fewer and gaining more awareness and ability as I navigate around Vancouver and have fun with friends.
I am not associated with the apps I am talking about here. They just work really well and make living here a little more fun. Let's start...
Get to where you want to go
This is where Transit comes in. It aggregates open data on transport in and around the city. It tells you the stops closest to you and gets you to where you want to be without any trouble. Clean interface, great presentation of information and it supports 43 cities so it works outside of Vancouver as well.
Get lost, but in the right direction
Crowsflight keeps you on track in the direction of your destination, but frees you to discover exciting distractions along the way. It is super fun and perfect for wandering around Vancouver and finding streets and areas that you may just avoid by taking sensible map routes vs. heading the way the crow flies, hence the name. There is an added bonus that it only uses GPS to navigate so you can load up destinations before leaving home (great for your international guests that sync on home WIFI but have no international data). And it's super-stylish to boot.
OK, I've been powering around the city for 3 years on my beloved single-speed with no real need to know stats about what I've been doing. I mean, Chinatown to downtown and around the Sea Wall from Science World are known quantities to many of us. Then I graduated to road biking. I was looking for the best app to help me track and improve. Friends turned me on to Strava. You can track all the things you need to - distance, avg. speed, elevation, heart rate (with a band), calories etc. The killer angle on this is that you can compare against others on the same routes, explore the area that you are in and join in challenges that are set. So much fun and it feels like a training lab tool.
There are an abundance of free papers in BC's Lower Mainland. Print is two-dimensional and not really that exciting. Circulation is in decline. How can we make it more interesting?
Well, a number of publications have integrated a nifty piece of augmented reality technology called Layar.
It operates as image recognition software invisibly tagging images, logos and icons with codes to allow the augmented reality components to appear instantly on a readers phone or tablet while scanning the augmented reality content. Glacier Media, Western Canada's largest local media company, announced the enterprise wide launch of augmented reality throughout its Lower Mainland, British Columbia properties back in February.
So, the next time you're flicking through the Vancouver Courier, give it a go. It's a great addition to the experience.
This last app in the list has no real use beyond having fun with friends. The developer ustwo have created an app called OH HAI that has the simple description 'Load photo, make awesome, share'. It's hilarious. I'm not going to spoil the surprise. Download, play and kill your friends with laughter. It shouldn't be that good, but it really is.
If you have more go to apps then post in the comments section.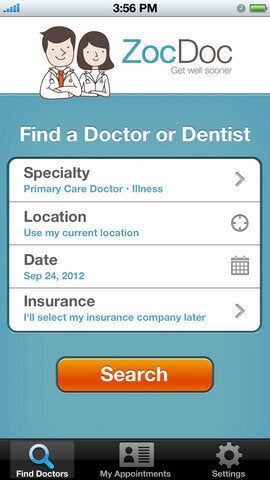 19 Mobile Apps For Your Mobile Life