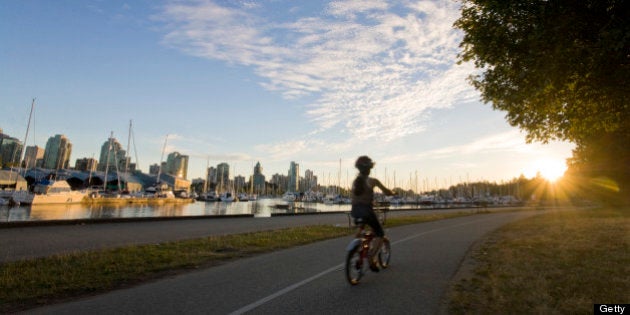 Vancouver was made for biking. Centuries of volcanic activity bestowed a rolling landscape on the city and the surrounding region that have made it an ideal place for putting rubber to pavement.
On a sunny day in the city, a simple ride to work is a fulfilling experience. The city has an extensive network of bike lanes and trails that give you a perfect opportunity to pump your legs before sitting at your desk for eight hours.
But there are also a multitude of great paths to take on your days off, from urban routes that connect Vancouver with surrounding cities, to more extreme terrain outside the city limits.
The Stanley Park Seawall is one of the best rides you'll find in Vancouver proper. It's a paved path that runs along False Creek and Burrard Inlet, running from English Bay, around the Stanley Park point all the way to the Vancouver Convention Centre.
You'll see waves pounding in off the Pacific Ocean as you swerve in and around runners and rollerbladers, surrounded by nature in one of the world's most beautiful city parks.
The UBC Loop is also ideal for a pleasant, leisurely ride. It begins anywhere around the university perimeter, from Blanca to the UBC Highway, where you ride a separated bike path amidst a natural setting that offers recurrent, yet gorgeous ocean views.
Once you arrive on campus you'll pass Thunderbird Stadium, Totem Residence, even the president's house on your way back out into the city's popular Kitsilano neighbourhood.
Stepping out of Vancouver, more experienced cyclists can get their kicks on the North Shore, where the "Pipeline" trail is just one of many technical paths for mountain bikers. The trail sends riders over ramps, rocks, ladders and berms, giving them a rough ride that can be perilous without appropriate padding.
Beyond the North Shore, Whistler is making a name for itself as a premier cycling destination. It has a paved Valley Trail that takes riders from the south end of the resort up past the village; a popular bike park on Whistler Mountain; and a mega-extreme, 24-kilometre epic known as "Comfortably Numb." It's a laborious, bumpy trail that didn't just get its name because its designer is a Pink Floyd fan.
Check out some of the best places to ride your bike in Vancouver and beyond:
Stanley Park Seawall: Maybe not the toughest bike ride in the world, but it's certainly among the prettiest. The Stanley Park seawall is a simple, leisurely ride that gives you a panoramic view of Vancouver's most beautiful scenery. Begin your ride at Lost Lagoon, just off Georgia Street, then enjoy a paved path that takes you past the Stanley Park totem poles, under the Lions Gate Bridge and finally to English Bay. There the path continues around False Creek up to Granville Island.
Pacific Spirit Park Trails: Go in, get lost. That's the best way to enjoy the extensive network of hiking and biking trails at UBC's Pacific Spirit Park. The trails vary in difficulty but all of them take you into an urban forest that can make you feel as though you're thousands of kilometres away from the city.
UBC Loop: UBC rests alone on a peninsula, just outside the city boundary. It's one of the most beautiful campuses in Canada, unique for its natural setting that allows ample opportunity for clear thinking. The Loop is a simple ride around the campus perimeter. It begins roughly around 10th and Blanca, though that's not the only place you have to start. Head south on Blanca, then turn right on to the UBC highway and keep on the shoulder to stay safe. Along the way you'll see sporadic glimpses of the ocean, Thunderbird Stadium, student residences like Totem and Vanier, and even the president's majestic house. The path lets you out into Kitsilano.
Steveston: Park your car at No. 5 Road and Dyke Road in Richmond and then just start riding one of the best trails in the region as recommended by BC Living. This path takes you through marshlands, a slough, a heritage shipyard and finally a charming little fishing village with some of the best fish 'n' chips that B.C. has to offer. Carry on past the village and you'll hit the Steveston Dyke, which wends its way alongside the Fraser River until you get to central Richmond.
Burnaby Mountain Trail System: Burnaby Mountain hosts an extensive network of trails that vary in difficulty. Nestled for the most part on the mountain's east side, they take you along North Road close to the city's boundary with Coquitlam, says the Vancouver Trails website. The Dead Moped Trail is a technical path that forces cyclists to ride skinnies, ramps and logs, while Mel's and Nicole's Loop 1 gives you a softer ride along some natural obstacles.
Traboulay PoCo Trail, Port Coquitlam: The Traboulay PoCo Trail is a 25-kilometre network of trails that takes users through a natural and urban environment, says the City of Port Coquitlam website. The trail begins in Port Coquitlam's downtown area before taking users into the Colony Farm, a pristine area with over 150 bird species. Then it takes you along the Pitt and Coquitlam Rivers before ushering riders back to the community centre.
Valley Trail, Whistler: Whistler isn't just a playground for extreme winter athletes; it's also a destination for cyclists who want to take advantage of some rough natural terrain. The Valley Trail is good training for people who aren't used to the lumps and bumps. It's 40 kilometres of paved trail that begins at the south end of town, taking cyclists through every Whistler neighbourhood, the village and beyond. It's a great way to get a feel for the sheer size of the town.
Comfortably Numb, Whistler: This expert trail doesn't just get its name because its designer is a Pink Floyd fan. Comfortably Numb is a 24-kilometre trek that truly gives Whistler its reputation as a biking destination. It begins at the base of Wedge Mountain and takes you across treacherous terrain with bridges, ramps and single track, with plenty of bumps along the way.
Pemberton Meadows Road, Pemberton: Venturing beyond Whistler, one of the prettiest rides you'll find is the the Pemberton Meadows Road, which traverses some of the province's most pristine agricultural land. It isn't strictly a bike trail, more a ride along the shoulder of a quiet road with valleys and hills rolling all around you. Save a trip for Aug. 18, and you could take part in the Slow Food Cycle, when property owners open up their farms for visitors to sample the fruit of the land.