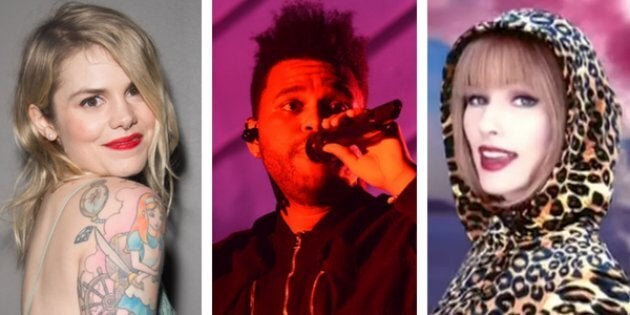 Canada Day means different things to different people. Maybe you want to celebrate the fact that you live in a country where the leader doesn't regularly demonize immigrant children via Twitter. Maybe you don't celebrate the day at all, because it feels too much like celebrating colonialism, and you still have a bad taste in your mouth from all the money the government spent on Canada 150 last year. Maybe you just like having a day off work. Or maybe you work for a tourist site, or a restaurant or, I don't know, an online news publication, and you're actually working all weekend (definitely not bitter).
Whatever you have planned this weekend — whether you're celebrating with friends, mourning a breakup, driving to the cabin, watching fireworks, going for a hike, or just staying holed up at home — here's HuffPost's ultimate Canada Day playlist, full of favourite Canadian songs for any occasion you might encounter over the long weekend.
The Band, "The Weight"
For drinking a beer on the dock with your buddies. Maybe you'll talk about taking the canoe out, but no one really wants to get up because you're all just so comfortable where you are. And the sun is shining down on you, and you feel more relaxed than you have in months.
Joni Mitchell, "A Case of You"
For drinking a beer on the dock, alone.
Nickelback, "This Is How You Remind Me"
When you've had so many beers on the dock that your decision-making skills start to suffer.
When you're reminiscing about your ex at the long weekend fireworks viewing.
A Tribe Called Red, "Stadium Pow Wow (ft. Black Bear)"
When you need to clean your place while dancing because how else can you get through it before your friends/family arrive?
The Stills, "Lola Stars and Stripes"
When people at the Canada Day party inevitably start talking about Donald Trump.
The Tragically Hip, "Bobcaygeon"
When you really miss Gord.
Michael Bublé, "Nobody But Me"
When you have to carpool karaoke with your mom to get through the long drive out of the city.
Julie Doiron, "Heavy Snow"
When you remember the liquor store is closed on Canada Day.
Great Big Sea, "When I'm Up"
Bachman Turner Overdrive, "Taking Care of Business"
For your 20-minute wait in line to buy booze.
Barenaked Ladies, "If I Had a Million Dollars"
When you realize how much your liquor store bill is going to be ...
When the iPad just died and you're still an hour and a half from the cabin and you need to entertain your kids.
Spirit of the West, "Home for a Rest"
For expat-B.C.ers who miss the smell of the ocean.
The Weeknd, "I Feel It Coming (ft. Daft Punk)"
When your squad didn't get their act together in time to escape the city, so you end up at a club with a G&T in your hand.
Gordon Lightfoot, "If You Could Read My Mind"
When your squad didn't get their act together in time to escape the city, so you end up at a dive bar with a Molson in your hand.
When everyone you know is posting cottage photos and you're stuck at work.
Kaytranada, "You're the One (ft. Syd)"
For trying to set the mood with your new SO, who just told their parents about you.
When you've had enough Canadian Club to approach your crush.
Wolf Parade, "I'll Believe In Anything"
When someone tells you it's fine, you can have another shot, you won't be hungover in the morning.
Mitsou, "Bye Bye, Mon Cowboy"
When you want to show your ex you're really over them (and you're wearing a cowboy hat).
When an older relative finally learns how to use the camera app on their phone.
Swollen Members, "Fuel Injected"
For your bitter conversations about how weed was supposed to be legalized by now.
Our Lady Peace, "Innocent"
For that time of night when everyone just wants to look up at the stars and talk earnestly about their feelings.
McMaster and James, "Thank You"
When you've had a few and really, really want your friends to know how much you appreciate them.
When you wake up on July 2 with a sinking suspicion that you were the one who trashed the kitchen.
Amanda Marshall, "Sunday Morning After"
When you wake up on July 2 with a sinking suspicion that you got a snake tattoo, oh my god, and I think my tongue's pierced too.
Barenaked Ladies, "One Week"
When the previous two don't cut it and you need ANOTHER song about shame and regret — you are Canadian, after all! — but you want it to be sung so fast you're almost ... rapping?! This song is indisputably great but I feel like we don't talk enough about how weird it is musically.
When you and your friends want to sing out the first part of this song and don't remember the rest of the words.
Cadence Weapon, "High Rise"
When you'd love to visit a cottage, but instead you're stuck apartment-hunting in an increasingly overpriced city.
When you want to remember how precisely and artfully Leonard Cohen used language.
Leonard Cohen, "Memories"
When you want to remember that Leonard Cohen was always horny AF.
Alanis Morissette, "Ironic"
When it rains on Canada Day.
Shania Twain, "That Don't Impress Me Much"
When someone feels the need to point out that Alanis Morissette is not using "Ironic" correctly, as if they're the first person to point it out since that song came out 13 years ago. Just let me enjoy Alanis, why don't you.
Coeur de pirate, "Dans les bras de l'autre"
When you want to show off that you still remember some of what you learned in French Immersion.
Neil Young, "Harvest Moon"
When there's a light breeze on an otherwise hot night and, all of a sudden, you feel like a slow dance.
Blue Rodeo, "Lost Together"
For that last campfire song of the night.
Avril Lavigne, "Complicated"
When you want to remember how much fun you had in 2002.
Sarah Harmer, "Basement Apartment"
When you want to be a hermit all weekend long and feel completely fine about it.
Les Trois Accords, "Saskatchewan"
For insight into another part of the country. (What's more Canadian than a Quebec band singing in French about losing your wife to a dude from Regina?!)
Celine Dion, "It's All Coming Back To Me Now"
When you start piecing together what happened LAST Canada Day.
When you realize on Sunday that you don't have work in the next morning.
The Weakerthans, "A New Name For Everything"
When all your friends bail on your Canada Day trip so you get drunk alone, lose your keys, spill wine on your shirt, and then remember you have to work in the morning.
Corey Hart, "I Wear My Sunglasses At Night"
When you head back into the office on Tuesday.
When you're trying to convince your friends that it's legitimately crazy a song so blatantly about oral sex was marketed to kids.
Joel Plaskett, "Nowhere With You"
When your reluctance to go back into the post-long-weekend world is exacerbated by an endless post-long-weekend traffic jam.
Broken Social Scene, "Halfway Home"
When you've reached the city limits.
Nelly Furtado, "Turn Off The Light"
When you regret being that friend that offered to help clean all the empties in the backyard.
However you're celebrating, have a great Canada Day!
Popular in the Community