School's out which means summer is officially in full swing! Before your kids start complaining that they're bored, why not get them excited by planning a family trip to some of the coolest water parks in Canada?
The Great White North is home to plenty of awesome splash parks filled with waterslides and lazy rivers galore, and below, we've compiled nine of the best in Canada. Find the one nearest you and start planning a memorable summer trip for the whole fam.
1. Calypso Theme Water Park, Ottawa, Ont.
It makes sense that Canada's largest theme water park would be located in the country's capital. Opened in 2010, this 100-acre park not only features 35 waterslides (one of which is the tallest waterslide tower in North America!), but also Canada's largest wave pool, which measures 52,000-square-feet! Other attractions include a lazy river, raft rides and an aquaplay area for kids of all ages.
2. Fun Mountain Water Slide Park, Winnipeg, Man.
This is one of Winnipeg's best water parks, with tons of activities to entertain children of all ages. Kids can slide with friends down the Enchanted River, go solo down the speedy Cherry Bomb, or plunge into The Dragon, which is a completely covered waterslide. The water park also includes a ton of other outdoor activities, such as bumper boats, mini-golf, and boat tours. There's even a hot tub for adults to relax and unwind.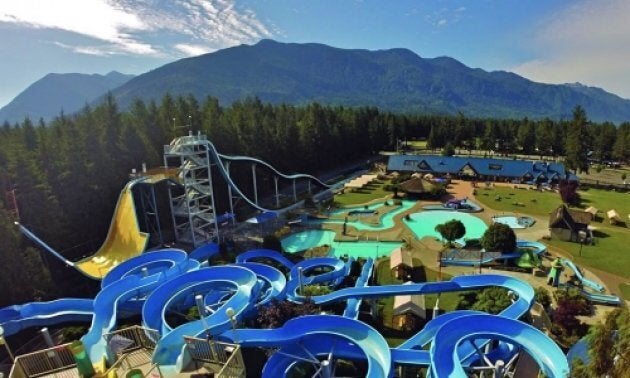 3. Cultus Lake Water Park, Cultus Lake, B.C.
Cultus Lake Water Park is located about 90 minutes from Vancouver, but it's worth the trip! With over 15 attractions, there's something for everyone, including a freefall slide for daring teens, classic twister slides for young riders and a Pirates Cove play area for infants and toddlers. Plus, when the kids (or you) have had enough of the rides, you can take things easy in the lazy river and soak up the beautiful B.C. landscape.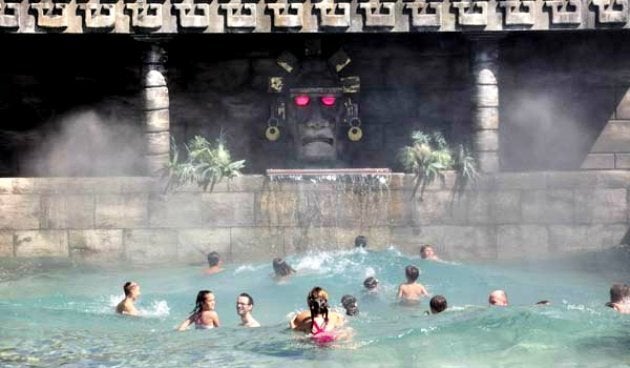 4. Amazoo Water Park, Granby Zoo, Que.
This unique Amazonian-themed water park is part of Quebec's Granby Zoo. Decorated with palm trees and beachy vibes, this water park includes family-friendly waterslides, a heated wave pool and a lazy river filled with interactive games. But the best attraction by far has to be Captain Dragon's Hideout, where kids can play in a pool filled with bubbles and foam!
5. Shining Springs Water Park, Cavendish, P.E.I.
The highlight of this water park is definitely the Cannonbowl — a large bowl filled with rapids that soaks you as you ride around and then spits you out. If that attraction doesn't appeal to you, then have no fear. The park also features a Turtle Cove play area for young kids, three kids' slides and a big splash pool.
6. Magic Mountain, Moncton, N.B.
Although Magic Mountain has attractions for young children, such as kiddie slides and splash pads, its big rides most certainly cater to thrill-seekers. The park's most exciting ride by far is the Skybox Drop Capsule, which is where a trapdoor suddenly opens and launches you into the slide. There's also the Tornado tube slide, which will plunge you down a dark route on a raft, and the Kamikaze, which is a slide with a nearly vertical drop.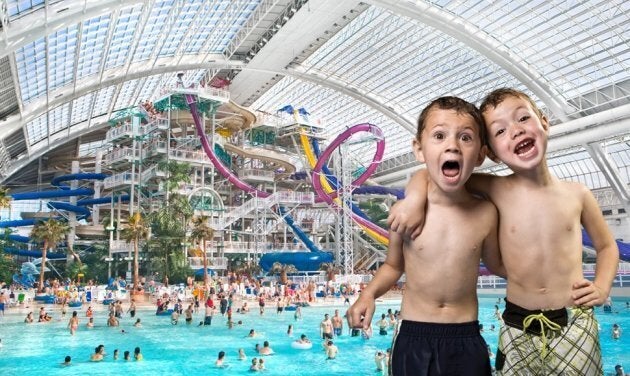 7. World Water Park, Edmonton, Alta.
Although this water park is indoors, we guarantee your family will still have a blast! Located in Alberta's famous West Edmonton Mall, this water park is home to the world's largest indoor wave pool. It also features 21 slides for various ages, a bungee jump and a hot tub.
8. Granville Island Water Park, Vancouver, B.C.
The best thing about this water park is that it's absolutely free! That means whenever your little ones get antsy this summer, you can dress them in swimsuits, load them up with sunscreen and take them to this water park where they'll be occupied for hours! Although this park only has two slides, its numerous sprinklers and fountains are sure to keep your kids busy.
9. Splash Works Water Park, Vaughan, Ont.
Splash Works Water Park is one of the best because it's located in Canada's Wonderland. That means family members who prefer not to get wet and wild can still enjoy a day of fun, too. Splash Works not only has one of the largest wave pools in Canada, but also has five slides, a lazy river and a splash playground for tiny tots.