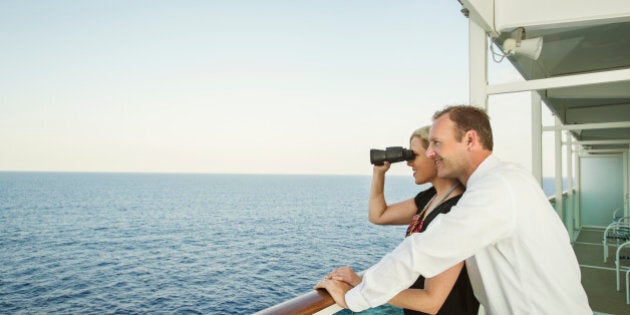 Choosing a cabin for your next cruise can be as fun (and frustrating) as choosing the cruise itself. I'm a big fan of cruising, but I won't cruise unless I can get a balcony cabin -- back of the ship is my preference. Don't get me wrong. I'm not a cruise snob, but a balcony cabin is like sunshine on your vacation -- it makes everything better.
When it comes to picking your cruise cabin or stateroom (the equivalent of a hotel room on land), start with your options.
Inside cabin The smallest room with no outside windows. I have no idea why anyone would choose this cabin -- but so many do!
Outside cabin Sometimes referred to as an oceanview room, this cabin faces the sea with a porthole (round window). Often the same size as an inside cabin, but with natural sunlight.
Balcony cabin A cabin featuring a veranda or patio with sliding door access. Bliss!
Suite A larger cabin, often with separate sleeping and living areas, and often extra amenities and perks. Double bliss!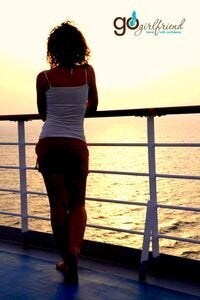 If your cabin is simply a place to sleep and nothing more, by all means pick the most economical option and pour your vacation dollars into something you enjoy your more. If you prefer to see the ocean or sniff the salty air while sipping your morning coffee or nightcap, it's time to own up to your destiny -- a balcony cabin.
Eight reasons why I recommend cruising with a balcony cabin
Having a balcony means you're always only a few steps from outside instead of having to travel through corridors, up elevators and then through more corridors before sniffing the salty air of your sea voyage. My partner and I begin our days with coffee on the balcony and finish them there with nightcaps. The fresh air -- enjoyed privately -- relaxes us and lets us connect with each other and only each other. We always leave our patio door open overnight and the sound of the waves lulls us to sleep -- we even dragged our mattress out on the balcony to sleep under the stars on one cruise!
Years ago, smokers chose the balcony room (for obvious reasons), but in recent years most cruise lines have banned smoking on cabin balconies. Check with your chosen cruise line to ensure your balcony will be smoke-free.
Privacy Depending on where on the ship you choose your balcony cabin, the private moments you share with your partner here can be the best part of your cruise. Imagine watching the sunrise or sunset in nothing but your birthday suit -- glorious. During the day, curl up with a good book, zone out while watching the wake of the ship or a storm brewing in the distance -- no noisy children or crowded pool deck.
Outdoor dining Whether you opt for a room service meal or fetch it yourself from the buffet, breakfast, lunch, or dinner on the patio can be a sublime experience -- especially on sea days when public areas tend to be crowded. For an extra-special romantic evening, inquire about the lobster and champagne patio dinner (offered on most cruise lines).
Space to move Cruise ship accommodations often pale in comparison to their landlocked counterparts. But when you add a balcony into the mix, you add extra space to your accommodations. Once you've picked your cruise, do a Google image search on your ship and the balcony number you're considering to be sure it's free from obstructions and large enough to accommodate at least two chairs.
The view There's nothing like having the wide open sea at your beck and call. Sunsets, sunrises, terrific storms and everything in between. On a recent cruise, I woke at dawn to watch a water spout (a tornado over water) -- amazing! If your cabin is at the back of the ship (aft) you'll be able to watch as the ship is tied to the dock and when it's set free.
Cost Balcony rooms used to be a luxury but in a world of mega-ships, most balcony cabins are just another choice. They're often not much more expensive than an outside cabin. Some cruise ships now offer interior balconies overlooking main thoroughfares of the ship. Be forewarned that these cabins can be very noisy though - depending on what part of the ship they're overlooking.
Quiet time My partner and I enjoy traveling while we sleep, dressing for dinner, dancing the night away and we take advantage of every possible shore excursion. But there's a lot we don't like about cruising too. Crowded pool decks, smoky casinos and loud children - anywhere. A private balcony allows us to hang out together, enjoying what we like and avoiding what we don't.
Laundry Most cruise lines have very strict guidelines about hanging laundry on balconies. But we've often hung things out over the backs of chairs -- not to mention smelly running shoes after a strenuous hike. Somethings are just meant to be outside.
So how do you cruise? Balcony cabin, or don't care? We'd love to hear your thoughts. Connect with the GoGirlfriend community on Facebook or Twitter!