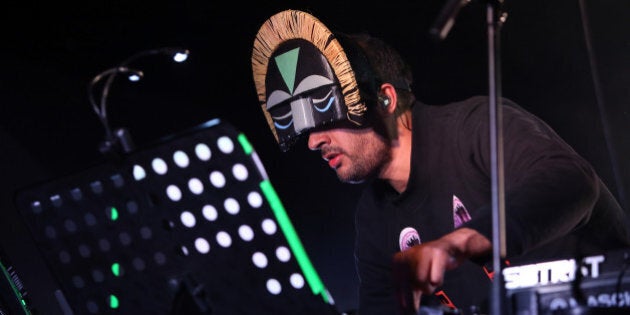 In many ways, 2014 felt like a transitional year for electronic dance music.
There wasn't any one particular trend leading the way, nor was there any one breakout artist leading the way to new approaches. The bro-step sound that used to dominate large EDM events in North America is on its last legs, and it seems like trap and moombahton are also on their way out, but it's unclear what's next. Many of the biggest mainstream names in the industry like Deadmau5, Skrillex and Tiesto have instead been looking back to the techno and house sounds that originally inspired them (which has predictably led to much hand-wringing and identity crisis in underground techno and deep house scenes).
The giant corporate-sponsored festivals continued to get bigger, but they still haven't been able to properly tackle how approach harm reduction, and drug-related deaths and injuries continued to dominate headlines. Unlike the '90s though, there's been thankfully little talk among politicians of counter-productive crackdowns, except for the short-lived ban on EDM events on CNE grounds that was quickly overturned in Toronto this spring. A bigger issue facing this generation of partiers is the struggle many cities are facing balancing increasing density and gentrification with vibrant downtown club scene, which is a battle that continues to play out in Toronto and many other cities.
The shadow of the '90s continued to loom over electronic music in 2014, with long-awaited new albums from Aphex Twin and Plastikman, as well as new material from Detroit house legends Moodymann and Theo Parrish. But while the work coming from the old guard often showcased their most accessible sides, much of the most exciting electronic music from younger artists was deeply experimental and often dissonant. The middle ground between those two extremes was often tackled best by musicians better known in indie rock circles, like Caribou, or Les Sins (better known as Toro Y Moi).
The combination of a lack of dominant musical trends with the continued commercial popularity should be interpreted as a positive sign though, suggesting that the new listeners who jumped on board when EDM blew up in North America are now branching out into the larger world of electronic music.