Nothing makes us more nostalgic than Mr. Dressup. The iconic Canadian show aired for almost 30 years in Canada and the US, captivating our youth and becoming the ultimate symbol of childhood. Now, almost 20 years since the show last aired, we decided to take a look back at the beloved series and the man who brought Mr. Dressup to life.
Here are 10 unknown facts about Mr. Dressup:
Although considered a Canadian cultural icon, Mr. Dressup (nee Ernie Coombs) was actually born in Lewiston, Maine. He only became a Canadian citizen in 1994, which was 27 years after the show first aired! Coombs lived in Pickering, Ontario, with his family until his death in 2001.

Ernie Coombs visited Canada with Fred Rogers in 1963 to work with CBC on an early version of Mister Rogers' Neighbourhood. Coombs was Rogers understudy at the time. After three years, Rogers moved back to the U.S. to launch his show with PBS and Coombs stayed on with CBC.

In 1964, Coombs joined the cast of Butternut Square, a 20-minute, black-and-white children's show. When the series was cancelled three years later, Coombs then got his own series, Mr. Dressup.

Judith Lawrence was the creator and puppeteer behind Mr. Dressup's friends Casey and Finnegan, as well as a few others such as Alligator Al and Aunt Bird. When Lawrence chose to retire, the show decided not to cast a new puppeteer for Casey and Finnegan. Instead, new characters were introduced as the duo was slowly removed from the show. When the two finally left, the show made an announcement that they were now attending kindergarten.

Interestingly, the show never specified whether the puppet was a boy or a girl.
In the live show, Coombs shared stories on the making of Mr. Dressup and explained the origins behind some of its characters.

Mr. Dressup ran for almost 30 years, from 1967 to February 14, 1996. Today, Mr. Dressup's legacy lives on as both Casey's treehouse and the Tickle Trunk are on display in downtown Toronto.
The longest running Canadian children's show was The Friendly Giant, which premiered in 1958.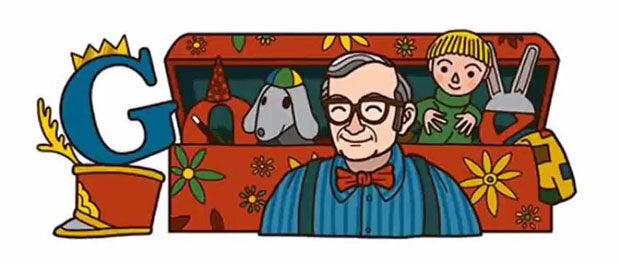 The specially-made Google doodle debuted on Nov 26, 2012, in honour of the beloved television character.
Coombs passed away from a stroke in 2001. He was 73 years old. Following his death, musical artist Chris Whiteley wrote and recorded a song entitled "The Week That Ernie Died" as a tribute to the great Canadian icon.