If you've got a baby on the way, you may want to consider a permanent vacation to Norway. The Nordic country not only boasts one of the most generous parental leave benefits in the developed world, but it is also consistently recognized as one of the best places to be a mom (if not the best) in Save the Children's annual report on The State of the World's Mothers.
Here's a breakdown on how the country supports new moms:
Norwegian parents can choose between receiving 100 per cent of their regular salary for 49 weeks or 80 per cent of their salary for 59 weeks. The time is among the longest parental leave allowances at full pay in the world (in company with Denmark and Serbia who have equal packages, but with the wealth of additional benefits as outlined below, Norway has them beat!).
In Norway, "parental leave" consists of both a maternal quota and a paternal quota (10 weeks have to be taken by each parent with an additional three weeks before the birth, reserved specifically for the mother). If either neglects to take their quota, they forfeit the paid time off, but outside of the quotas, parents are free to split the time as they please.
Countries with "daddy quotas" know what's up when it comes to equality. The time helps women get back to their jobs sooner, strengthening their position in the workplace -- and dad's position at home. Tellingly, Norway has one of the largest female workforces of all OECD countries, and 83 per cent of mothers with small children are employed.
According to the 2012 State of the World's Mothers Report, there is a link between the length of a mother's leave and the health of her baby. With a longer leave, moms inevitably breastfeed for a longer period of time, reducing their baby's risk of illness, obesity, allergies, and even SIDS.
Norway earned top billing on Save the Children's Breastfeeding Policy Scorecard, owing to a combination of their generous paid leave, and to the fact that the country legally allows nursing breaks (or pumping breaks), once the mother returns to work for as long as she needs them.
Up to 80 per cent of Norwegian babies are also born at hospitals characterized as being "baby-friendly," meaning that they encourage nursing from birth and provide the necessary support to mothers.
As if all that wasn't enviable enough, Norwegian parents can rest easy when it comes to who will care for their little ones -- and at what cost -- once they return to work full-time. Daycare is universal and 90 per cent of the cost is subsidized for children ages one to five.
It should be noted that Norway is neck-in-neck with its fellow Nordic countries like Finland, Sweden and Denmark when it comes to the well-being of mothers and babies.
Read on for highlights from their maternity policies!
All Finnish parents, regardless of income, receive a baby box, containing the items necessary to get baby through her first year, including winter clothes, sleepers, bath products, nursing pads, blankets, a book, a toy and more. The whole thing comes in a box with a mattress in the bottom, which can be used as baby's first bed.
Interestingly, this year, both Alberta and Ontario started their own baby box programs inspired by the Finnish model, as a means of being able to educate parents about health and safety practices when it comes to bringing home baby (Note: Canadian safe sleep guidelines do not recommend that parents use the box as a bed, however).
Sweden is home to the longest maternity leave in the world, topping out at 68 weeks. Parents are paid 80 per cent of their salary for the first 390 days, after which they receive a lump-sum payment.
Sweden is also recognized as the global leader in implementing the "baby-friendly" hospital initiative, with 100 per cent of hospitals in the country committed to making breastfeeding a priority.
Like its neighbouring countries, Denmark has flexible and generous parental leave in place. Mothers are entitled to 18 weeks of maternity leave and fathers to two weeks of paternity leave. Following that, each parent is eligible for 32 weeks of parental leave but only 52 of those combined weeks are paid at 100 per cent.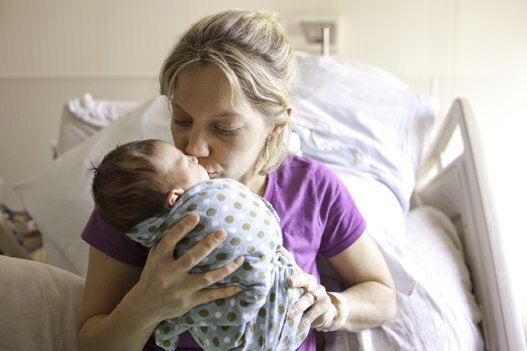 5 Countries With No Maternity Leave
Popular in the Community