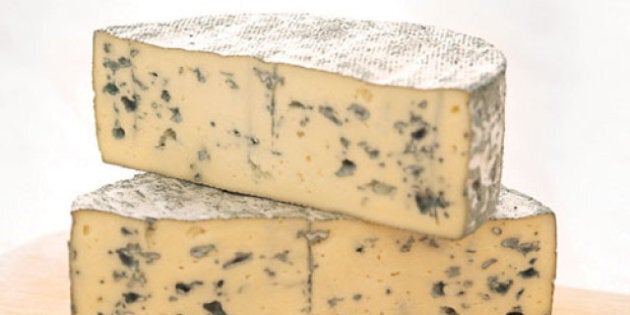 To help you make an informed choice, The Huffington Post Quebec has put together a list of six cheeses that received special mentions and prizes in 2012. It seems somewhat harder to resist a cheese when there's a blue ribbon on its packaging, doesn't it?
While many of these cheeses may not necessarily be available in your local supermarket (though because almost all come from dairy giant Saputo, they just might), speciality cheese shops do carry a selection across the country.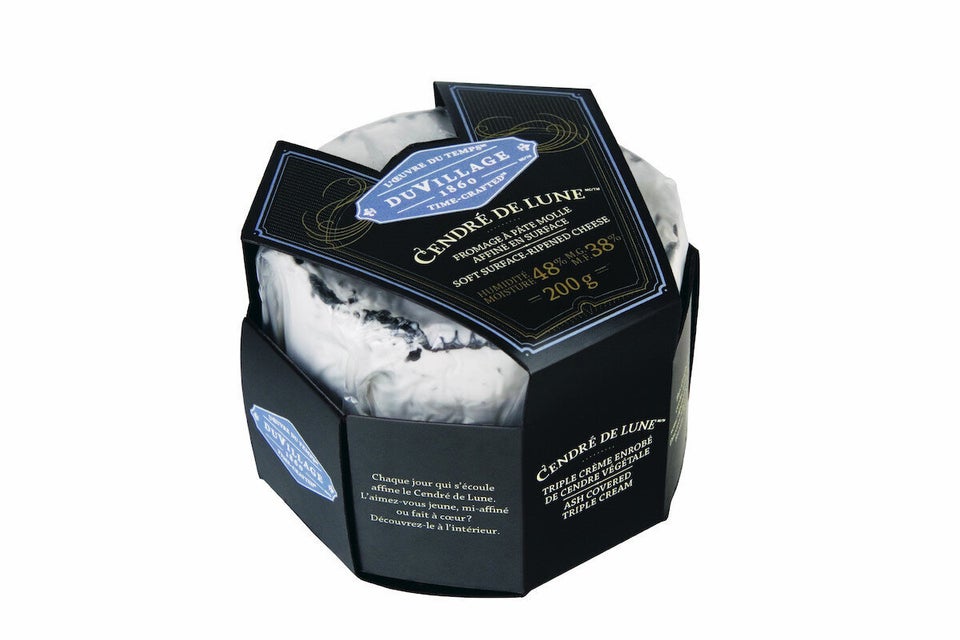 Award-Winning Cheeses Of Quebec
Le Cendré de Lune, or the Ash Moon, falls into the category of soft ripened cheeses. It is coated with vegetable ash, which helps to neutralize the bitterness in the cheese. Made using traditional methods, it is characterized by a nose of fresh mushrooms and a buttery taste which has charmed more than one mouth in its time. It is therefore no surprise it was named People's Choice, and also won first place in the category of cow's milk cheese, fresh cheese or soft cheese at the 2012 Sélection Caseus, Quebec's fine cheese competition.
Le Lady Laurier d'Arthabaska
Le Lady Laurier d'Arthabaska is a soft cheese with a bloomy rind offering a light taste of natural vanilla. Its unique taste — rich, creamy and melting, with subtle hints of flowers and brioche — allowed it to win the gold in "flavoured cheeses with sweet or 'dessert' condiments," at the World Championship Cheese Contest in Wisconsin.
Le Chèvre Des Neiges à la Figue et à L'orange
As its name suggests, this spreadable cheese is made from cow's and goat's milk, and flavoured with figs and orange. Its delicious fruity taste earned it a third place finish in the "soft and semi-soft mixed milk cheeses" category at the World Championship Cheese Contest, and third place for the American Cheese Society's "cheeses flavored with herbs, fruits, vegetables, truffles, flowers, syrups – all milks" category.
This soft cheese made from cow's milk and goat's milk has a buttery taste with a touch of cream, and a rind that shows off an aroma of mushrooms. Le Double Joie won at Sélection Caseus in the category of mixed milk cheese, and had another first place finish in the "surface ripened mixed milk cheeses" category at the World Championship Cheese Contest held in Wisconsin.
La Roche Noire, or the Black Rock, was awarded first prize in its category at Sélection Caseus last June. La Roche Noire is a semi-firm blue cheese, which gives a creamy finish on the palate. Its small blue veins of Penicillium Roqueforti give it its unique taste — a spicy cheese which will delight blue cheese lovers.
La Tentation de Laurier lactic cheese has a soft and washed rind, and is made with fresh cream. Its creamy texture — almost like butter — makes it the perfect complement to crusty bread. The judges of the World Championship Cheese Contest and the contest of the American Cheese Society succumbed to the charm and sensuality of this delicious creamy cheese by awarding it the gold medal in the "smear ripened soft cheeses" category in the case of the former, and the "washed rind cheeses - from cow's milk" category for the latter.
Popular in the Community