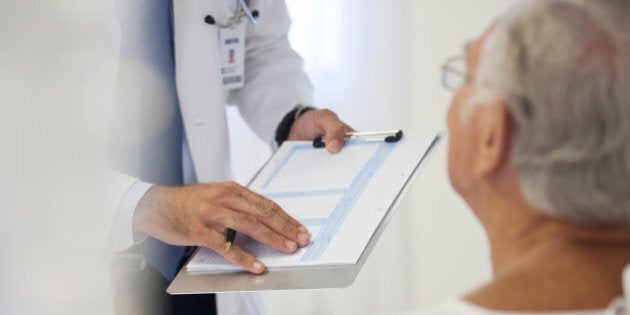 Co-authored with Emily Nicholas, a patient advisor with health care organizations across Canada and director of health engagement and communication at Reframe Health Lab.
In one of the final episodes of Netflix's Master of None, Aziz Ansari, the lovable protagonist, ends up taking hours simply choosing the right taco spot. His time, of course, was spent "researching" a dizzying array of Yelp pages and food blogs, with the sole purpose of finding the perfect Sunday afternoon snack with a friend.
Now, contrast this to how you or a loved one ended up with the orthopedic surgeon whom operated on you, say, that very same Sunday.
You probably didn't do a lot of research. And even if you tried, there probably wasn't a whole lot to base your decision on. You might have entrusted your family doctor with the same person she has referred others to for years. Or maybe there was a surgeon at a hospital in your hometown, sparing you the drive into the city.
In some ways, this is our Canadian health care paradox. The virtue of a single-payer system affords us some of the richest health data in the world, but the way we actually use data to help with health care decisions or drive our own performance is wanting.
As a patient, it is incredibly trying at times to listen to the tune of "patient-centred care," only to hear that such health care data would be over our heads in the same breath. Or better yet, "they wouldn't want to use it any way." Most of the evidence, actually, indicates that patients do want access to such information. Unfortunately, most of the information out there has been crafted and delivered without the end-user in mind: the patient. There are exceptions, however.
We know the complexity of our health care system can't be boiled down to a taco truck.
Take for example, the U.K.'s NHS Choices initiative. The website has been around for close to a decade, with the mission of "empowering patients through access to clear information on health and social care services."
Browsing through the site offers an A-Z index of common health conditions, a GPS tracker for local services, and the ability to read reviews and post comments on care. You can even see if the staff working at a given hospital would recommend it to others. While it has the esthetic of an official agency-run site (not a whole lot of flash), an independent evaluation showed the site was successful in reducing unnecessary demand for GP consultations among young, healthy users. So, not only has it become a staple of patient and public engagement in the U.K., there may also be a cost-savings angle, as well.
A more contentious example, maybe unsurprisingly, comes from the United States. After folks at Pro Publica found differing complication and mortality rates among surgeons, even at outstanding hospitals, they decided to launch a nationwide database, Surgeon Scorecard, to help patients pick the right surgeon. How you adjust for the complexity of patients and a myriad of other measurement issues set off heated debate among surgeons. But instead of backing away, or digging its head in the sand, Pro Publica has only invited such empirical discussion to improve the tool.
Individual physicians could also stand to gain from more feedback. The mechanism? Peer comparison. A recent study in The Journal of the American Medical Association found that when it came to curbing antibiotic prescribing, physicians who were emailed their standing compared to top performers reduced inappropriate prescribing to the greatest effect. In fact, Health Quality Ontario has already begun rolling out voluntary practice reports for physicians to get a better handle on how and where they stack up. The initial feedback sounds promising.
We know the complexity of our health care system can't be boiled down to a taco truck. But our take-away is that for transparency to truly matter, the medium and metrics have to be meaningful. This means patients shaping more of the measures that our system pays attention to. And it most definitely means not having to dig through PDFs or excel sheets when it comes to making informed health care decisions.
If we're really serious about patient centred care, and liberating data, that probably also means letting us get access to our own electronic health records. And from a more individual level, more feedback as to how we perform as providers -- whether it be antibiotic prescribing or diabetes management -- would largely be welcome if not punitive, but supportive and iterative in nature.
We simply cannot ask patients to choose wisely, or providers to perform better, if we are all kept in the dark.
This article was previously published in the Toronto Star.
Follow HuffPost Canada Blogs on Facebook