It was, arguably, one of the most stylish lunch dates ever.
Wearing a printed pantsuit and stylish hat, Beyoncé was all smiles as Jay-Z held 19-month-old Blue Ivy -- who is really starting to resemble her dad! -- close to his chest.
Blue rivaled her mamma's always on-point sense of fashion in a cute white dress and a matching white bow in her hair, while Papa Hova kept it simple in a long-sleeved colour-blocked shirt, dark pants and kicks -- a remarkably warm ensemble given the sweltering heat in the city yesterday.
Their appearance caused pandemonium on streets of the swanky neighbourhood, with lookers-on frantically tweeting photos as the pair waved to fans.
@KENTONMagazine: "They're here! Beyoncé and Jay-Z spotted with Blue Ivy Carter at Cafe Nervosa in Yorkville today! #Toronto pic.twitter.com/xw4fDuFg0E"
The megastar couple were in town for Jay-Z and Justin Timberlake's launch of their Legends of the Summer tour. With wife Bey and his daughter in tow, the pair enjoyed some of the city's fine dining before Jay hit the Air Canada Centre for a sold-out performance.
Later that evening, the "Single Ladies" singer left her hubby to fly out of Toronto for Chicago, where she performs Wednesday night. Her Mrs. Carter Show tour stops in Toronto on Sunday night and in Montreal on Monday.
Check out more photos of Bey and Jay: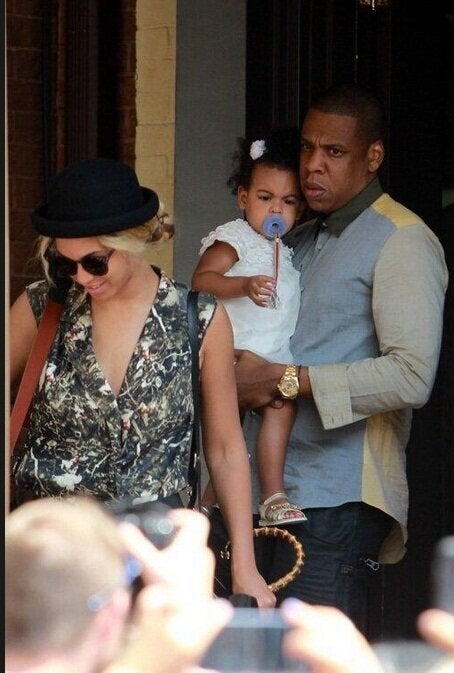 Beyonce and Jay-Z in Toronto
Popular in the Community