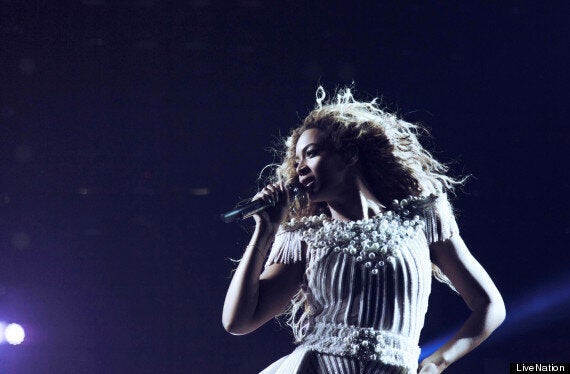 Before I headed to see Beyoncé's Mrs. Carter World Tour touch down at Toronto's Air Canada Centre on Sunday night, I read my three-year-old son a chapter from The Land of Oz, the 1904 sequel to L. Frank Baum's more famous and wizardly original.
In it, a boy named Tip encountered General Jinjur and her army of girls keen to invade the Emerald City and depose Dorothy's companion the Scarecrow, who had been crowned king after the wizard left. "But why?" Tip wondered.
"Because the Emerald City has been ruled by men long enough, for one reason," said one girl, embracing a startling feminism for a book written a full 16 years before American women got the right to vote. "Moreover," added another revolutionary, "the City glitters with beautiful gems, which might far better be used for rings, bracelets and necklaces; and there is enough money in the King's treasury to buy every girl in our Army a dozen new gowns. So we intend to conquer the City and run the government to suit ourselves."
The latter quote would seem to to undermine the former, but what it actually does is provide cover for a readership that wasn't quite ready. The end result is still an army of girls overthrowing the patriarchal government, so who cares that their weapons are knitting needles?
It was a weirdly appropriate passage to read in advance of Mrs. Carter Show, a tour which had caused all sorts of feminist handwringing in February when it was announced that she would be titling after her married name. (Jay-Z's real name is Shawn Carter.)
Parts of the show provided further fodder for a feminist backlash against Beyoncé, the "Single Ladies" singer who has wracked up countless chart-toppers that praise independent women and proclaim that girls run the world. There was her declaration that "tonight I'll be a naughty girl" (though on "Flaws and All" she also reserved the right to be "a bitch in the afternoon") and some video bits that saw her dusting, washing cars, gardening and other stereotypically female tasks. Not to mention the WWII-themed footage of Bey in her flight suit as a voice-over declared her "queen of the house and queen of the skies, the full package!"
But no amount of throwback visuals or wifey proclamations could change the fact that even if girls don't run the actual world, they sure do run the Mrs. Carter tour.
Article continues after slideshow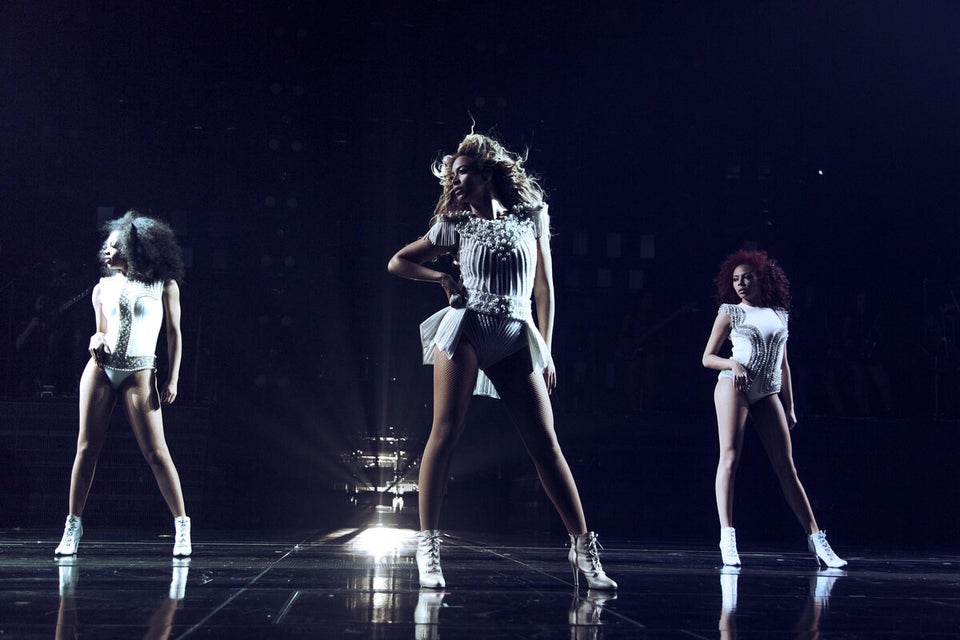 Beyonce Photos
Beyoncé's sprawling band, from the back-up singers and horn section to the funky drummer and guitarist with pyro shooting out of both ends of her axe, were all women. The dancers were women, too, except for a pair of amazingly talented yet also somewhat asexual and interchangeable twin brothers who, Beyoncé made a point of telling us, were the only men on the tour.
Whether dressed as Marie Antoinette in stalling-for-costume-change video clips, or talking names with hits like "Baby Boy," "Crazy in Love," "Survivor" and "Irreplaceable," there was never any doubt that Beyoncé was presenting herself as a conquering queen, not some Britney-like pop princess.
And even when the show got bogged down with ballads in the middle, the intention was to show off her vocal skills and remind people that, like her set-sending song says, she's a "Grown Woman."
"When I was a little girl I went to concerts and wanted to be there and now here I am," she told the attendant throngs, later adding "I got to do everything I ever wanted to do" while footage on the jumbotrons showed her singing for Obama, dancing at the Super Bowl and, yes, hanging out with her husband Jay-Z and daughter Blue Ivy.
Consider other pop divas of Bey's ilk -- Madonna, Christina Aguillera, Jennifer Lopez, Lady Gaga, Britney -- they're either single or go through short-lived marriages, often to subordinate partners like their backup dancers. Beyoncé, however, is so badass that she's married to one of the most powerful men in pop culture -- and out-earns him, at that.
So while some might see the use of "Mrs." as regressive, Beyonce is just saying that yes, she is married and no, she doesn't feel the need to overcompensate about it because she's in a relationship of equals and doesn't see the superficiality of a married name undermining the reality of her life.
And as for the girls in the audience, well, they watched a grown woman who was never less that utterly in charge on that arena stage. Even her intro to "Naughty Girl" asserted "tonight I choose you."
So go on, worry about her knitting needles, Beyoncé doesn't care because it doesn't change the fact that she runs the world and that is the real message her tour imparts.