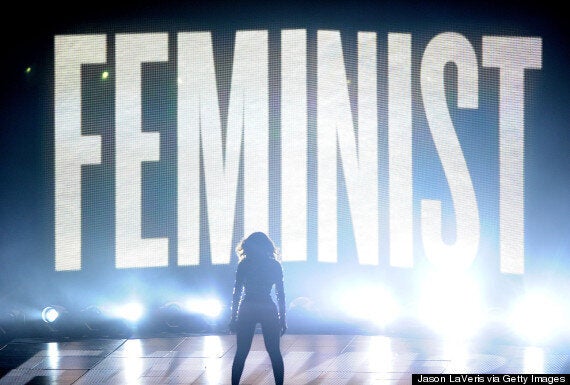 Award shows like the MTV VMAs are ephemeral beasts, good fodder for a day or so of social media snark but there's often one enduring moment with lasting impact on the culture at large. Last year, it was Miley's twerk that launched a thousand thinkpieces on race, sexuality and creeps.
This year it was it was the photo above of Beyonce silhouetted against a single all-caps word: FEMINIST.
This summer has seen a social media war over the rise of the Women Against Feminism movement on Tumblr and Twitter, as well as celebs likes Shailene Woodley saying she's not a feminist "because I love men, and I think the idea of 'raise women to power, take the men away from the power' is never going to work out because you need balance."
But Woodley's hardly alone. Last winter HuffPost ran a piece on female icons ranging from Lady Gaga, Bjork and Madonna to Susan Sarandon, Sarah Jessica Parker and Demi Moore who have declared they're not feminists.
Beyonce, arguably the most powerful woman in popular culture and, as husband Jay Z noted, our "greatest living entertainer," has clearly been paying attention to the discourse. So in the midst of her mini-concert before accepting her Michael Jackson Video Vanguard Award, she made time for the "Flawless" sample of Nigerian author Chimamanda Ngozi Adichie explaining why feminism matters and what it actually means:
"We teach girls to shrink themselves, to make themselves smaller. We say to girls, you can have ambition but not too much. You should aim to be successful, but not too successful otherwise you will threaten the man. Feminist: the person who believes in the social, political, and economic equality of the sexes."
And to make sure we remembered that she is one, she posed long enough for that instantly iconic image to speak more than a thousand words to the young women and men watching from home.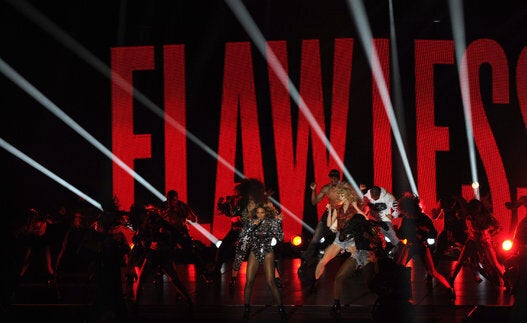 2014 MTV VMAs