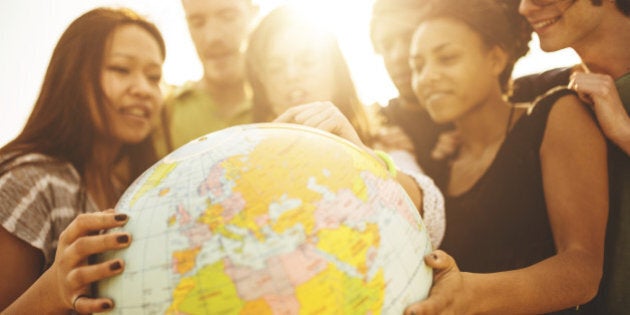 Co-authored by Luca Visentini, General Secretary of the European Trade Union Confederation; Reiner Hoffmann, Chairman of the German Trade Union Federation (DGB); and Rudy De Leeuw, President of the General Labour Federation of Belgium (FGTB).
For the past 30 years, economic globalization has accelerated, and its effects are felt in nearly all economic areas and the day-to-day lives of many million people in various ways.
International trade and investment deals have been a key driver of this phenomena. First through the WTO, and later through bilateral treaties, corporations have set the rules that have increased trade, but also lowered wages, eroded working conditions, increased privatization, threatened our environment, and led to growing inequality in Europe and Canada. And new, so-called modern trade and investment agreements have not yet reflected a progressive, socially and environmentally sensitive trade model that is needed right now.
Despite massive public protest and expert testimony on its negative impacts, governments in Canada and Europe are rushing to implement the Comprehensive Economic Trade Agreement (CETA). Faced with the prospect of ongoing slow economic growth, the only solution they seem to be able to provide is more of the same neo-liberal policies that have proven not to work for the majority.
This is why unions and civil society must come together to present a vision for a fairer, more equal economic model that works for workers and all people. Unions and civil society do not want new walls on borders and protectionist policies -- we want globalization with sustainable development and social justice.
We believe that globalization must be fair or it will fail. The process around CETA presented unions with a new opportunity to work together towards this goal.
When the full text of CETA was released in February 2016, we all thoroughly analyzed the deal. Each of us came to the conclusion that it wasn't a good deal for workers, so together we set to work to find areas where we could either block the deal or change it in a way that would protect workers' and citizens' interests in Canada and Europe.
For the first time, and thanks to our mobilization, we had a real influence on the negotiations. It is crucial to acknowledge the role that Wallonia, Belgium played in setting the example that where there is political will, improving the agreement is possible. For example, trade union concerns have been incorporated into the legally binding Interpretive Instrument of the agreement.
While it is true that the new Investment Court System (ICS) introduced into the CETA eliminates some of the worst and most obnoxious elements common to international trade tribunals by introducing ethical and conflict of interest standards for tribunals, and the tribunal's ability to dismiss claims that are without legal merit, it still privileges big multi-national corporations, and can be used to intimidate democratic institutions from acting in the public interest.
Overwhelming opposition to the ICS in Europe forced the EU to deem CETA a 'mixed' agreement and requires debate and ratification in 28 national parliaments and 10 sub-national bodies prior to full implementation.
The next challenge before us is to build on and improve all post-CETA trade and investment deals to ensure they meet a progressive trade model. We suggest several principles that should guide governments engaged in these negotiations.
First, civil society should be engaged, from the outset, in a democratic and transparent process. Agreements that are negotiated behind closed doors are bound to be viewed skeptically by citizens and provoke protest and social unrest.
Second, these agreements need to have iron-clad protections for public services. International treaties cannot be a short cut to privatizing valuable public services. Regulating services in the public interest cannot result in lawsuits between investors and states.
Third, these agreements need to allow for effective enforcement of labour and environmental standards. That includes sanctions in the case of violations of labour or environmental rights.
Finally, we need to emphasize the responsibilities of corporations and not just prioritize their rights. Eliminating dispute mechanisms granting special rights to foreign investors, which have proved disastrous in Canada, is an important first step toward that goal.
We did not get everything what we wanted from the negotiations on CETA. But the latest developments prove that we can fight back and make a difference. And we will continue to work together using all available avenues to further improve the deal.
Labour unions should be proud that their organizing and solidarity accomplished important changes. We worked together, by sharing expert analysis, country perspectives, and strategy, and by speaking as one voice to power brokers. Canada and Europe share many of the same values -- we value trade, yes, but we also value sustainable development, strong labour rights, high environmental standards, and public services.
There is still much more work that needs to be done to build a global progressive trade agenda -- but through international solidarity, and working together, unions can reshape globalization so that it works for all of us.
There is an alternative, and together we can make it a reality.
Follow HuffPost Canada Blogs on Facebook
Popular in the Community