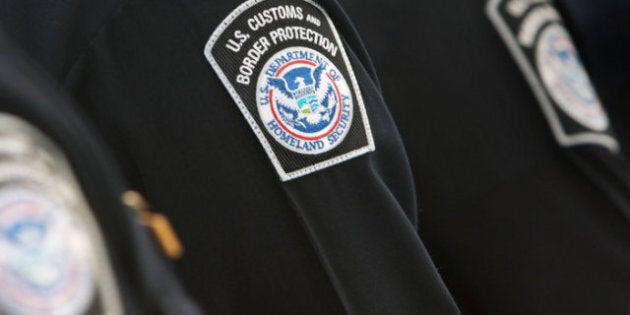 OTTAWA — Canada's privacy advocates are raising alarm bells that a new border pact with the U.S. could lead to public health risks and sharing of vast quantities of information on Canadian nationals with American authorities.
"This is a very scary document," Micheal Vonn, of the B.C. Civil Liberties Association told The Huffington Post. "We're appalled. It is essentially a whole sale adoption of U.S. policy and standards across the board."
The extensive Perimeter Security and Economic Competitiveness Action Plan was described by Prime Minister Stephen Harper Wednesday as the most significant step forward in Canada-U.S. co-operation since the North American Free Trade Agreement.
Among the proposed changes in the new border deal are more American law enforcement officials working on Canadian soil, harmonized U.S. standards for non-prescription drugs and beauty products, new names for cuts of meat and fewer missed connections due to the elimination of a second baggage screening for passengers flying through U.S. airports.
But the big win, according to Canadian and U.S. authorities, is a streamlining of cargo screening, new uniform standards across a range of high-trade sectors and less red tape for companies trying to get their goods and people across the world's largest land border.
"What threatens the security and well-being of the United States threatens the security and well-being of Canada," Harper said, announcing the deal in Washington D.C. standing next to U.S. President Barack Obama.
What has threatened the two countries' economic prosperity, and the one in seven jobs in Canada tied to the bilateral trade relationship, however, has been a thickening of the border, especially after 9/11.
The two governments, Harper said, are now taking practical steps to reverse that direction.
By implementing measures to deal with criminal and terrorist threats at the perimeter of the continent, Harper said, manufacturers and trusted travellers would be able to cross the border more quickly.
But the price Canadians will pay for faster market access for goods and merchandise, Vonn argued, is a massive handover of their personal information to American authorities.
"Informal information sharing is what caused Canadians to be deported and sent to torture," Vonn said, noting the case of Maher Arar, a Syrian-Canadian who was transferred to Syria and subsequently tortured after being detained during a layover at JFK airport in New York. "It is as dire a day for Canadian rights as I have known," Vonn added. More Canadians, she said, might now find themselves on U.S. no-fly list with no method of appeal.
Canada's Privacy Commissioner Jennifer Stoddart said Wednesday she was also concerned about the two governments' commitment to "promoting increased informal sharing of law enforcement intelligence, information and evidence."
"Overall, we must note that the mere fact that the initiatives proposed will result in unprecedented information sharing requires vigilance from a privacy standpoint. Consequently, as the various initiatives unfold, we will be monitoring developments very closely," she said in a statement emailed to HuffPost.
NDP MP Helene Laverdiere also expressed serious concern regarding privacy. "It always seems that Canada is going backwards in these agreements and that is really becoming a concern in terms of Canada's sovereignty," she told reporters.
"No loss of sovereignty" is being contemplated by either government, Harper said, while Canadian officials in Washington insisted Canada would be able to exercise independent judgment on approval processes for example.
The Council of Canadians' Maude Barlow said Harper succumbed to U.S. pressure to beef up security and surveillance powers for little benefit in return.
A proposed entry-exit system for travellers deserved the greatest scrutiny, she said.
The plan would allow Canadian and American authorities to exchange information on its citizens, permanent residents and third-country nationals who cross the border by July 2014. Exit data would help catch people who overstay their visas or who haven't met their immigration residency requirements, while also passing along a lot of biographical information to a foreign authority.
Harper, Barlow said, had also bent to the desires of North American business lobbies by removing regulatory burdens that most Canadians see as health and safety standards.
The Council of Canadians asked why Canada would want to adopt U.S.-style industry self-inspection of food processing plants when some believe that moves in that direction are what led to the Maple Leaf Foods tragedy that killed 22 people.
Streamlining regulations and aligning standards, the Canadian government argued, was common sense that would enhance both countries competitiveness.
"Every rule needs a reason," Harper said. "Where no adequate reason exists for a rule or standard, and that standard hinders us from doing business on both sides of the border, that rule needs to be re-examined."
Approximately $1.8 billion worth of goods and services travel across the Canada-U.S. border each day and the cost of inefficiencies and redundancies there, experts estimate, are worth 1 per cent of Canada's GDP, or the equivalent of $16 billion a year.
Purchasing and installing new technologies, investing in new infrastructure and hiring staff to run new border programs, will cost the federal government a chunk of change — but it refuses to say just how much.
"There is not a global number here, there is a not a number set in this action plan," a government official speaking on condition of anonymity said.
The federal government's own press release noted that "progress on many of the elements of this action plan will depend on the availability of funding."
For Bob Rae, the Liberal's interim leader, this proves the deal has no teeth.
"While we are all in agreement that an efficient border and the free flow of goods and people between Canada and the United States must be a key priority for the federal government, this deal doesn't offer any real measures and depends entirely on the availability of funding, which to date neither country has committed," he said in a statement.
Moreover, Rae noted, the deal didn't address any of Canada's current border headaches such as "Buy American" provisions or the $5 passenger inspection fee now charged at crossings.
Industry officials invited to attend the media briefing, however, lined up one after each other to praise the new deal.
Christmas had come early, said Perrin Beatty, the president and CEO of The Canadian Chamber of Commerce, adding that the security and trade partnership was good news for all Canadians.
Still, Jayson Myers, of the Canadian Manufacturers & Exporters, noted the federal government would have pony up the cash in the upcoming budget to make the border plan a reality.
"I think we do (need to see money), and I think we will be seeing that in the next budget," he said.
WHAT REGULATORY CO-OPERATION WILL MEAN?
Peameal bacon, chicken tenderloins and flatiron steaks could soon find their way to Canadian butcher shops. The U.S. meat-cut names are not allowed in Canada, although they are widely used in the States. Re-labelling "shoulder blade steak" to "flatiron steaks" and vice-versa carries needless costs for Canadian and American producers, importers and exporters, officials say. Re-labelling will be eliminated as a new common meat-cut nomenclature is developed.
Duplication of inspections will also be avoided. Meat going through the border won't be tested twice anymore. Officials argue sufficient testing will be done at the processing plant before meat is loaded for shipment.
Drug approval applications will also be aligned so that manufacturers will only have to go through one process rather than two completely separate applications, saving them time and money.
These controversial provisions have drawn the criticism of groups such as the Council of Canadians, which fears Canada will no longer be able to set its own rules and will be pressured to approve drugs the U.S. has already approved.
In all, government officials have identified 29 areas where Canada will work more closely with the U.S. to harmonize rules in agriculture and food, drugs and personal care products, chemicals and the environment.
WHAT WILL A STREAMLINED BORDER LOOK LIKE?
For airline passengers connecting through the United States, the coming changes will mean fewer lost bags, Canadian officials insisted Wednesday. One perk of eliminating secondary screening, as HuffPost first reported, is "that the odds of your baggage being lost are going to drop and your connection times would be better," one official said. Despite the estimated $50 million in savings for the airlines, it's not clear whether passengers will see cheaper tickets.
NEXUS members will now be allowed to clear not just customs but airport security screening lanes more quickly by using dedicated fast lanes.
Those travelling by car through a land crossing will also face fewer delays.
There will be more NEXUS readers at Canadian border crossings and both countries will begin using technology which will allow travellers to check how long the wait at the border is before leaving home.
"Currently you might be stuck behind a line of trucks (when) you're looking to go on vacation or something, we'll be improving infrastructure in major ports, we'll be adding additional trusted travellers lanes and we'll be investing in technology," one official said, explaining the five-year plan to reduce congestion and wait times.
The two countries want to develop an integrated entry and exit information system to keep tabs on people's movements. A pilot project, beginning next September at two to four land border crossings, will pass along information on the movement of third-country nationals and permanent residents of Canada and the U.S. to the American government. By July 2014, the entry-exit program will apply to Canadian citizens as well.
Canada and the U.S. will also establish a pre-travel screening program. Within four years, Canada is expected to adopt the Electronic Travel Authorization system, which is already in use in the United States, for all visa-exempt foreign nationals and the Interactive Advance Passenger Information system in order for officials to determine whether passengers — friends, family members, work colleagues — can board a flight to either country.
Canada and the U.S. are also pledging to share biometric information obtained from travellers, in addition to information on security watch lists, criminal histories and immigration violations.
When it comes to security, Canadian and American law enforcement officials are pledging to work more closely together in identifying national security threats from inside and outside the countries' borders. Canadian officials will pass along information obtained from local communities on homegrown terrorism and risks, for example, so law agencies can share information on best practices.
Canada and the U.S. pledged to share more information vital to ensuring the safety of critical infrastructure and to work more closely together on cyber security.
A 'Next Generation' integrated border enforcement team will be established before the end of 2012, leading to more American law enforcement officials present in Canada. The government says it is extending the Shiprider model to the land border, a program which currently allows Canadian and American law officials patrolling shared waterways to work on both sides of the border to catch escaping criminals.
Law enforcement officials will also be given new equipment so that their radios will work on the same frequency, allowing them to respond to border incidents in a more timely fashion.
The major plan the government wanted highlighted is its effort to de-clutter the border by screening cargo coming from overseas only once — when it first arrives.
Two pilot projects, in Prince Rupert and Montreal, will be launched in 2012. Shipments coming from overseas will only be screened on arrival and won't be inspected on subsequent border crossings unless absolutely necessary. If the pilot projects work, single screening will become the new norm.
For businesses, other pilot projects are being developed, such as pre-inspection of cargo carried on trains, which will begin in September. Another year-long project will involve issuing advance clearance for trucks carrying fresh meat.
The governments will also move to eliminate red tape. An American firm wanting to import fridges currently has to file paperwork with nine different government departments, in the future all those applications will be filed through one website.
It's about managing priorities and "good risk-management," Canadian officials said. "Even modest improvements will have a huge impact at the border," one official added.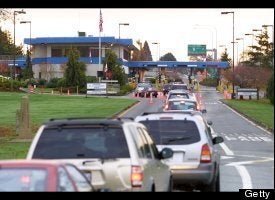 Canada-U.S. Border Deal