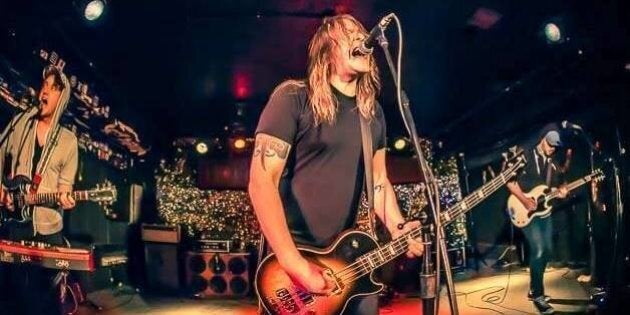 Biblical are not a religious band. They are not a political band. They are a furious band, though.
Sitting on a street corner where the Mod Club Theatre and a Toronto Spirituality Temple meet, Nick Sewell and drummer Jay Anderson of rock quartet Biblical stretch their legs.
"Politics are the furthest thing from my mind when I am in Biblical mode," says Nick Sewell as we discuss the conversations he shares with his father, former Mayor of Toronto John Sewell.
"We talk politics all the time. We are serious political junkies -- local, provincial, federal, international. Whatever it is, we talk politics constantly because we are both interested in it," says Sewell.
In the late seventies, his father represented a response to Toronto that is a far cry from that of Ford Nation. He was admirably portrayed as a radical in the media and the Toronto Sun labeled him as "Mayor Blue Jeans" at a time when the Canadian tuxedo was identified as counterculture. Known for riding his bicycle to council meetings, he supported environmentalist beliefs, opposed business district developments and was an advocate for same-sex rights.
"In terms of Rob Ford, his antics are one thing, but most of the conversations with my father are related to his policies and his policies are not necessarily conducive to that of a thriving city," says Sewell. "Although you know, [Ford's behaviour] does have a certain Shakespearian quality to it that makes it timeless."
Even though his blood connections and interests relate, Torontonian political affairs are not something that charges his songwriting: "It is a different part of my brain, I'm not thinking that this is how I'm going to stick it to the Councilor in Ward 7 when he hears this chord."
Drummer Jay Anderson shares that sentiment; he doesn't believe that politics should occupy their space. "I would never want to be in a band where our message is before our music."
Anderson acknowledges an era of Toronto musicians and their political awareness to have a positive impact, highlighting Broken Social Scene guitarist Andrew Whiteman's anti-Harper lettering on his guitar ("VOTE HARPER OUT NOW!") during their performance at the 2011 Juno Awards as an example.
Biblical might not be plastering their instruments, but they are certainly earning attention through their blistering performances like In Bloom Toronto's Come As You Are Benefit Concert, where they turned up louder than any other performer that evening for their sweat-drenched rendition of "Bleach" track "School."
Their song "All Justice No Peace" is a sludgy song about juxtaposition, supported by a video of a ceremonial killing ritual. Sewell says that the song isn't so much about capital punishment as it is "a dialogue about somebody that is condemned and jumping between what he is thinking and mob mentality."
Motivation for the band's name is rooted in the "Ghostbusters" quote from Peter Venkman: "This city is headed for a disaster of biblical proportions." Although they are not a political band, there is something to be said about the appropriate sentiments and how that relates to the current reputation of their city and the beginnings of a story about a band ready to escape it.
Their album "Monsoon Season" is available now. They will be performing at Heavy Montreal with Metallica, Slayer, Anthrax and The Offspring at Montreal's Parc-Jean Drapeau on August 8-9.