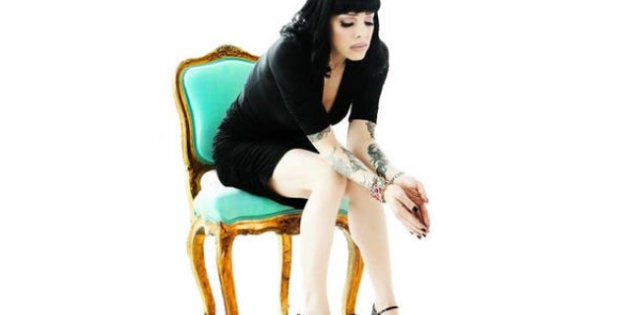 Bif Naked has made a career out of being a badass chick. Initially, it was by way of the late-'90s CanRock boys club, prowling Edgefest stages, infiltrating rock radio and even performing at the Hellmouth-adjacent all-ages club on Buffy the Vampire Slayer.
More recently, the heavily tattooed singer has become known as a badass chick in another venue -- the B.C. Cancer Agency's Vancouver Centre, where she successfully beat breast cancer with a lumpectomy and chemo back in 2008-2009. She now returns regularly, boldly confronting her own fragile mortality to encourage those women still fighting for their lives.
On the heels of her new record, Bif Naked Forever: Acoustic Hits & Other Delights, I sat down with Bif Naked to talk about how cancer has impacted her life -- both directly, in facing possible death and losing any chance to get pregnant, and indirectly, in a divorce from the man she married just months before her diagnosis.
Needless to say, Bif Naked remains a badass chick. Forever.
I saw you in one of my mom's photos, so I think you share a cancer doctor.
She had cancer five times but now she's fine, she's great.
Wonderful. So she must be estrogen receptor positive?
See, I couldn't get tested for that, as an adopted person, unless I paid for it. Welcome to healthcare.
But wouldn't they wanna know your genetic background?
It's expensive testing -- really and truly. For me, they know that I'm estrogen receptor positive, so based on that they decided let's do an oophorectomy. So I don't have ovaries anymore, eliminating the very likely possibility that that may be a factor by continuing to give me estrogen, which would just probably make me recur more quickly.
Was that a hard decision? I know my mom probably should have gotten a mastectomy right off the bat rather than a lumpectomy.
I asked for a mastectomy, obviously, but I was like an anorexic boy on the day of my diagnosis. I had A-cups and it seemed to me, if I'm getting a lumpectomy, I had no tits, just get rid of it. It's not gonna make a difference for me. They really believed that their outcomes were neck-in-neck with full mastectomy versus lumpectomy and radiation for people in my cancer group. What are you gonna do? You're not gonna press 'em. Perhaps they should've, who knows? I just followed orders.
Maybe my mom just wasn't mentally ready at that point...
Most women aren't. I learned so much about the way we frame ourselves and our bodies as women. The way that our neighbours frame us, our husbands frame us, our kids frame us. Every facet of cancer care -- patient care, patient advocacy, peer-to-peer support as a patient and as a volunteer -- was engaging and stimulating and important to me. Not only do I love working in healthcare, I love health advocacy more than anything else. I just found it all so interesting. And it was such a testament to how women frame themselves.
My surgeon, the first thing that she said -- at the time I was married -- "Your wife has breast cancer. She will lose her hair." It was like an epiphany, because I thought, okay, this is something that this particular surgeon has encountered so many times in her practice that it is natural for her to reassure people, "Yes, this is the real cancer, with the real hair loss." Hair loss is the number one thing that people ask. Not "am I gonna die?" but "am I gonna lose my hair?" I never would've considered that. I didn't care. I shaved my hair right away as soon as I was diagnosed. I loved it. Yay, get rid of my Betty Paige haircut. I had it for 20 years.
If I was sick, once I was better, I wouldn't want to have to think about it again. But my mom has participated in support groups and advocacy ever since. Having cancer has obviously affected you in the same way.
A lot of patients do find that. The catalyst for many is a health crisis or some type of tragedy, because it shakes our tree and it shakes up our life.
Because it's all abstract until you or someone you love is affected by it.
Same with anything, whether it's animal rights or organ donation or drunk driving, you know, people do become passionate about things that they suddenly have experience in. And it's actually very inspiring for people.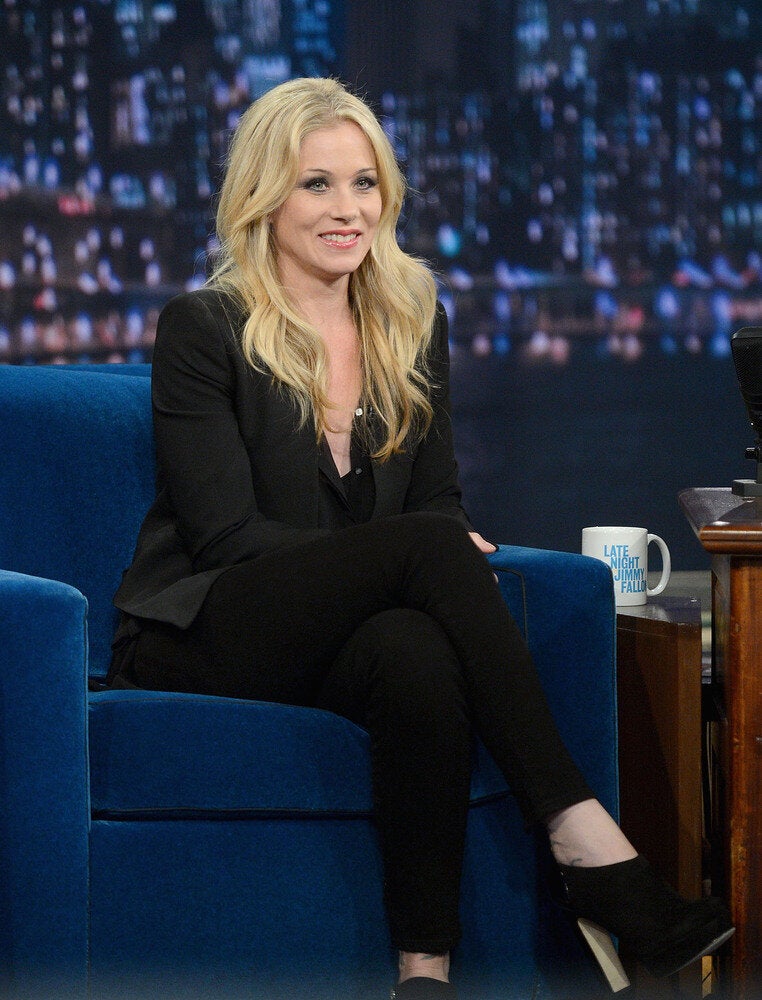 10 Celebrities Who Battled Cancer Before 40
What kind of advocacy things have you been able to do in the past few years?
I really like volunteering. I like working with patients one-on-one in palliative care. I feel there's a need for it and there's not a lot of desire for people to do it. In our culture, people don't like to talk about death, they don't want to think about death, they don't want to be around it, people are superstitious, people are very fearful. And I just think, well, I have it available to me to be present, I really wanna work in this field. Obviously right now, I'm still an artist, and I haven't figured out a way to be able to transition to it full-time. I find social media has been very helpful for me, just as an individual, one ordinary girl who has the ability to just kinda spread the word about things that I really agree with.
Have you considered getting into politics?
I really think that I should probably have a political science degree to do that.
Do any of them have political science degrees?
Oh, I don't know. Perhaps it's my worthiness issues, I still feel kind of young. I'm just starting to explore trying to be more of a community advocate. And it seemed like I had the opportunity just strictly based on the fact that I had a [69,000] Twitter following, you know? It was really that simple. Prior to that I had to physically be in 10 places at once, which is not possible.
We hear so much about breast cancer now, but as someone who has been attuned to it for 20 years, it doesn't feel like it's getting much better.
No, of course not. The one thing that is getting better is diagnostics. Younger and younger women, and more and more women and men, are getting diagnosed with cancer earlier. So, that's a testament to our big mouths and people being aware...
Definitely. My grandmother died of breast cancer before I was born, it was her second bout and she never spoke of it so that's the cone of silence my mom grew up in.
And most families did. In many different cultures here in Canada, that still exists in a big way. In small towns it still exists, in South Asian cultures it still exists, it just does. And also you have to look at First Nations communities, remote communities, the Inuit up in the north; they don't have access to mammography. A lot of those communities are fly-in only. How do we get healthcare to those people?
No, this was our acoustic record that was basically a response to the demand from the fans because we had been doing so many acoustic shows. So some of the songs, the singles, we revisited. I like them better, because it was the original way they were written. I don't know if I had a Patsy Cline fantasy or what it was, but we always wrote songs on acoustic guitar with vocals. It just seems very natural and a good fit for me. I'm very excited about it.
There are new versions of "Tango Shoes" and "I Love Myself Today" and "Spaceman." But we were able to include some new songs on there, too, and that was something that I wasn't anticipating at all. It's exciting.
How different was it to be writing music again, but in remission this time?
It actually hasn't differed at all. I'm always writing lyrics, just 'cause that's just kind of always how it's been for me. With the songs on The Promise record, some of those songs really were songs about heartache and heartbreak, like I've always written. My whole life is just basically about long-suffering, trying to find the right guy, and failing miserably my whole life, 'cause I'm hasty and I'm gullible. No matter what, you and I could sit here and have a perfectly lovely day, if I had the opportunity to go home and write about the guy in grade eight who crushed me and humiliated me in front of his friends, I will be able to just write a song about it, just like any of us. You tap into your experiences that basically you never healed from and that is stuff we all carry with us. I don't know any human being who has 100 percent resolved all their stuff, emotionally.
You mentioned your marriage earlier.
Yes. I'm two for two. I got married when I was 18 and I got married again right before I was diagnosed with breast cancer. Certainly I think that was probably a big factor. I can only assume. What can I say? It's a tragedy, basically. I took it very seriously. I was in love with that individual and married them and it just wasn't meant to be. Unfortunately, I am now facing not only being single going into my 40s, but being childless. Trying to navigate that emotionally and psychologically doesn't make me a good candidate for a date.
That happens. My parents stayed together but I know they lost some friends, because those friends just weren't able to be there when she needed them -- and when she got better, she didn't want them anymore.
Cancer is something that is very, very telling. People scatter because it's difficult for people. Whether they're facing their own mortality, or whether they just feel awkward and then too much time has passed and then they feel more awkward, it takes a lot of courage to just push through all of those questions and those insecurities and just be present for somebody.