The 33-year-old mom had no idea her daughter would be so big, despite overhearing the medical team estimate that the baby girl's weight was likely around 12 pounds.
"I laughed it off, but then I heard the doctor say that her shoulder blades were so big that they needed more hands to pull her out — so it was a quite the surprise," the mom explained.
MacNeil now has three daughters: Oliva, 4, Breagh, 1 and newborn Quinn. According to the mom, Quinn's birth size was even more of a surprise since she thought her eldest, Olivia, was big – and she was just 9.8 pounds!
Now that her baby girl is here, MacNeil is still has no clue how her baby girl got so big. "There's no rhyme nor reason – I wasn't diabetic and I had a perfectly healthy pregnancy," she said.
In fact, 2013 saw the birth of an even heavier baby. That year, Toronto mom Delieta Daneil welcomed a baby boy weighing 14.5 pounds at North York General Hospital.
But while there's no denying that these are some big babies, the heaviest infant ever born actually weighed much more! Canadian mom Anna Bates, known as the Giantess of Nova Scotia for being over 7-feet tall, gave birth to a 22-pound boy in Ohio in 1879. Unfortunately, the infant passed away 11 hours later.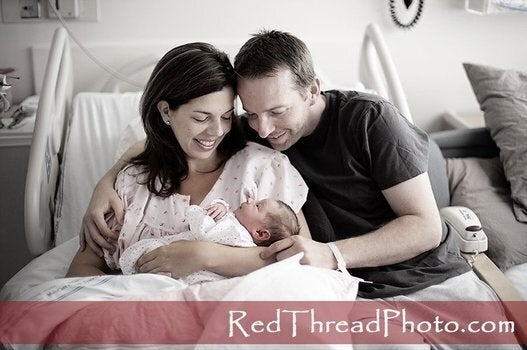 Newborn Photos Every Parent Needs To Take