 This is Freedom to Read Week in Canada, a celebration of our Charter-guaranteed right to intellectual freedom. Across the nation in libraries, schools and theatres we come together to read from books that have been banned around the world, and examine our own reactions to controversial material.
We are blessed: Our government does not tell us what to read. Or are we? In some ways our freedom to know, to understand, is under greater threat now than ever before. Read on.
Since native-born Canadians have no memory of blatant state censorship, maybe we should let newcomers tell us how it works.
In Pakistan: Says Saima Hussain, former Bbooks Editor at Dawn newspaper in Karachi, "Books written by Salman Rushdie are not available for sale in Pakistan. That's been the case since Satanic Verses. If you're lucky, and the seller is brave enough, you can find one in a secondhand bookstore."
In Saudi Arabia: Yyoung Saudi-Canadian writer Tanaz Bathena remembers a ban on: "Not Without My Daughter by Betty Mahmoody. All of Salman Rushdie's books. The Princess series by Jean P. Sassoon. Seniors from my school would smuggle in the books through India anyway and show them to us on the school bus."
In Turkey: Simten Osten, who arrived in Toronto eighteen months ago, remembers, "I had Turkish copy of Karl Marx's Das Kapital which was banned. My son had a Turkish copy of Mein Kampf which is still banned. During the coup era in Istanbul, my friend had to chew and swallow an A4 size [piece of] paper which was full of banned quotations just before she was caught by the police. Obviously not tasty, but it helped her get away." In Istanbul [there is] a huge two-story building with tens of bookshops selling secondhand banned books. Perhaps due to Turkey's pending entrance to the EEC, hundreds of banned books were taken off the restricted list at the beginning of this year. However, some classics were put on the list, such as Vasconcelos' My Sweet Orange Tree."
Why the switching up? It depends on what the government is afraid of at that moment. Says Filiz Dogan, also from Turkey, "When I was a university student communism was considered the biggest threat for the system. So, poet and novelist Nazim Hikmet was banned." Hikmet spent much of his life in prison, and his case was celebrated around the world. "These bans worked as promotion. I read Nazim Hikmet's books after learning they were banned. Right now, the politicians in power are fundamentalist, and the Turkish media is under greater pressure than it has ever been."
In Russia: Svetlana Gorzhaltsan's mother worked in a bookstore. "The more the authorities prohibited anything, the higher the demand was; so there was always a way to read the book." Solzhenitsyn's novels about Stalin's repressions, The Gulag Archipelago, The First Circle and Cancer Ward were published for the first time in Russia only in 1988. But before that, people knew and read these books. Doctor Zhivago by Boris Pasternak was published in Milan in 1957 and was 'allowed' in the Soviet Union only in 1988." Russia backed up its censorship by controlling publishing. As Svetlana points out, "any novelist or any poet who left the country automatically became an outcast, and official publishers wouldn't print his books." Still, the books leaked in. "The atmosphere of secrecy only increased interest." Svetlana believes that today in Russia people can publish, buy or order any book at all.
In China: Says Cordelia Tang, lately arrived from Nanjing: "None of [reformer] Liu Xiaobo's books is available in China, including Criticism of the Choice: Dialogues with Li Zehou, which is acclaimed in academic circles." Jie Li, a reference librarian at the University of Toronto explains, in China authorities ban "anything on topics sensitive to the nerve of the country, for instance books related to the June four Tiananmen Square protest, and books about 'another side' of leaders like Mao, Zhao Ziyang. These are not national issues, but more political strategy."
Which brings us to Canada. Here, Three Wishes: Palestinian and Israeli Children Speak by Deborah Ellis (2004) was restricted in five school boards in Ontario after protests by the Canadian Jewish Congress that the children in the book portrayed Israeli soldiers as brutal and expressed ethnic hatred. The Wars by Timothy Findley (1977) was challenged due to a depiction of homosexual rape of a soldier by soldiers, but was successfully defended. Cara Zweibel of the Canadian Civil Liberties Association tells us that recently Communism With The Mask Off, by Dr. Joseph Goebbels, has been prohibited at the border, along with a number of DVD's with titles like "Best of the Bullwhip and Singletail" and "Captive Princes" -- judged obscene.
So should we be worried? The practice of banning books seems quaint. Books not longer exist simply as objects: They are pirated and they are online, sent around the world in seconds with a single click. Books are a format. Information is what an insecure state seeks to control. It is, indeed, a matter of political strategy. And yes, we should be concerned.
Our intellectual freedom is infringed when the government will not give access to the documents revealing how leftish Premier and founder of universal health care Tommy Douglas was spied upon. It is infringed with the passage of a bill like Bill C-205 in 1997 which would seize the copyright of anyone convicted of or even accused of an indictable offense and give it to the Crown. The House of Commons passed that one unanimously without a whimper. It was only after PEN Canada lobbied the Senate Justice Committee that the Bill was defeated. But if Bill C-205 had remained in place we would not have read Roger Caron's Governor General's Award winning Go Boy! or any book written by a prisoner, perhaps a wrongly convicted one -- because the book could not have been written.
And what about all those research scientists who are not allowed to speak to the press? The Parks Canada employees who received a memo asserting that they cannot criticize their employee, i.e. the government? In today's Canada we have less knowledge of what is actually going on in our state than ever before. Freedom to read has to be preceded by freedom to write.
Freedom to Read Week runs until March 2 with events across Canada. Find out more at freedomtoread.ca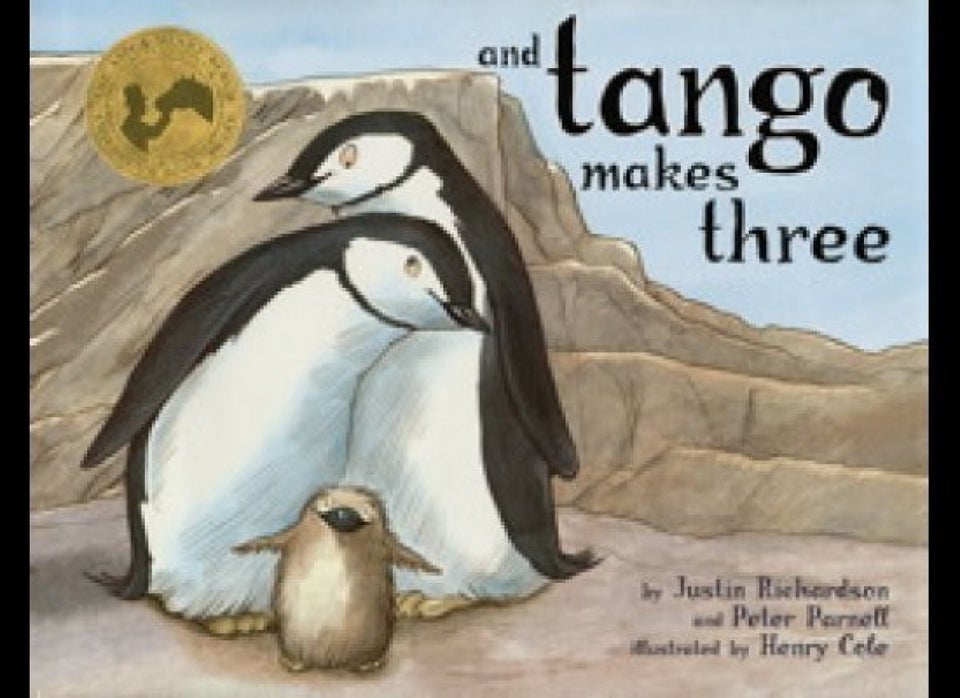 16 Books Challenged For LGBT Content
Popular in the Community