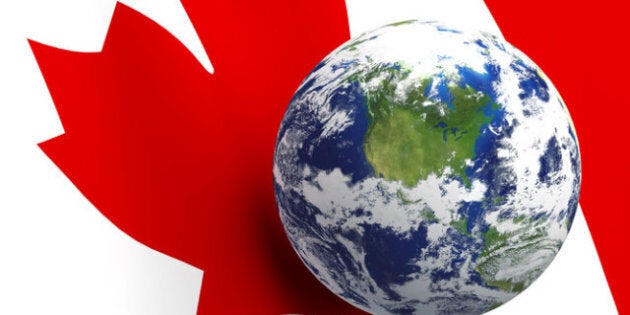 This feature was produced in 2012 by Véronique Herry-Saint-Onge, a student in Ryerson University's School of Journalism, in partnership with The Huffington Post Canada. The statistics referenced below reflect the date of publication.
Still, if job seekers want something to set them apart from the rest, French/English bilingualism could be the key. For Meaghan Jones, 25, this was certainly the case.
Jones is sitting in a busy coffee shop during her lunch break, with her hands wrapped around her coffee mug. She recalls being one of the many looking for a job after graduation from the University of Ottawa two years ago, and settling for a volunteer position in the field in which she was interested.
After almost a year, a permanent bilingual position opened up in the office and her French language skills gave her an advantage, landing her the job. Jones now works as a parole officer for the Correctional Service of Canada in Toronto.
"My language skills were crucial in getting this job," she says. "In my position, I am responsible for all of our French-speaking clients so I can interact with them in their first language. I also provide additional French services whenever needed."
The federal government of Canada is the largest employer in the country and the largest employer of bilingual workers. That same 2009 parliamentary committee study revealed that out of almost 180,000 government positions, 72,000 were designated bilingual.
Jones says her parents believed having French as a second language was important and would allow for more opportunities in the future for their children, so they enrolled her and her brother first in a French immersion school, then in a French first language school.
"There's a lot more opportunities for bilingual workers who can read, write and express themselves orally in both official languages," says Jeanine Macario, a recruiter with Anne Whitten Bilingual Recruitment.
These bilingual employment opportunities go well beyond government. "Employers in all sorts of sectors are looking for bilingual employees, from customer service to accounting to communications and marketing," says Macario.
There over seven million Canadians with French as a first language and a million of these are found outside of Quebec, representing a large client base. With an increasingly globalized world, where over 30 countries have French as an official language and over 220 million French speakers worldwide, bilingual employees can work with multinational corporations working in or with these countries. Exports from French-speaking countries represent 19 per cent of world exports, creating a sizeable market which requires French speakers.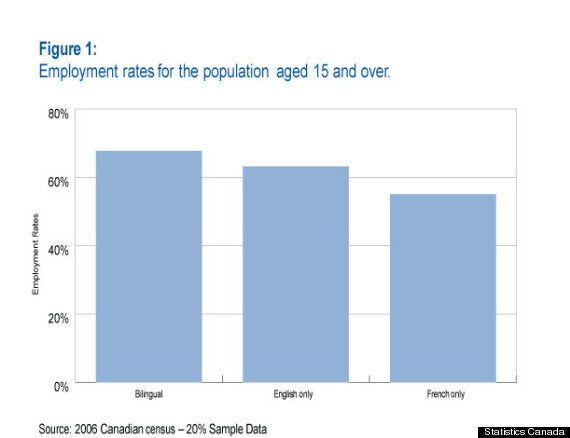 The benefits of bilingualism in the job market can also extend to individual income.
A 2010 study from Louis Christofides and Robert Swidinsky of the University of Guelph found that men outside Québec who know both languages earn an average income 3.8 per cent higher than those who speak English only, while bilingual women earn 6.6 per cent more.
Many Canadians are aware of these advantages but few speak both official languages. Rates of bilingualism are currently on a downward trend, with only 18 per cent of the population or 5.2 million people defining themselves as bilingual, although enrollment in French immersion seems to be on the rise across the country.
There are also many Canadians who speak a language other than French or English, but that may not always be to their advantage. Alexandra Hill, 25, spent over six months looking for work in Victoria, British Columbia, after obtaining her Bachelor of Commerce. Hill, who speaks Spanish fluently, says it didn't help her job search.
"As I was looking, I was definitely wishing I spoke French. I think it would've helped me a lot in finding a job quicker.
"There were lots of postings for bilingual workers, and some positions even required Mandarin but my Spanish skills did not seem to set me apart from the rest," she says.
With China opening its borders and becoming a bigger player on the world stage, Mandarin is set to become more prominent and certain job seekers and parents are wondering if perhaps it's the language of the future, potentially at the expense of French.
"More and more people without a Chinese background have started to come to Chinese language classes," says John Stowe, a Mandarin professor at the Chang School of Continuing Studies at Ryerson University.
"But the numbers aren't as high as most people would assume," he adds.
In a piece last year in the National Post, Tasha Kheiriddin stated that, "While it might arguably open more doors to learn Mandarin or Spanish, learning any second language will increase a child's chances for success. And having two official languages sets our entire country apart on the world stage, allowing it to participate in both the Francophonie and the Commonwealth, a unique bridge between cultures and worldviews."
This notion of bilingualism or multilingualism also tends to be associated with other attributes and cognitive benefits such as dedication, since learning a new language is no small undertaking, as well as cultural sensitivity. These traits are increasingly valued in the globalized world, says Monica Heller, co-chair of the sociology department at the University of Toronto.
For Meaghan Jones, although some people in her office at the Correctional Service of Canada speak other languages, it's those French language skills that allow her to stand out.
"It's been completely invaluable," she says.
Despite competition from other languages, knowing both French and English opens up the doors for jobs in Canada – along with all the economic benefits that come from them.
In a competitive job market and a globalized world, everyone's looking for qualities to help them stand out from the pack. While it's no small feat to learn another language, it can reap huge rewards down the road.
Popular in the Community