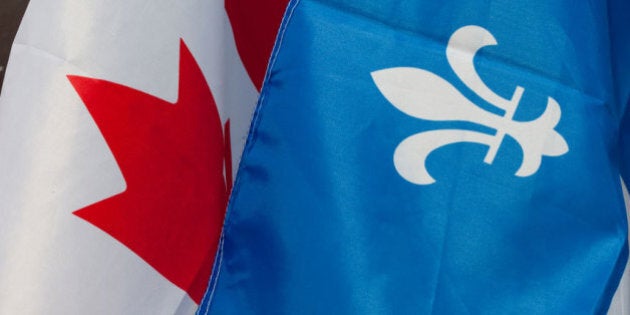 OTTAWA — The Conservative government is chipping away at official bilingualism, the NDP charged Tuesday, pointing to the elimination of bilingual positions at the Canada Revenue Agency.
NDP official languages critic Yvon Godin wrote to the Office of the Commissioner of Official Languages on Monday complaining that the federal government had arbitrarily changed the linguistic designation of certain positions within the public service, from bilingual to unilingual English positions.
"I worry that these changes could impact the ability of Canadians to receive services from CRA [Canada Revenue Agency] in the official language of their choice, and on the capacity of employees to work in the official language of their choice," Godin wrote in a letter to Commissioner Graham Fraser.
The NDP MP for Acadie–Bathurst in New Brunswick told The Huffington Post Canada he was not sure how many positions had been affected at CRA or in other federal departments, but he was concerned that it is part of a larger trend to undermine bilingualism in Canada by Prime Minister Stephen Harper's government.
"I am very worried," Godin said over the phone from Sudbury, Ont., where he is promoting a bill that calls for all Supreme Court justices to be functionally bilingual.
It will make it difficult for francophones to work in a French-speaking or bilingual environment if bilingual managerial positions are replaced by unilingual anglophone positions, Godin said.
"Francophones are seeing their rights eliminated," he added. "It's absolutely calculated. Mr. Harper does nothing that isn't calculated or desired."
On Saturday, Ottawa-area newspaper Le Droit said it had learned that tens of employees at the Canada Revenue Agency had been told that their bilingual positions – which comes with annual $800 bilingualism bonuses – would now be deemed unilingual English.
"It's not a question of money that worries me," one anonymous employee told the newspaper, "rather, it's the message that it sends: Bilingual positions, we can let them go because bilingualism is not necessary and it costs too much."
The Canada Revenue Agency confirmed the changes late Tuesday, but it would not say how many positions will be affected by the new linguistic designation.
The positions are located in the CRA's Information Technology Branch in Ottawa, spokesman Philippe Brideau said.
He said the change, affecting the linguistic profiles of certain managers, was conducted through a review process that engaged employees and the unions.
"The CRA is confident all rules and guidelines have been followed, and that this review has absolutely no impact on the agency`s delivery of services in both official languages," Brideau said.
Union president Raymond Lazzarra told HuffPost that he wasn't in the loop. "I don't know how many [people are affected] or any numbers, or anything like that, but I will be meeting with them [CRA] tomorrow," he said.
Lazzara is the president of the AFS group, within the Professional Institute of the Public Service of Canada, which represents the CRA employees who are affected by the change.
Beth Trudeau, the spokesperson for Canadians for Language Fairness, an English-rights group, welcomed the news. She hopes it the CRA's move will mean broader changes, she said, although she doubts that it will.
"It [is] an encouraging sign. I really believe that people should be hired on skills rather than language."
Several Conservatives – including Democratic Reform Minister Pierre Poilievre, who represents a riding with a significant number of public service employees – have criticized the federal government's bilingualism policies for discriminating against employees who are not bilingual.
Poilievre told a Commons committee that his constituents feel "that hiring and promotions in the public service ought to be based exclusively on the merit principle, and not just on arbitrary [language] testing" that creates an unnecessary obstacle to their career advancement. He did not want to comment for this story.
Since 1977, an annual $800 bilingualism bonus is paid out monthly to employees who occupy bilingual positions.
The Treasury Board Secretariat told HuffPost in an email that bilingual positions and the number of people meeting the language requirements within the public service have increased significantly.
"As of 2012, the bilingualism bonus in the core public administration currently represents costs of approximately $60 million per year," Treasury Board spokeswoman Kelly James wrote.
"For the 22 separate agencies, the bilingualism bonus represents approximately $10 million per year."