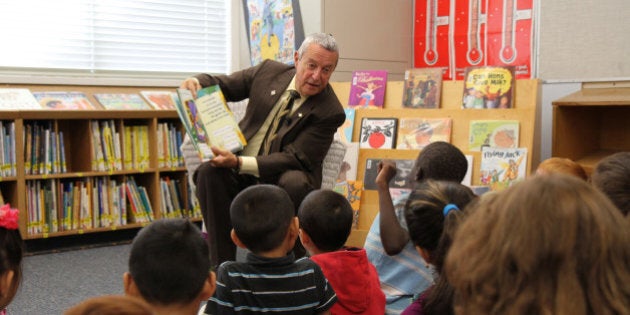 Now that Bill 11 has become law in B.C., giving the minister of education the power to determine what I do for my professional development, I'm looking forward to his plans to help me to deal with some challenges I have in my teaching practice. I have some questions that I hope he can answer.
What do I do if an Individual Education Plan (IEP) calls for a student to have a scribe but there are no education assistants assigned to that student? Do I leave the other 29 students to their own devices while I write the student's responses to an assignment?
When I have 15 of 30 students in a class with IEPs that all call for different adaptations, which of those IEPs should I attend to first during each 70-minute period with the students?
Is there any professional development workshop that would help me to know what I should have the students without IEPs do while I set up the students with IEPs when I do not have an education assistant in the classroom?
And what do I do when I am lucky enough to have one education assistant in a class where there is a student who is autistic, a student with dysgraphia, a student with hearing difficulties, a student with severe behaviour issues and a student with ADHD who needs to constantly pace? To whom should the education assistant and I address our attention?
Do the plans for teachers' professional development include having time to analyze lessons and discuss observations with colleagues like teachers in Finland and Japan do? I have noticed so many things about the way my teen students learn. I would love to have time to do more research and to find ways to adapt my teaching practice to accommodate what my students need.
I must confess that I envy teachers in Finland who are allowed to spend 40 per cent of their time at work in analyzing lessons! I have so many questions about what happens in my classroom that I'd love to have the time to discuss with colleagues.
As it is, the situation now is that I can snatch a few minutes with a colleague while we wait for our photocopying to finish. Sometimes we are lucky and get a few minutes during lunch if we don't have students to meet with or department meetings to attend. We have become experts at eating while multi-tasking!
Having only five Pro-D days a year means that by the time the Pro-D day arrives, there's so much more that needs to be discussed and so on those days we can only chip away at the mountain of curiosities we have about teaching and learning. Imagine having interesting things happen each hour over 180 days and then having just five days to discuss all that has happened.
Because teachers gave up vacation time back in the 1980s in order to have Pro-D days, adding more Pro-D days by extending the school year will definitely not be popular! It seems to me that a much more effective approach would be for professional development to be built into each instructional day as is done elsewhere. That way there is a timely addressing of the issues,
The most powerful and effective development of my teaching practice has often been the result of discussions with my colleagues who have a holistic understanding of the context of students in my classroom.
Even though I draw upon my six years of undergraduate and graduate studies in psychology, sociology and philosophy to make decisions about what the best approach would be to increase the chances of my students being successful, it is discussions with colleagues that are most effective in helping me to see more clearly what a student needs. It's as though my colleague cleans up my glasses so that I can see the classroom situation more clearly.
I'm curious about what education qualifications the minister will draw upon when he develops plans for my professional development...
I really hope that when the minister determines what I should do for my professional development that he considers that what teachers need most are enough education assistants for every student with an IEP and time with colleagues to discuss ways to help our students to be successful learners in the 21st century.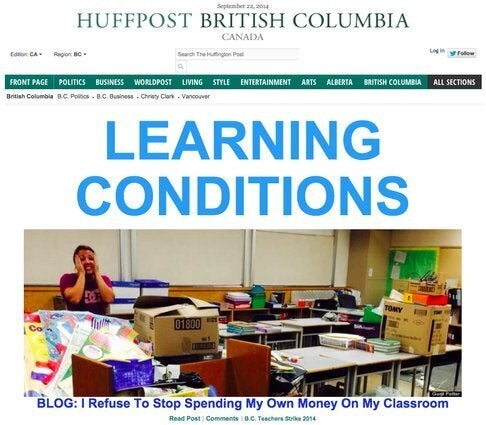 B.C. Teachers' Dispute Front Pages