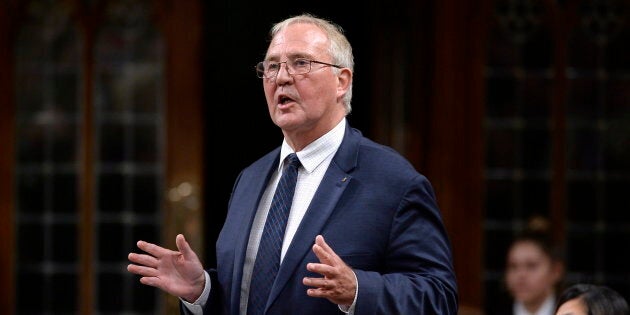 The federal border security minister conceded in the House of Commons Monday that he flubbed a TV interview by claiming the "overwhelming majority" of asylum seekers have left Canada.
"During a media interview this past weekend, I created unnecessary confusion by mistakenly suggesting the majority of asylum claimants have left," Bill Blair said in question period, reading from prepared remarks.
"My intention was to explain how people deemed ineligible, after exhausting all due process, are in fact removed. Immediately upon becoming aware about the confusion that I created, I took immediate steps to clarify my remarks and to apologize."
But Blair owning up to what he dubbed a mistake did not stop Conservatives from accusing the minister of not knowing his own file.
Tory MP Alain Rayes cited figures from the Canada Border Services Agency that "only" 398 of the roughly 34,000 people who crossed the border outside of official ports in the last two years have been removed.
"How can we trust this minister when he doesn't know the true facts of his own file?" he asked.
Blair said statistics on irregular migrants, including asylum claims and interceptions, are publicly available online because of the government's "commitment to openness and transparency."
During an interview with Global News' Mercedes Stephenson that aired Sunday, Blair was asked about deportations and if the government knows the location of all the people who have crossed irregularly into Canada.
Tory MP calls him 'Chief Wiggum'
"We did experience a surge of people last year. We found a very small percentage of them were actually eligible to stay and the overwhelming majority of those people have left," he said. "But we know there's a great deal of work to do."
Tory immigration critic Michelle Rempel took to Twitter to blast the remark as a "flat out lie." She also referred to Blair as "Chief Wiggum," the hapless cop from "The Simpsons." The minister is a former Toronto police chief.
Blair tweeted a mea culpa over the weekend, saying he "clearly misspoke."
In the House Monday, Rempel charged that, according to a new report, "only six illegal border crossers" have been removed from Canada. The Canadian Press reported Monday that between last April and late June, six of nearly 900 irregular migrants with deportation orders from U.S. authorities have been removed by Canadian officials.
When Rempel asked how many "illegal border crossers" remain in the country, Blair took issue with her characterization of those seeking asylum in Canada.
"They are entitled by international convention and Canadian law to due process and humanitarian support," he said.
"Perhaps I created some confusion, Mr. Speaker," Rempel replied, mocking the minister's earlier words. "I asked very clearly how many illegal border crossers remain in Canada and he couldn't answer."
Rempel asked how Canadians can trust Blair knows where asylum seekers are after his "disastrous" interview.
Again, Blair said people seeking asylum in Canada are entitled to due process. If deemed ineligible to stay, they are subject to removal, he said.
"The people that the member opposite is referring to are still engaged in that process. And when those processes are complete, the law will take effect."
Blair, who was named to cabinet over the summer, also had a heated exchange with Tories in question period last week. The minister questioned if MPs on the other side would be willing to remove infants from their parents and "incarcerate them into cages" to stop asylum seekers from entering Canada irregularly.
With files from The Canadian Press