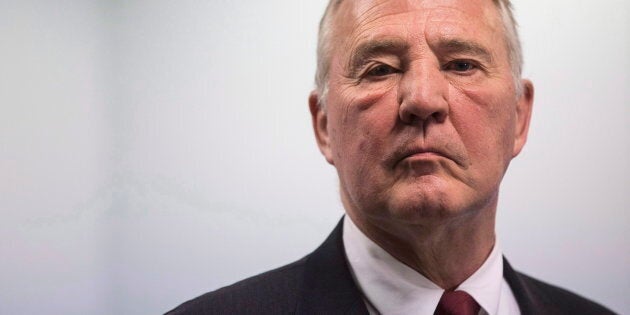 OTTAWA — Bill Blair said in the House of Commons Friday that the Liberal government has "no plans" to decriminalize illicit drugs, despite overwhelming support for the idea from the party's grassroots.
Blair, the parliamentary secretary to the minister of justice, made the comment after Tories pressed the government to promise that it will not decriminalize crack cocaine, heroin, or any other hard drug.
Reading from notes, he said the government has "no plans to legalize or decriminalize any other drugs" besides marijuana. And despite voicing opposition to the concept, the Toronto MP said the government is still open to reviewing related studies.
Watch: Bill Blair said government has 'no plans' to decriminalize illicit drugs
"We are not afraid to look at evidence," he said, adding Liberals will continue reviewing and conducting research as it relates to "the national public health crisis that currently confronts our country."
The comments are similar to ones Blair made earlier in the week after Tories began their attack against Liberals over the idea.
Last weekend, delegates at the Liberal Party's Halifax convention adopted 15 non-binding resolutions. Among them: the decriminalization of small amounts of illicit drugs as a way to address the opioid crisis.
The rationale is that removing criminal sanctions for small possession will encourage people to seek treatment.
The resolution, inspired by a policy adopted by Portugal, came out of convention as one of the party's top five. The implementation of universal pharmacare and the decriminalization of consensual sex work were other resolutions that won popular opinion at convention.
It's a difference of opinion on policy that may create friction between the party membership and leadership heading into next year's general election.
Feds focused on marijuana
The health minister previously said that adopting Portugal's model is not feasible because of Canada's complex provincial and territorial jurisdictions.
The Public Health Agency of Canada said in March that it expects to see more than 4,000 deaths in 2017 in Canada with a connection to opioids.
Petitpas Taylor told the House earlier this week that the government is addressing the opioid epidemic as a public health issue "unlike the Harper Conservatives." She suggested it's premature to talk about decriminalizing illicit drugs when marijuana legalization still hasn't been finalized.
"We are not looking to decriminalize or legalize any drugs aside from cannabis, and we will await further result about the impact of its legalization," she said.
More from HuffPost Canada: