Something unusual happened this week — cameras were allowed inside the Senate to televise a working session of the upper chamber.
Under the public's watchful eye, senators took turns asking Justice Minister Jody Wilson-Raybould and Health Minister Jane Philpott questions on the government's medical assistance in dying bill, C-14.
The points they raised represented Canadians' conflicting views. The debate that ensued was spirited as senators reflected their personal histories and their institutional responsibility rather than a subservience to partisan marching orders.
For the Senate, which has had its share of troubles in recent years — spending scandals, RCMP investigations, criminal charges laid and dropped, members expulsed and reinstated — this is its moment to shine.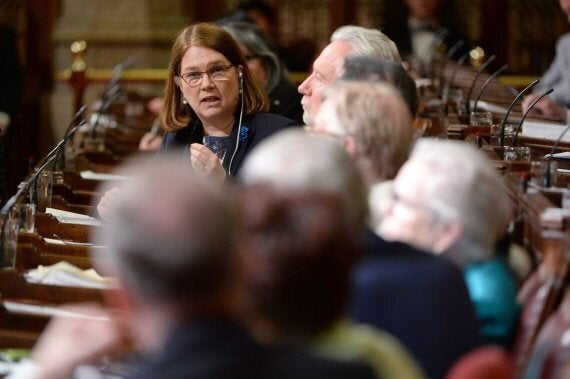 Health Minister Jane Philpott to testifies about the federal government's controversial bill on assisted dying before the entire Senate in Ottawa, June 1, 2016. (Photo: Adrian Wyld/Canadian Press)
Claude Carignan, the Conservative leader in the Senate, told The Huffington Post Canada this week that debate over Bill C-14 is helping demonstrate that there is value in having an independent second chamber.
"We are conscious that we have the eyes of a great majority of Canadians who are watching the Senate right now and that this is an occasion to evaluate the work of senators," he said.
Different tack from Tory colleagues
In the Senate on Wednesday, Carignan led off by asking Wilson-Raybould why the government had chosen to make the bill so restrictive that an individual not in the terminal stage of a disease but who is suffering greatly can't get medical help to die.
"You realize, minister, that by creating this distinction … you are in a way forcing those who are not at the end of life to stop eating, for example, or to harm themselves in order to become eligible for medical assistance in dying," Carignan asked.
It was a very different tack from that of his Conservative colleagues in the Commons, where a majority of Tory MPs opposed the bill on grounds that it was not restrictive enough.
"It's a totally free vote in the Senate," Carignan told HuffPost. "I supposed it was the same in the House, but in the Senate, it is very clear, free vote," he said, carefully stressing each word.
Prime Minister Justin Trudeau stands during Question Period in the House of Commons on June 1, 2016. (Photo: Fred Chartrand/Canadian Press)
During last fall's election, Prime Minister Justin Trudeau's campaign included his desire to have an independent upper house that would carefully review legislation.
In March, when he appointed seven new senators, Trudeau said he hoped they would help transform the Senate into a less partisan and more independent institution that was focused on its fundamental role of representing regional and minority interests and ensuring that the interests of all Canadians were placed before political allegiances.
Senators took the prime minister's words seriously, Carignan said. And now nobody knows what the senators will do — not the government, not even the senators themselves.
The only certainty is the government's bill won't become law before the Supreme Court deadline of June 6, this coming Monday.
The Senate decided Friday that it will adjourn until Tuesday, June 7, although a committee studying the bill will meet on Monday.
"I think we need to do our job. And if that takes us to some time later in June, well, that takes us to sometime later in June."

— Senate Liberal Leader Jim Cowan
Senate Liberal Leader Jim Cowan told the upper house Friday that the deadline isn't "as Earth-shattering" as the government argues.
Senators are taking the matter very seriously and are "not going to delay, rag the puck or filibuster," he told HuffPost.
"If we simply said [to the government], 'Well, we know you want to have it by [Monday], OK we'll just pass it,' ... then there would be a huge outcry from people saying: 'Well, why do we have a Senate? What's the point of the Senate if they are not going to do their job?'
"I think we need to do our job. And if that takes us to some time later in June, well, that takes us to sometime later in June," Cowan said. "I don't feel badly about that."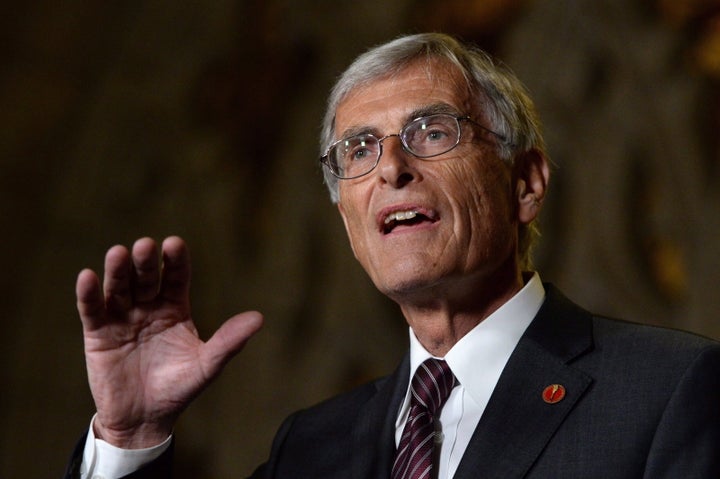 Sen. Jim Cowan speaks at a news conference in the Senate foyer, June 9, 2015. (Photo: Sean Kilpatrick/Canadian Press)
Like several of his colleagues, however, Cowan believes the government's bill is so flawed that it should be delayed, on the basis that no legislation is better than bad legislation.
"Unless it's changed, I won't vote for it."
He finds it too restrictive. "Canadians would be better off with the Carter decision — which to me is perfectly clear, and the courts have found it perfectly clear when they have had to interpret it," he said.
The Carter decision is the Supreme Court's ruling that stated consenting adults have a right to seek medical help to end their lives if they have "grievous and irremediable" medical conditions that cause them suffering that they deem intolerable.
More restrictive eligibility criteria
The government's bill sets out more restrictive eligibility criteria, allowing medically assisted death only for clearly consenting adults "in an advanced stage of irreversible decline" from a serious and incurable disease, illness or disability and for whom natural death is "reasonably foreseeable."
"In my view, we do not have the right to restrict access below the eligibility criteria set out in by the Supreme Court of Canada," Cowan told HuffPost.
The Carter decision doesn't say you have to be at "death's door" or "incurably sick," he explained. It means "a whole lot of people" who would be able to access medically assisted dying under the court's ruling won't be eligible under the current legislation — making the bill, in Cowan's mind, unconstitutional and almost certain to be challenged in the courts.
Some people don't like the court's ruling, Cowan added, but that is the court's decision. "Whether we like it or not, it is what it is."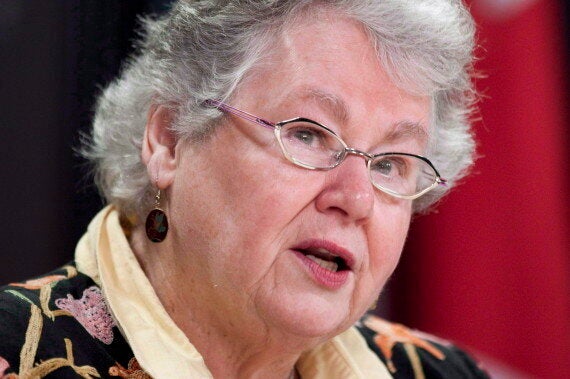 Sen. Nancy Ruth speaks at a news conference in Ottawa on Dec. 16, 2010. (Photo: Sean Kilpatrick/Canadian Press)
Tory Sen. Nancy Ruth told HuffPost she believes a lot of senators are paying careful attention to this legislation because many of them are advancing in age.
"We are of an age where we have been through a lot of deaths already, and we are of an age where we want to make sure advance consent is in before we pop — we need it," said the 74-year-old, who is nearing mandatory retirement.
There is a "huge division" in the Conservative caucus between the MPs and the senators, she said. The Tory senators who took part in a study before the bill was tabled all voted with the majority in advocating very permissible legislation, she noted, while the Conservative MPs from the House dissented.
"Some of them are too ideological and don't have enough life. You know? We've all had lots of friends die, or parents, you know, we are in the exit lane too. I think it makes a difference. You know how difficult it is to watch people suffer."
'The vulnerable is anybody suffering'
She's particularly troubled by some of the chatter coming from the Conservative side of the House. She points to 29-year-old Conservative Garnett Genuis. "He keeps going on about the vulnerable. The vulnerable is anybody suffering — I don't care who it is, what age they are, how disabled they are or not, they are suffering. That's the vulnerable!
"They don't get those things," she said of the Tory MPs. "I think when they have been in enough nursing homes — besides getting votes — they might understand that."
"We've all had lots of friends die, or parents, you know, we are in the exit lane too. I think it makes a difference. You know how difficult it is to watch people suffer."

— Sen. Nancy Ruth
Nancy Ruth feels the government missed the mark with its legislation and forgot the point of the ruling — that the choice is a personal one.
"I feel that every strongly. I expect to be dead in 10 to 12 years."
By 85 or 87, Nancy Ruth said, she wants "out of here. "I don't want pacemakers keeping me alive," she told HuffPost, sitting outside of the Parliament building this week.
"Why? So I can get cancer and go senile and all of this? No, no, no! I'm clearing out, and I'll do it myself or something else, but I would like advance consent that works."
If advance consent isn't included in an amended version of the bill, Nancy Ruth said, she'll likely vote against it.
"They will come back with another bill," she said.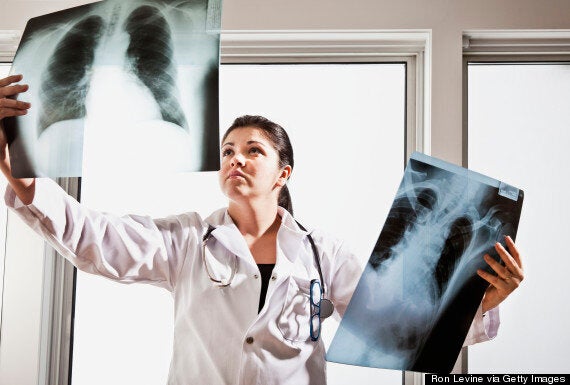 Conservative Sen. David Wells has different concerns.
He fears the bill does not protect the rights of physicians who object on philosophical or religious grounds. He believes only doctors, not nurse practitioners, should be able to sign off on medically assisted dying and he believes patients should be able to access the service only in a controlled medical environment, such as a hospital, rather than receive a prescription that they can administer at home with their family.
"This is a medication that is design to kill. This isn't something for a cold sore," he said. Grieving family members shouldn't have to witness what happens to a body when it goes through the natural stages of death, he said.
If he gets the amendments he wants in the bill, Wells suggested he might be ready to accept other changes that make easier for people who seek medically assisted death, such as Cowan's suggestion that the government use the language in the Carter decision.
"This is life and death legislation, this isn't tax code or fisheries licences. Let's get it right the first time, as best we can."

— Sen. David Wells
Like Cowan and Nancy Ruth, Wells is also in no hurry to pass the bill.
"This is life and death legislation, this isn't tax code or fisheries licences," he said. "Let's get it right the first time, as best we can."
Those are concerns he shared with Wilson-Raybould, who requested a phone call Friday to lobby for his support.
"She wanted to know where I stood. Did I have any questions? What were my concerns? Which I thought was odd for a minister to call seeking that information from me," the Newfoundland senator said. "It never happened to me before."
"Maybe she should be calling the whip on her side to get the status or something," he said.
Health Minister Jane Philpott's spokesman David Clements confirmed that the ministers are planning to phone senators until the very end.
Bill C-14 has highlighted the fact there is nobody for the government to call to get a feeling for the pulse of the Senate's thinking.
The consequence of Trudeau's freeing the upper chamber of partisanship is a whole lot of uncertainty.
In 2014, when Trudeau kicked the Liberal senators out of his caucus, the group in the Senate decided all their votes would be free. Then, when the prime minister declared his desire to see the place filled with more independents, several Tory senators left their caucus to sit as free-thinkers.
While the independents caucus together, many have different points of view and they've rejected having the prime minister's hand-picked representative in the chamber, Peter Harder, and his two-person team — whip Grant Mitchell, an ex-Liberal, and deputy leader Diane Bellemare, an ex-Conservative — in a leadership role.
"Partisanship still exists, but it is softening," Bellemare told HuffPost this week, crediting the arrival of the seven independent senators for blowing the winds of change.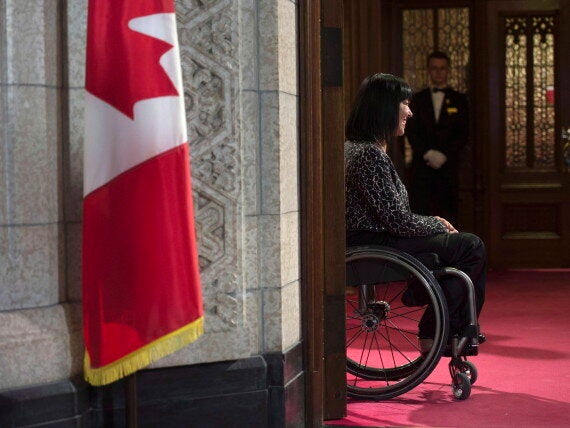 Sen. Chantal Petitclerc poses for a photo before taking her place in the Senate, April 12, 2016. (Photo: Adrian Wyld/Canadian Press)
Most of the new senators who spoke on the bill signalled concerns with the legislation.
In an emotional maiden speech, former paralympian Chantal Petitclerc said that as a disabled person, it was impossible for her to be detached from the debate.
"In all candour — I want to be able to support this bill with all of my heart. For as long as I can remember, I have supported the right to medical assistance in dying," she said. "But the truth is, it is not quite the bill that I was personally waiting for."
Petitclerc said she wanted to talk about unbearable pain "because in the end that's what this is all about."
Some comments suggested that pain is always manageable, she said. "Well, let me assure you, this is not true. I know firsthand what unbearable pain is."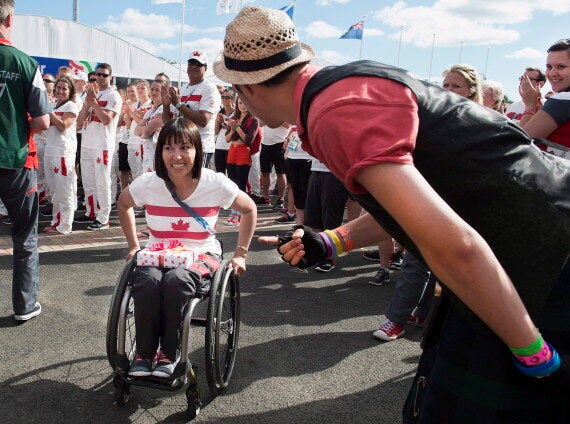 Chantal Petitclerc is pictured at Commonwealth Games in Glasgow, Scotland on July 21, 2014. (Photo: Andrew Vaughan/Canadian Press)
When she was 12, Petitclerc recounted, a barn door fell on her and she spent four months in the hospital.
"I've never told this story," she began. "The first 19 days were torture, nothing less. Not to get too medical, but I had a broken spine and broken ribs. They could not fix the fractured bones until the swelling went down, and that took 19 days.
"Even though I was very young, I will never forget those 19 days of unbearable pain."
Every hour the nurses would come and turn her over from side to side to avoid pressure, and although she was heavily medicated, Petitclerc said she would scream out to her mother for help.
While she knew that she would soon fall back on her legs — or in her wheelchair — she said she cannot help but think of those who live with that type of intolerable pain without any hope of getting better. "It is for those people, and those people alone, that this has to be the best possible law," she said.
New senator Ratna Omidvar also told her Senate colleagues she wants a less restrictive bill that ensures medically assisted dying is "accessible to all who desire and qualify for it," including, especially, poor people who do not have the resources to fight for their rights in court.
"This is not an easy position for me to take. I grew up in a culture where you wait respectfully for death," the Indo-Canadian said.
The deliberations and discussions in the Senate this week filled her with pride, she said. "We have shown Canadians that the Senate is the place where one can have reasoned, independent, civil, nonpartisan debate, and that we are no longer the slumber zone, [in] the language of the media," she said.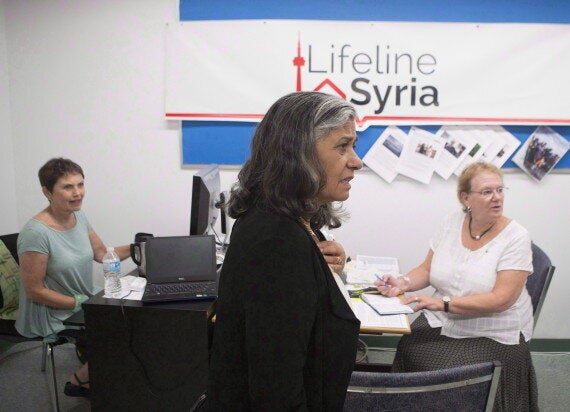 Ratna Omidvar works with volunteers at Lifeline Syria's offices in Toronto in 2015. (Photo: Chris Young/Canadian Press)
Some senators, such as Conservative Jean-Guy Dagenais and Independent Pamela Wallin, took the unusual step of issuing press releases outlining their concerns with the bill.
Conservative Sen. Ghislain Maltais, another Stephen Harper appointee, said Friday that he had "never, or rarely, seen this much unanimity in the Senate."
Conservative deputy leader Yonah Martin said she was struggling to make up her mind.
"I am struggling as a Christian, a woman of faith, where in every breath that I take I feel God's presence, where I was taught that suicide is a sin; but as I listen to Senator Petitclerc, I think about ending one's life as being a right; so it really challenges me at every turn," she said.
"We were not appointed to govern. We were appointed primarily to review and to advise."

— Sen. Murray Sinclair
Some senators did come to the government's defence.
Former Conservative party president Don Plett said he had concerns about conscientious objection for doctors and the availability of the treatment as a prescription, but despite his opposition to euthanasia and assisted suicide he believes the Liberals' legislation is reasonable and responsible.
New senator Murray Sinclair, the head of the Truth and Reconciliation Commission, told his colleagues their job is to ensure that regional interests are considered, that the rights of minorities are protected, that the law is fair and clear, concise and constitutional.
"We do not have to agree with the law. If it is properly passed and meets the test of Senate consideration, we must allow it to proceed," he said.
"With the greatest of respect to those who think otherwise, we were not appointed to govern. We were appointed primarily to review and to advise."
The bill doesn't have to comply with the Carter decision, he offered, it needs only to comply with the Charter "and, in my view, the government has acted appropriately to do so."
Bellemare, the deputy leader or legislative deputy to the government's representative in the Senate, told HuffPost that Bill C-14 really highlighted to Canadians the kind of exhaustive, independent, non-partisan legislative study the upper chamber is capable of, by identifying elements, observations and potential amendments.
In the same breath, however, she suggests some of her colleagues need to put aside some of their personal preferences and judge the bill on its merits.
"This bill, whether you want it to or not, it brings out your emotions, and the Senate needs to look at it with its head and not its emotions," she said.
"We all have preferences, but we need to put those aside, because we are not elected."
Bellemare highlighted conflicting testimony on the constitutionality of the bill. And clearly aware of her colleagues' apprehensions, she noted measures in C-14 that provide for the collection of data on assisted dying and a five-year review of the legislation.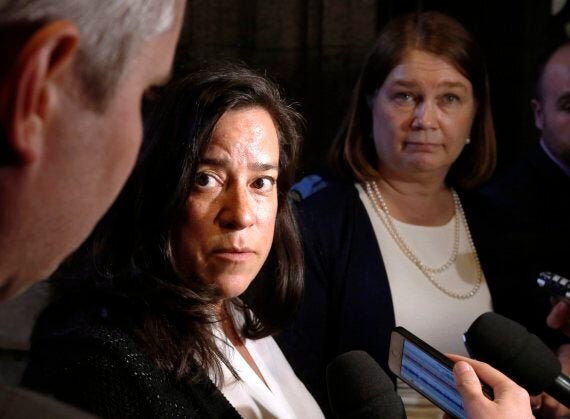 Jody Wilson-Raybould and Jane Philpott on talk to reporters outside of the House of Commons, May 31, 2016. (Photo: Fred Chartrand/Canadian Press)
In the Senate, Wilson-Raybould stressed on Wednesday that the government believes it is taking the best approach to a very difficult public policy issue but that this is "the first step."
For many senators, that seems disingenuous.
In 1980, when Pierre Elliott Trudeau was prime minister, Nancy Ruth said, he promised her he would study changing the words of the national anthem from "thy sons" to "in us command."
"That was 36 years ago. There have been 10 bills on that issue since, and [Wednesday] was the first time it got to second reading," she said. "That argument, it's bullshit. I've been here long enough to know. It's hard as nails to change anything once it becomes law… It takes so many years. So, don't pass it. Make them go back to the drafting board."
Bellemare expects senators will pass the bill with amendments. Wilson-Raybould said the government is open to "thoughtful amendments."
But will the Liberal government accept amendments from the Senate that they just rejected in the House of Commons? Bellemare doesn't know.
And if the House doesn't approve the senators' amendments, what happens?
Will the Senate bow to the wishes of the elected house?
Sen. Joan Fraser, the deputy leader of the Liberals, told the Senate this week that the upper chamber doesn't have a mechanism to break a deadlock between the Senate and the House of Commons.
There are practices in place, but some haven't been used since 1940s. In Britain, she said, some bills go back and forth between the houses multiple times until the two chambers come to agreement.
"We don't have that tradition, but there's nothing in the rules to prevent it."
With a file from the Canadian Press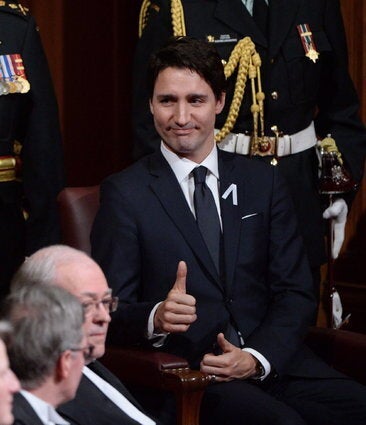 Trudeau's 7 New Senate Appointments