Our government has a duty to protect the human rights of all people. Laws that seek to enshrine those rights and protect us from discrimination should be considered without hesitation.
If enacted into law, Bill C-16 will protect some of the most marginalized people in Canada and so, it is with all our might that we need to support its passing. If Canada really believes in equality, this bill must pass.
Like its precursor (Private Member's Bill C-279), which died a long and painful death last year by way of amendments, Bill C-16 is a critical step in recognizing that trans rights are human rights. Under the Canadian Human Rights Act, it would add gender identity and gender expression to the list of prohibited grounds of discrimination. Under the Criminal Code, it would protect against crimes motivated by bias, prejudice or hate based on gender identity or expression.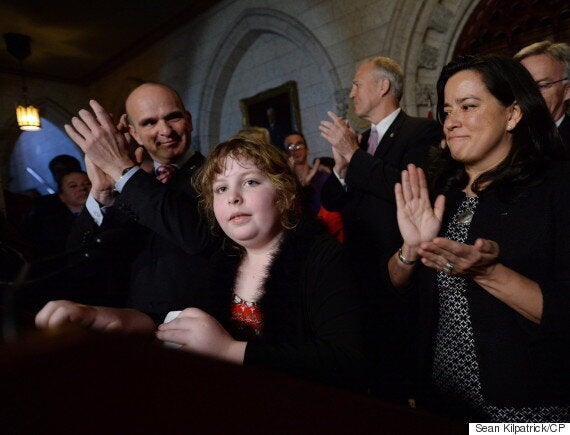 Witnesses are appearing before the Senate's Legal and Constitutional Affairs Committee this week as part of the process for C-16 to become law. Senators are hearing from trans people (including trans and gender creative kids and their families) who support the passing of a bill that impacts them directly. But shocking interventions are also being made by Senators and witnesses who are whipping up fear of "the other" and co-opting powerful concepts like safety, gender equality, feminism, and free speech to negate the very existence and experiences of the people this bill seeks to protect.
What we need to face right now is the fact that transphobic rhetoric is being spewed while trans people in Canada are still not legally protected from discrimination and abuse from the state, institutions and individuals.
When the now defunct Private Member's Bill C-279 was in front of the Senate, procedural tactics were used to stall and obfuscate its passage until the House rose for the 2015 election. Untenable amendments were tabled and Senators wishing to block it used varying strategies to prevent the progress of a bill seeking to enshrine trans people's human rights. We can't allow this to happen again.
Bill C-16, now in its sixth parliamentary incarnation since 2005, needs to safely pass through the Senate, as is, and receive royal assent before Parliament rises for the summer in three weeks. If Bill C-16 doesn't pass before June 23, we could find ourselves back to square one in the Senate and lose yet another year -- another year in which the human rights of trans people are not protected. This bill is more than a symbolic nod; it will mean tangible protections to a community that faces discrimination and disproportionate rates of violence.
At Action Canada for Sexual Health and Rights, we hear firsthand from our partners in the trans community and those who serve them -- how transphobia and cissexism have profoundly negative effects on people's lives, their health and their access at health care. Trans people in Canada and everywhere face ongoing discrimination and are the target of substantial violence. Bill C-16 is an attempt to respond to the risk of violence and harm faced by trans individuals through proposed Criminal Code amendments that would add gender identity and gender expression to the list of hate crimes and factors considered during sentencing. This bill becoming law would mean that trans people in Canada could turn to our laws and see their rights spelled out clearly, which, among other things, would improve their access to justice.
A bill like C-16 empowers people to come forward.
With the passing of this bill comes the opportunity and obligation of the government to clearly lay out the duties of federally-regulated industries, federal departments, agencies and crown corporations as well as multiple actors within the criminal justice system to safeguard the rights of trans and gender-non-conforming people. The law would ensure guidance, educational materials and training to federally-regulated employers and corporations providing services to the public, outlining what workplace accommodations they must provide to their employees and their duties towards members of the public using their services.
On top of this all is the larger opportunity Bill C-16 creates to educate the public and create awareness of trans rights. If things unfold anything like comparable provincial human rights codes, Bill C-16 becoming law will create new and important opportunities to inform people about their rights and obligations. After gender identity and gender expression were added to the Ontario Human Rights Code, the Ontario Human Rights Commission received a rise in reporting and requests for information. A bill like C-16 empowers people to come forward.
It also provides resources and spaces for trans people to provide guidance, tell their own stories, and put forth their own solutions. This growing awareness can have deep impacts in all sectors of society, including improved access to high quality comprehensive health care, housing, employment, and redress when facing discrimination or violence.
With only three weeks left to pass Bill C-16, we all need to speak up in favour equal rights. The safety and well-being of tens of thousands of people demands it. Now is the time to be vigilant, watchful and, most of all, supportive of our trans friends, neighbors, and communities.
A rally to support Bill C-16 will be held on Parliament Hill on Wednesday May 17th at 3:30 PM
Follow the Twitter hashtag #PassC16 for more information on the hearings in front of the Senate's Committee on Legal and Constitutional Affairs
Follow HuffPost Canada Blogs on Facebook