Justin Trudeau saw the attack ad coming a kilometre away.
In fact, he served the Conservative Party their key line on a silver platter and told them to jot it down.
On Monday, Tories released a video online targeting the Liberal leader's opposition to Bill C-24, the Strengthening Canadian Citizenship Act, which allows the federal government to strip the citizenship from Canadians convicted of terrorism, treason, or espionage.
A narrator says the plot would have killed thousands and led to the "most horrific crime Canada has ever seen," as bombs are heard exploding in the distance.
"But what does Justin think?" the man asks.
"And I'll give you the quote so that you guys can jot it down and put it in an attack ad somewhere that the Liberal Party believes that terrorists should get to keep their Canadian citizenship," he said. "Because I do. And I'm willing to take on anyone who disagrees with that."
The Liberal leader said citizenship is not "conditional on good behaviour" and that that those who convicted of terrorism or an act of war against Canada should be locked up for the rest of their lives.
Though Thomas Mulcair also opposes C-24, the clip makes no mention of the NDP leader.
Trudeau to Harper: 'We have a rule of law in this country'
But the Liberal leader did not back down when pressed about the issue onstage Monday. Trudeau questioned why Harper would revoke Amara's citizenship in the middle of a campaign — a point Mulcair made last weekend.
Trudeau said it worried him that the government's response is not that "this person needs to be in jail, but... this person should be given a two-tiered citizenship."
Harper shot back that the "individual in question" is in prison and will be removed from Canada, by law, after he is released.
"That's the difference. But are you seriously saying Mr. Trudeau, we never be able to revoke citizenship from somebody?" Harper asked.
Trudeau shot back that a "Canadian is a Canadian is a Canadian" and that Harper devalues citizenship by making it conditional.
"We have a rule of law in this country and you can't take away citizenship because you don't like what someone does," the Liberal leader said.
CBC News has video of the exchange:
After some heated back and forth, Harper said that — "just a few blocks from here" — Amara would have "detonated bombs that would have been on a scale of 9/11."
"The politics of fear once again, Mr. Harper," Trudeau said, before later adding that Canada is "a country of law and rights."
Amara was sentenced in 2010 to life in prison with no chance of parole until 2016 after admitting his role in the Toronto 18 plot. The plan, ultimately thwarted by police, was described at the time as a "9/11-style" attack because the objective was not only to kill people but to also wreak economic havoc.
The plot involved detonating three vans filled with fertilizer bombs outside the Toronto Stock Exchange, the Toronto offices of the Canadian Security Intelligence Service, and CFB Trenton, a military base between Ottawa and Toronto.
With files from The Canadian Press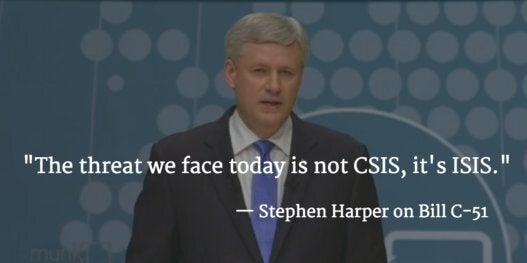 Best Quotes From Canada Election Munk Debate On Foreign Policy