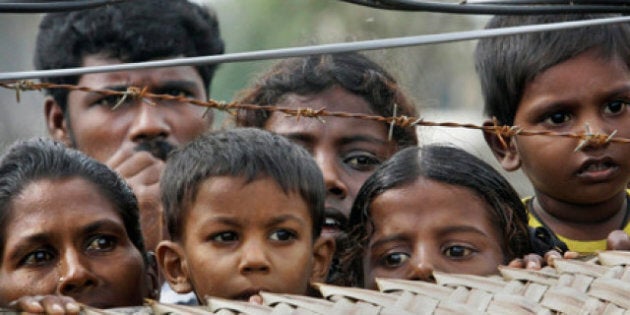 At the whim of the public safety minister, refugee claimants could face incarceration in provincial jails for one year without review under a major overhaul of Canada's immigration system.
The provisions are contained in Bill C-31, which the Tories laud as a crackdown on queue jumpers and illegal smugglers who exploit Canada's generous social safety net.
Critics warn of the potential for "draconian" breaches of the Charter of Rights and Freedoms and a dramatic change to Canada's tradition of offering sanctuary to the persecuted of the world.
Under the bill, the public safety minister will have the power to designate refugees who arrive in Canada as a group as an "irregular arrival." The designation is intended for those suspected of arriving through human smuggling operations. Asylum seekers who arrive on their own will be treated differently.
Irregular arrivals will be incarcerated without review for up to a year and be banned from both applying for permanent residency and sponsoring family members for five years.
While they wait for their cases to be heard, many will end up in provincial jails, which are used as overflow when the Canada Border Services Agency maxes out the 369 beds it maintains in three immigration holding centres in Toronto, Laval and Richmond, B.C.
Those measures have sparked widespread condemnation across Canada by groups who work with refugees. One group, No One Is Illegal, raised the alarm last week by trying to disrupt a speech by Immigration Minister Jason Kenney in Montreal. They also barged into five Conservative MPs' local offices as well as the Vancouver office of Citizenship and Immigration Canada earlier this month.
"The Canada that was known for defending human rights around the world is now bringing in measures in many different fields that really call that reputation into question," he said.
Bill C-31 was sent to committee for further study Monday after the Conservatives defeated a united opposition, 145 to 121
Opponents say the legislation breaches guarantees under the Charter against arbitrary detention. They point out that the Supreme Court ruled in the security certificate case of Charkaoui vs. Canada, that unreviewable detention is akin to arbitrary detention and violates the Charter.
But Immigration Minister Jason Kenney said the government believes Bill C-31 is Charter compliant.
"It might shock some people, but based on what we've seen, most Canadians think that the approach that we've recommended is far too lenient," Kenney told the Huffington Post Canada during a recent editorial board meeting.
One year mandatory detention is needed, Kenney said, because the system is clogged by rules that require reviews for each refugee by the Immigration Refugee Board (IRB) after 48-hours, seven days and every 30 days thereafter of landing in Canada — a "revolving door" of hearings that gets in the way of authorities determining who has a genuine asylum case and who doesn't.
Many of the refugees who make it to Canada's shores are not fleeing persecution, Kenney said, suggesting that if their lives were truly at risk they would disembark in other countries along the route rather than making the long trip to Canada.
What the federal government proposes is modest compared to other jurisdictions, Kenney added.
The Immigration Minister said he also expects most refugees won't have to wait a full year in detention because their cases will be heard earlier under the new rules, possibly within a couple of months.
"The notion that we are going to be detaining refugees is false," Kenney said.
Currently, asylum seekers are detained for as long as it takes to determine their identity. They may be kept longer if officials believe they're likely to be inadmissible to Canada, might pose a danger to the public or are unlikely to appear for their hearing or respond to a removal order.
Peter Showler, the director of the Refugee Forum at the University of Ottawa's Human Rights Research and Education Centre, believes refugees should not be transferred to institutions that include criminal populations.
"This drives me crazy, no one in this country seems to understand this," he told HuffPost.
"It happens already but the danger is, it can happen far more often," Showler, a former chairperson of the IRB, added.
When the MV Sun Sea arrived on British Columbia's shores in August of 2010, most of the 492 Tamil asylum seekers on board were sent to jail.
The men were sent to a maximum-security facility in Maple Ridge, the Fraser Regional Correctional Centre, where they were subject to the same rules as the criminals in detention. Women without children were detained at the medium-security Alouette Correctional Centre, while those with kids were held at the Burnaby Youth Custody Centre.
"We have a juvenile justice system that says we should not be incarcerating kids, but we are saying that children who happen to be refugees who arrive here, if we don't find them desirable, we'll put them in jail for a year, no questions asked, no right of appeal, no anything ... That is completely unacceptable," said Gary Anandasangaree, the legal counsel for the Canadian Tamil Congress.
But Kenney said the tough new measures are needed to dissuade foreign nationals from trying to take advantage of Canada's generosity.
"If the objective was simply to seek the first opportunity for protection, they would do it. But instead, the objective is to migrate to Canada and we need to send a signal that we discourage this because human smuggling is a deadly enterprise," Kenney said.
According to NDP MP Don Davies, the party's former immigration critic, the Conservatives are more interested in stopping the flow of refugees to Canada than stopping human smuggling.
"Already the Criminal Code has a million dollar fine and life imprisonment for human smuggling. You can't get any tougher," Davies said. "It's a message to refugees: Don't do it or we'll punish you."
Davies said he expects the bill will be found unconstitutional. So why, he asked, is the federal government prepared to waste millions of taxpayers' dollars fighting the legislation in court?
"I think it is mainly meant to appeal to an intolerant base of the public that is actually xenophobic and doesn't like immigration," Davies said.
Anandasangaree, who worked with some of the Tamil migrants who arrived on B.C.'s coast, believes the whole legislation is premised on refugees being seen as an undesirable group in Canada.
Sri Lankan Tamils risked their lives coming to Canada because there was nowhere for them to make a legitimate claim in their home country and they faced years, possibly decades, of waiting in limbo in a third country before being accepted through official settlement programs run by the UN Refugee Agency, Anadasangaree said.
"The only solace, to the extent that there is some solace, is that the courts will have hopefully some role in being an arbitrator of these highly problematic provisions in the act," Anadasangaree said.
The Canadian Tamil Congress, however, won't be able to bring forward the case, he said, because they can't afford it.
"We don't have the money. It doesn't mean we won't find the money but we don't have the court challenges … program," he said. The Conservatives scrapped that program, which provided public financing for constitutional challenges, when they came into office in 2006. Anandasangaree said he hoped some people concerned about the issue might step forward with funding.
The immigration minister, however, believes public support is on his side.
The only comment, Kenney said, he has received so far on his tour discussing the federal government's overhaul of the immigration and refugee system was from a Sikh gentleman "whose comment to me was 'Why do you give these people asylum claims? They should all be deported immediately.'"
"We found when the human smuggling vessels arrived on the west coast, that by far, the strongest negative reaction was from newcomers," Kenney added.
"Why? Because the vast majority of them came through the legal system," he said.
The proof is in the pudding, Kenney suggested.
"We took these positions before the last election, particularly in terms of the integrity measures, and our vote among newcomers went up significantly," Kenney said.
Paul Attila, a spokesman for the group Immigrants For Canada who was recently appointed by the Tories to sit on the board of the Canadian Race Relations Foundation, told HuffPost that on a personal level he is uncomfortable with putting would-be refugees in prison, but that he believes Bill C-31 is a step in the right direction because it ensures people who fraudulently come to Canada won't be processed before others who are patiently waiting in line.
"Because the amount in the refugee and asylum seeker cue … is higher than it should be, now legitimate persons are going to have to wait longer before they are properly assessed, and that's a problem," said Attila, whose parents immigrated from Egypt.
Balpreet Singh, the legal counsel for the World Sikh Organization of Canada, said his association held town halls in Surrey, B.C. and Brampton, Ont., to discuss the reforms and found general opposition. The Conservatives' bill is "not helpful," "punishing" and "draconian," he said.
Sikhs fled India because of human rights concerns in the late 1980s and early 1990s, Singh said, so they are also sensitive to another measure in the bill that would give the minister the authority to list any nation a "safe" country, thereby limiting the rights of asylum seekers from that region.
"A country can be safe for one group but for certain minorities it might not be safe, and to deny (those citizens) a fair hearing and the right to appeal is unfair," Singh said.
Obert Macando, a forty-year old political refugee, told HuffPost he worries the Tories' proposed changes will affect the way new refugees see their home country.
"I was broken by the result of the violence that I had witnessed and suffered in Zimbabwe," he said in a phone interview. "But when I arrived in the summer of 2003, Canada embraced me, Canada welcomed me like I was a human being and held me."
"Those (proposed) changes are going to make it hard for immigrants to come to Canada but also for immigrants to be welcomed with compassion," Macando said. Something, he explained, that was key to his recovery.
Canada's immigration system has been abused, but the Tories' plan isn't the right answer concludes Liberal MP and former immigration minister, Judy Sgro.
"There are people who will abuse every system you put in place no matter how careful you try to be," she said. "But you make changes to improve it, you don't turn around and say 'if you come to this country as a refugee, I'm going to put you in jail for a year until I'm sure you're a legitimate refugee. It doesn't make any sense."
"They are tarnishing Canada's image every day with this kind of talk."