Canada's proposed anti-terrorism bill passed its second reading on Monday with a vote 176-87 in favour of its omnibus legislation.
The Liberals voted alongside Conservatives to extend power for Canada's national security agencies while the NDP opposed. Independent MP Brent Rathgeber also voted "no" to the controversial anti-terror legislation, saying there are other threats to Canada and its values beyond Islamic militants.
"I realize those are strong words but I've given it a lot of thought and I can't think of anything else," writes Rafe Mair in an op-ed for The Tyee on Monday. "Why on Earth would anybody, much less the prime minister, care what somebody else wears?"
Mair criticized Harper for turning the niqab ban and Bill C-51 into political issues, calling it an election tactic that's based on "exploiting fear."
'Not just about terrorism'
The proposed bill would grant CSIS expanded powers to identify and thwart suspected terrorist plots. Other proposed changes would lower the burden of proof to arrest individuals suspected of terrorist activity and give CSIS the authority to scrub terrorist propaganda from the Internet, pending court approval.
The measures are intended to stretch government powers to protect "against activities that undermine the security of Canada." But the broad scope of the legislation has raised concerns.
"Treaty rights, land rights, natural resource development, any protest like that, they could be considered eco-terrorists," said NDP MP Peter Julian, quoting Grand Chief Terrance Nelson in question period on Monday.
"Does the government not understand that the bill is not just about terrorism?" Julian asked. "Is it really blind to the fact it can also target legitimate dissent and take away fundamental rights of Canadians?"
Public Safety Minister Steven Blaney responded by saying Julian's question was not "balanced," and asked him to read the bill again.
Long list of criticisms and warnings
Harper unveiled the anti-terror bill measures during a campaign-style visit to a Richmond Hill community centre on Jan. 30.
"Our government understands that extreme jihadists have declared war on us, on all free people, and on Canada specifically," Harper said at the time.
He added that the new laws would give police and security agencies "the required tools and flexibility" needed to stop threats before they happen.
"I'm sorry to see this Conservative government mimic the U.S. policy of militarization," Nader said.
Earlier this month, NSA whistleblower Edward Snowden warned a Canadian audience against emergency legislations born from times of "fear and panic."
"I would say we should always be extraordinarily cautious when we see governments trying to set up a new secret police within their own countries," Snowden said in reference to Bill C-51.
Journalist Glenn Greenwald also reminded the audience their chances of dying from an intestinal disease or a bathtub slip-and-fall accident greatly outweigh the possibility of being killed in a terrorist attack.
"And this fearmongering is a very dangerous, yet very effective form of persuading people to submit to things you otherwise wouldn't submit to," he said.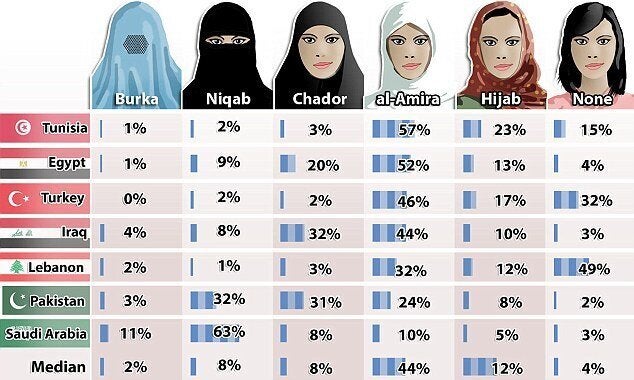 Hijab, Burka And Niqab Use Around The World
Popular in the Community