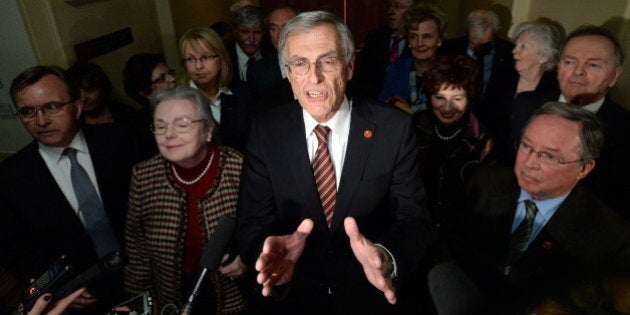 OTTAWA — Liberal senators are poised to demonstrate their independence from the Liberal party leadership in the House of Commons, by voting en masse against the controversial anti-terrorism bill, C-51.
The Senate Liberals' leader, James Cowan, told The Huffington Post Canada he hasn't spoken to Liberal Party Leader Justin Trudeau, who supported the bill in the Commons, but he expects most of the Liberal team in the upper chamber to oppose the bill.
"We don't whip votes, so everybody is free to make up their own minds," he said. Cowan hoped the show of independence would allay criticisms that the Senate Liberals are still taking directions from the Trudeau team.
Trudeau kicked all his senators out of the Liberal caucus last year and barred them from organizing for the federal party. Despite the surprise banishment, the 29 senators decided to keep calling themselves Liberals anyway.
Cowan said he has always believed the Senate should be more independent, and he hopes Conservative senators might eventually follow suit.
"I've never discussed this bill with Mr. Trudeau. He is entitled to his view, and I am entitled to my view," the Senate Liberal said. "What I don't have to do is worry about what effect it is going to have on my election chances."
Trudeau told a student audience in B.C. earlier this year that he was opposed to some controversial aspects of C-51 and would amend the bill if elected. But he suggested he was voting in favour in order to discourage the Conservatives from making "political hay" of the security issue in an election year.
"This conversation might be different if we weren't months from an election campaign, but we are," he said.
Security, public safety and tough-on-crime measures are likely to be part of the next election campaign, Cowan said. Senators, by virtue of being appointed, are free to express their views without political consideration, he said.
"Liberal senators didn't run in the last election and won't run in this election, and so we can't promise to change it, because we are not going to be in government, so that option is not available to us," Cowan explained.
The Conservatives' anti-terrorism law goes too far and is too great an invasion of people's privacy, the Liberal Senate leader said.
Canada is the only five-eyes country that doesn't have parliamentary oversight of its security and intelligence agencies, Cowan noted. The five-eyes is an intelligence alliance that includes Canada, Australia, New Zealand, the United Kingdom and the United States. "We need that, and we need a better balance between the need for police and security agencies to have appropriate powers … [and] everybody's rights."
"This goes just too far. It goes over the top."
After reading letters from more than 100 people — former prime ministers, former justice ministers, academics and former judges —condemning the bill, Cowan said he asked Senate Conservative leader Claude Carignan what experts or eminent Canadians supported C-51.
"His answer was 'Stephen Harper.'"
They couldn't point to anybody else, Cowan said. "The only name that they came up with was his."
The Senate Liberals plan to introduce amendments but if they fail to pass, many will vote against the bill.
"I won't vote for it without amendments protecting privacy," B.C. Liberal senator Larry Campbell told HuffPost.
New Brunswick senator Pierrette Ringuette enumerated all the bill's problems on her fingers and told HuffPost she will vote against it as well. So did Quebec Liberal senator Dennis Dawson.
"I could have arrived at the same conclusion than the Liberals [in the House of Commons] saying that with all its flaws it's better than nothing," he said, "but I've arrived at the conclusion, that it's too flawed for us to be honest chamber of second thought and support it."
The Senate's former powerful chair of the National Security and Defence Committee, however, Ontario Liberal senator Colin Kenny said he would vote for the bill.
Kenny said he was still concerned about C-51's lack of sufficient review, having argued in the past that the Security Intelligence Review Committee (SIRC) is not doing its job.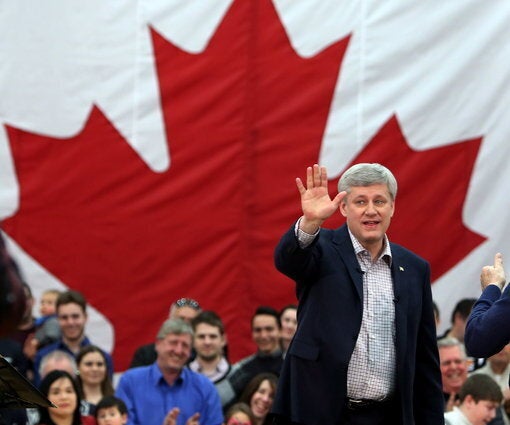 5 Things To Know About The Anti-Terror Law

Popular in the Community