Conservatives were in a hurry this week to limit parliamentary debate on Bill C-51, the government's new anti-terror legislation.
And New Democrats wanted to slow things down.
As expected, Tories introduced a time allocation motion on Thursday in the House of Commons to shut down further debate on the bill and send it off to a Commons committee for review.
Government House leader Peter Van Loan later told CBC News the motion was not about curtailing discussion, but rather an effort to move along a piece of priority legislation.
And, with a majority government, there was little the Opposition could do to thwart Conservatives — no matter how much the move offended some MPs.
But that didn't stop NDP MPs from trying to make a point. NDP Leader Thomas Mulcair announced earlier this week that his party will not support Bill C-51, calling it "sweeping, dangerous, vague and ineffective." Justin Trudeau's Liberals will vote for the legislation but amend it if they win the next election.
When the time allocation motion was introduced Thursday, Tory MPs in the House voted in favour at a quick clip, one after the other.
But when it came to the "nays," New Democrats... took their time.
First, Mulcair received sustained applause from his caucus colleagues after rising from his seat.
Then, NDP MPs started to linger on their feet a little longer than was necessary. One Mississippi. Two Mississippi. Three Mississip...
A few, like deputy leader David Christopherson and finance critic Nathan Cullen, pretended they forgot how to vote at all. Is it my turn? Are you sure? Who's next?
"Hey Pat. Pat! With a slow vote, you'll have time to go get underwear," heckled someone at Winnipeg MP Pat Martin who, earlier in the day, said tight gitches were the reason he left his seat during a vote.
"The sale's still on," Martin shot back.
"Why are they doing this?" wondered Labour Minister Kellie Leitch, after a little while. "Why are they slow voting?"
British Columbia NDP MP Don Davies took the serious route, admonishing the Tories with a finger wave and what appears to be a declaration of "shame." His Quebec colleague Alexandre Boulerice straight-up chewed the scenery.
Not every New Democrat played along. Some chose instead to rise to their feet and sit back down at a brisk pace. But veteran B.C. NDP MP Jean Crowder took to Twitter to explain the subtle act of protest.
We are slow voting on motion to limit debate onC 51 to highlight travesty of shutting down debate on bill with such implications 4 Cdns

— Jean Crowder (@JeanCrowder) February 19, 2015
Conservative MP Mark Warawa popped online to call the NDP tactics "childish" and wasteful.
Childish delay tactics being use by NDP in Canada's Parliament to waste time and tax payers dollars.

— Mark Warawa (@MPmarkwarawa) February 19, 2015
NDP complains not enough time to debate C-51 yet it was them who wasted important debate time using childish delay tactics. Hypocrisy

— Mark Warawa (@MPmarkwarawa) February 19, 2015
Liberals voted against shutting down debate, as did both Green MPs, but did so speedily. The motion was passed by a vote of 132-111.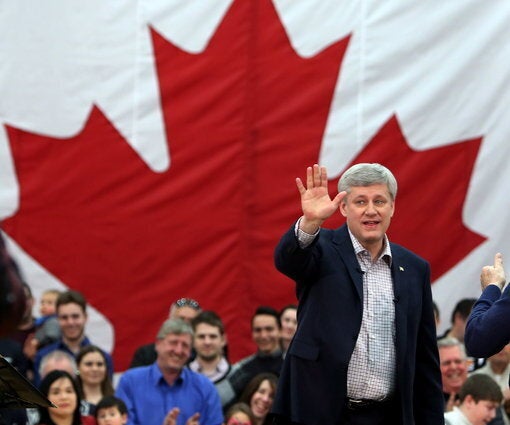 5 Things To Know About The Anti-Terror Law