The Harper government's controversial anti-terror legislation is set to become law after the Senate voted Tuesday to pass Bill C-51 by a vote of 44 to 28.
Twenty-six Senate Liberals showed their independence from Grit Leader Justin Trudeau and his MPs by voting against the bill in the third reading. Two independent senators — including Elaine McCoy who sits as an independent Progressive Conservative — also cast nay votes.
Sen. Jim Munson, the opposition whip in the Senate, took to Twitter after the vote to say he was proud of his team's stand.
Public Safety Minister Steven Blaney released a statement after the vote lauding his bill.
"The first duty of any Government is to keep its citizens safe," Blaney said. "That is why our Government introduced the Anti-terrorism Act, 2015, to better protect Canadians against terrorist threats by giving our police forces the tools they need to keep Canadians safe."
James Cowan, the Senate Liberals' leader, told the Huffington Post Canada last month his senators would vote en masse against the bill, which he dubbed "over the top."
Cowan said at the time that he had not discussed the bill with Trudeau, who supported the legislation in the House of Commons.
"He is entitled to his view, and I am entitled to my view," Cowan said. "What I don't have to do is worry about what effect it is going to have on my election chances."
Green Party Leader Elizabeth May had earlier called on the upper chamber to delay the vote in light of the controversy surrounding the auditor general's report into Senate expenses, which was made public Tuesday.
"An institution that votes on a bill to violate the basic principles of our society on the same day that they are found to have routinely misused public funds is one that cares very little for its own credibility," she said in a statement.
With a Conservative majority in both the House of Commons and Senate, there was little doubt the bill would pass, despite widespread criticism.
However, Trudeau has taken heat since he announced his party would support the bill, particularly from New Democrats who have opposed C-51 at each step. NDP Leader Thomas Mulcair, who pledges to repeal C-51 if he becomes prime minister, has said Tories "intimidated" Liberals into backing the bill.
Liberals maintain there are elements of Bill C-51 that will help keep Canadians secure. However, they vowed to amend the legislation if they win the next election to provide better oversight of national security agencies.
In March, Trudeau told a crowd at the University of British Columbia that voting against C-51 would have allowed Tories to make "political hay" on the campaign trail by presenting Liberals as being soft on terrorism.
"This conversation might be different if we weren't months from an election campaign," he said.
Last week, Trudeau waded into a small crowd of anti-C-51 protesters outside an event in Edmonton to explain his position. Those exchanges were captured on video in what could be a preview of how the Liberal leader will handle critics on the campaign trail.
Having passed the Senate, Bill C-51 will now be sent to the Governor General for royal assent.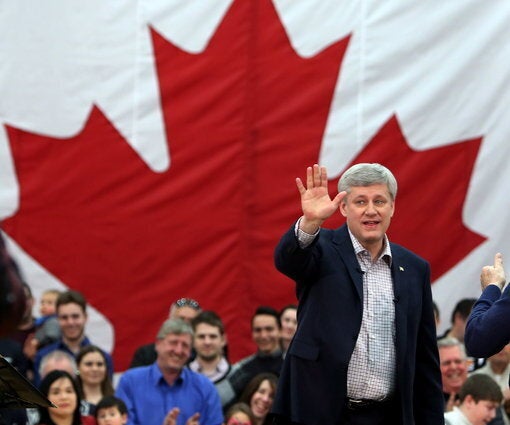 5 Things To Know About The Anti-Terror Law
Salma Ataullahjan (Conservative)
Denies Batters (Conservative)
Diane Bellemare (Conservative)
Lynn Beyak (Conservative)
Douglas Black (Conservative)
Claude Carignan (Conservative)
Jean-Guy Dagenais (Conservative)
Norman Doyle (Conservative)
Nicole Eaton (Conservative)
Tobias Enverga Jr. (Conservative)
Suzanne Fortin-Duplessis (Conservative)
Linda Frum (Conservative)
Irving Gerstein (Conservative)
Stephen Greene (Conservative)
Daniel Lang (Conservative)
Marjory LeBreton (Conservative)
Michael MacDonald (Conservative)
Ghislain Maltais (Conservative)
Fabian Manning (Conservative)
Elizabeth Marshall (Conservative)
Yonah Martin (Conservative)
Thoams McInnis (Conservative)
Paul McIntyre (Conservative)
Percy Mockler (Conservative)
Nancy Ruth (Conservative)
Richard Neufeld (Conservative)
Thanh Hai Ngo (Conservative)
Kelvin Ogilvie (Conservative)
Dennis Patterson (Conservative)
Donald Plett (Conservative)
Rose-May Poirier (Conservative)
Nancy Greene Raine (Conservative)
Michel Rivard (Conservative)
Bob Runciman (Conservative)
Judith Seidman (Conservative)
Larry Smith (Conservative)
Carolyn Stewart Olsen (Conservative)
Scott Tannas (Conservative)
David Tkachuk (Conservative)
Betty Unger (Conservative)
John Wallace (Conservative)
David Wells (Conservative)
Vernon White (Conservative)
Celine Hervieux-Payette (Liberal)
Elizabeth Hubley (Liberal)
Sandra Lovelace Nicholas (Liberal)
Paul Massicotte (Liberal)
Elaine McCoy (Independent Progressive Conservative)
Pierrette Ringuette (Liberal)
Claudette Tardif (Liberal)

Popular in the Community