A Conservative party Facebook post has spurred accusations that the government is using fear-mongering to promote its proposed anti-terror legislation.
And at least one Alberta Tory politician has publicly suggested his federal cousins have gone too far.
On Monday, a screengrab from a video by Somalia-based terror group al-Shabaab was posted to the official Facebook page of the federal Conservatives. The group, linked to al-Qaeda, attacked Kenya's Westgate Mall in September 2013 and murdered close to 70 people.
The Facebook post highlighted a threat made near the end of the 77-minute video, posted to YouTube last week, in which a masked al-Shabaab spokesperson urges similar attacks on western shopping centres, including Alberta's West Edmonton Mall.
"If just a handful of mujahedeen fighters could bring Kenya to a complete standstill for nearly a week, then imagine what a dedicated mujahedeen in the West could do to the American or Jewish-owned shopping centres across the world," the man says in the video.
"What if such an attack was to occur in the Mall of America in Minnesota, or the West Edmonton Mall in Canada, or in London's Oxford Street, or any of the hundred or so Jewish-owned Westfield shopping centres dotted right across the western world?"
At the bottom of the Facebook post, followers are told "Jihadi terrorists are threatening Canada" and asked to click a link to the Conservative website, where they can add their name to a petition supporting Bill C-51.
"Sign your name if you support our efforts to keep Canada glorious and free," the site reads, with supporters invited to provide their names, emails, and postal codes. Such data is commonly collected by political parties to build up voter databases.
While many of the comments on the Facebook post were supportive of the party, others expressed reservations about the tactic.
"More fear-mongering," wrote one man.
"Using fear to push your agenda is what terrorists do... anyone else see the hypocrisy here?" wrote another.
An apparent Tory supporter also said he'd vote for whatever party vows to repeal Bill C-51, if it passes in its current form.
Edmonton MLA Thomas Lukaszuk, who ran for the leadership of the Alberta Progressive Conservatives, took to Twitter Tuesday to call the post troubling "on so many levels."
Lukaszuk was then challenged by a man who, according to CBC News, formerly served as a Wild Rose Party press secretary and federal Tory policy chair.
But the Facebook post also yielded some strong reactions and questions from journalists online.
Earlier this week, Tory MP Tim Uppal, who represents the riding of Edmonton-Sherwood Park, sent an email to party supporters urging them to sign the same Bill C-51 petition.
"Jihadi terrorists have declared war on Canada," he wrote, echoing earlier comments from Prime Minister Stephen Harper. "They hate us because of our values. They hate us because we love freedom and tolerance."
A survey conducted for CBC News revealed Wednesday that nearly 50 per cent of Canadians feel less safe from the threat of terrorism than they did just two years ago.
But advocacy group Lead Now made waves this week with a unique ad warning Canadians not to be "manipulated" by politicians on this issue.
In January, Tories were accused of using the attacks in Paris as part of a fundraising drive after a "donate now" button appeared on a party website urging Canadians stand up to terrorism in the wake of the Charlie Hebdo shooting.
Tory spokesperson Cory Hann told The Huffington Post Canada that the donation icon was a built-in feature that appears on every page of the Conservative site but was removed to avoid confusion.
"This was not, and is not, a fundraising campaign," he said in an email.
Amid the controversy, federal Liberals also removed a donation button from a site featuring Liberal Leader Justin Trudeau's comments after the Parliament Hill attack last fall.
Trudeau's Liberals have announced they will vote for Bill C-51 and amend the legislation if they win the next election. Thomas Mulcair says his New Democrats will not support the bill, calling it "sweeping, dangerous, vague and ineffective."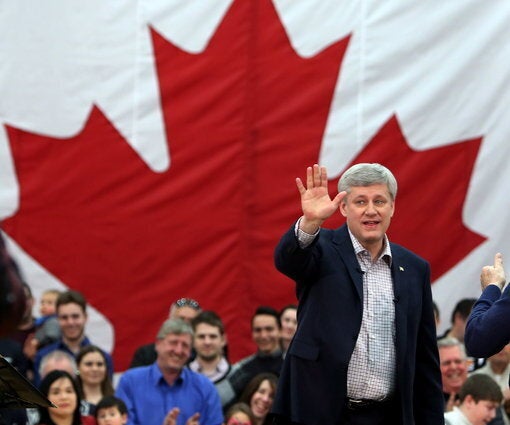 5 Things To Know About The Anti-Terror Law