Liberal legislation to expunge the records of Canadians convicted of crimes because of consensual same-sex activity passed the House of Commons Wednesday with the support of all parties.
And in a possible sign of how much things can change, a Conservative MP marked the moment by quoting iconic drag queen RuPaul.
"Because I'm not sure anyone has ever done this in the House before, I'm going to quote RuPaul," Michelle Rempel said in debate. "If you can't love yourself, how in the hell you gonna love somebody else?"
The remark yielded a lighthearted rebuke from NDP MP Randall Garrison, his party's critic for LGBTQ issues, who called Tory support for the bill a "sign of progress" and lauded Rempel's work to promote acceptance.
I am a little unhappy with her today since she has stolen from me the ability to be the first one to quote RuPaul in the House of Commons.NDP MP Randall Garrison
"I am a little unhappy with her today since she has stolen from me the ability to be the first one to quote RuPaul in the House of Commons but I will forgive her for that," Garrison said, sparking laughs.
Green Party Leader Elizabeth May later said she was "too old" to quote RuPaul but instead referenced Oscar Wilde, the brilliant 19th century writer who was imprisoned for "gross indecency" with men.
"Oscar Wilde said, 'Keep love in your heart. A life without it is like a sunless garden in which the flowers have died.' Keeping love in our hearts is why we redress past wrongs," May said.
Bill doesn't address bawdy house laws
The bill will allow Canadians to apply to erase past convictions for gross indecency, buggery and anal intercourse — or for family members or other representatives to do so on behalf of those who have died. Consensual homosexual activity was first decriminalized in Canada in 1969.
Despite their support the bill, both Garrison and May expressed concerns that it does not go far enough.
In particular, Garrison noted the bill does not address those convicted under bawdy house laws that allowed police to raid bathhouses and bars frequented by gay men. The NDP MP called the oversight "peculiar" because Trudeau "included the bathhouse raid and entrapment of gay men in his apology."
May also said historians and experts on LGBTQ2 community were not consulted. Some of those researchers told The Canadian Press this week that they disagree with destroying the records of those convicted of gay sex because preservation is essential to documenting history.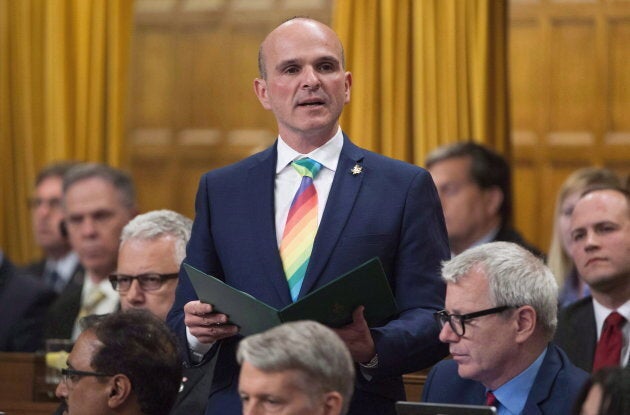 The researchers also criticized how it leaves out bawdy house provisions and pertains only to those Canadians who were convicted, not arrested or interrogated.
Steven Maynard, who teaches the history of sexuality at Queen's University, wrote in The Globe and Mail that C-66 is a "flawed bill" that is being passed in the name of "political optics and expediency."
Liberal MP Randy Boissonnault, Trudeau's special adviser on LGBTQ2 issues, told the House on Wednesday that bawdy house laws captured a "broad scope of acts deemed immoral at the time." By focusing on those charges under gross indecency, buggery and anal intercourse, the government was being precise about Criminal Code provisions that victimized LGBTQ2 people, he said.
"This legislation in the past would have applied to me," Boissonnault said. "I would probably already be in jail 30, 40, or 50 years ago," he said.
Garrison also said that as a gay man of a "certain age," the bill strikes close to home.
"It was probably more a matter of luck than anything else that I myself was not caught in the nets cast to capture gay men in public spaces," he said.
The legislation is now headed for the Senate, where it faces more study and possible amendments.
With a file from The Canadian Press