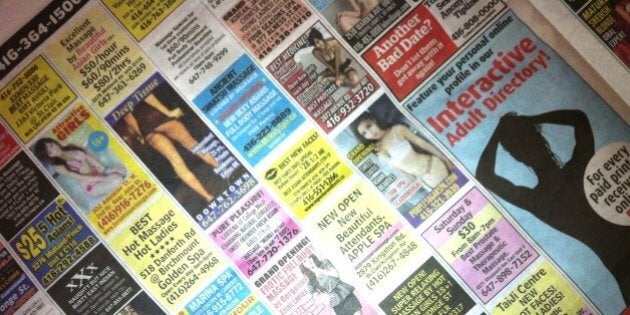 Those titillating ads may not explicitly mention sex, but most readers perusing the back pages of alternative newspapers can infer that the $60 "full service" from the "Taiwan adult show model" suggests more than just a massage is on the table.
Such offers might soon disappear from websites and print publications if a provision banning the advertisement of sexual services in the Conservatives' new sex work bill before the House becomes law.
Bill C-36 is the Tories' answer to December's Supreme Court ruling that struck down the country's prostitution legislation because the ambiguity of the laws — specifically those outlawing bawdy houses, living off the avails of prostitution and communicating in public — exposed sex workers to harm and violated their Charter rights.
The "Protection of Communities and Exploited Persons Act" is Justice Minister Peter MacKay's "made-in-Canada" solution to the problems inherent in the world's oldest profession. The bill upholds the legalization of selling sex, but now outlaws its purchase, along with many of the activities surrounding it. The bill's constitutionality is under severe scrutiny from many critics who say it is no better than the old laws.
"The objective of this provision of our bill is to prohibit third parties like pimps, from using advertisements to facilitate the exploitation of vulnerable Canadians," a spokeswoman for MacKay told Huffington Post Canada.
The breadth of the new restriction, however, leaves many questions about how a sweeping interpretation could radically change the sex work, advertising and adult entertainment industries.
The bill lumps in 'advertisement of sexual services" in the same category with "obscene" materials, child porn, voyeuristic recordings and "crime comics" as materials that police can seize during investigations.
Some are asking what else could be swept up in the ban on advertising "sexual services." Could porn and strip club advertising also be affected by the ban? What about sex therapists and sex toy purveyors?
Others are concerned about the extent of a publisher's responsibility to screen the ads. Could an internet service provider be found guilty for permitting sex websites? Could Craigslist? How will the government police the internet?
Industry insiders say the law will be ineffective in preventing exploitation and instead serve to drive the industry further underground and sex workers further into danger. For those reasons, many believe the ban on advertising will not pass constitutional muster.
At Toronto's NOW magazine, one of the country's largest alternative weekly newspapers, "adult" advertising comprises a significant portion of revenue, says editor and CEO Alice Klein, though she declined to break down how much.
Those ads have been a revenue-generating staple at alternative weekly newspapers across the continent. At a time when all print publications are grappling with shrinking revenue, a ban on advertising sex work would affect the paper's business model, Klein says.
NOW made a conscious advertising policy decision early in its life not to discriminate against sex work, Klein says, adding that the weekly has "paid a price" for that decision from advertisers that have stayed away because they found its ad policy unsavoury.
Its chief rival, Eye magazine, dropped escort ads from its pages ahead of its relaunch as The Grid in 2011, citing its attempt to shore up a more mainstream readership and a fundamental opposition to prostitution, publisher and editor in chief Laas Turnbull told Canadian Business in 2011.
"What really drove it home for us was being contacted a few times by the police, asking for our help because they found out that a 14-, 15- or 16-year-old girl was abducted and they suspect that she had been inducted into some prostitution ring. That's the part of it I find really unacceptable," he told the magazine.
For Klein, the decision to allow sex advertising doesn't just make business sense: It is both moral and political.
"If that advertising was to disappear from our pages, there would probably new advertisers who would find us more sanitized and easier to engage with," she says.
"The deeper consideration is: Do we stand with this discriminatory practice and this cultural stigmatization that causes so much harm?"
She believes allowing advertising empowers women to run their own business and adds another layer of protection in the underground industry.
"It's so good for communities because it allows people to run their businesses without being out on the street. The community and the individual sex worker are so much better off," she says.
As the editor of Eye noted, sex ads are also leads in criminal investigations because locations and phone numbers are published.
"How is it going to be better to investigate human trafficking for example if that was all pushed underground?" Klein asks.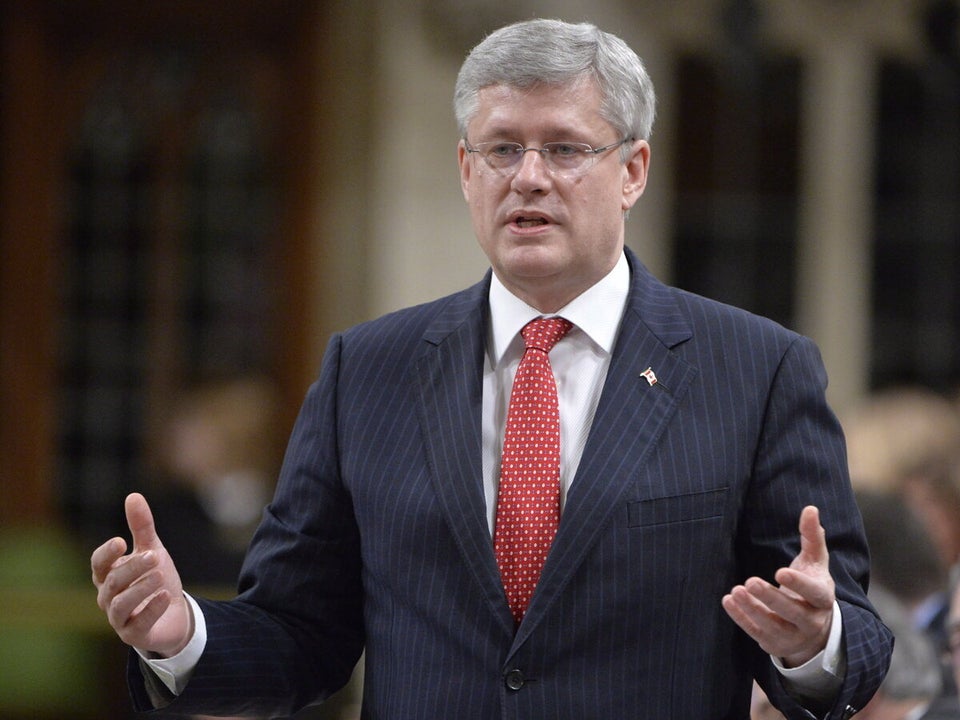 8 Recent Supreme Court Losses For Harper
A ban on advertising will fundamentally alter the sex trade in Canada, according to the Pivot legal society, which has been instrumental in fighting for decriminalization of sex work. It will severely limit workers' ability to work indoors where it is safer, legal director Katrina Pacey feels.
The proposed legislation skirts the Supreme Court ruling because it does not make bawdy houses themselves illegal, but it has the same effect by targeting them in other ways. The inability to promote visits to a specific indoor location forces workers to solicit outside, but the laws would also make it illegal to do so in a public space where a child might reasonably be expected.
"The whole problem with sex work is that sex workers have had to hide and pretend that they're not doing it and not tell anyone they're doing it," she says.
The new legislation gives sex workers few options, as it effectively bans them from working on the streets, but also makes indoor work nearly impossible, says Amy Lebovitch, executive director of Sex Professionals of Canada and one of the applicants in the successful bid to have the Supreme Court overturn previous prostitution legislation.
"What's concerning is places where we advertise online, perhaps with fear of this, won't exist anymore," she says.
"If places start closing down where we can put up our ads, how are we supposed to get business?"
The law could also deter women from working together for safety, because advertising their business means they could be accused of posting on someone else's behalf. It could mean workers can't run a co-op style brothel or even work in pairs.
"Often we work together so other people are posting our ad for us or we're posting our ad for other people," she says.
"It's going to push us further into working alone, being very secretive of where we are. It's going to do nothing to make us feel like we can report crimes against us."
The Justice department says a newspaper, website, or internet service provider could be found guilty if it allowed an advertisement for sexual services.
"The Crown would have to prove that a publisher knew the nature of the advertisement (i.e., that it was offering sexual services for sale) and intentionally acted to facilitate the commission of an offence," a spokeswoman says.
It is unclear, however, what level of "knowing" that the ads are for sexual services would constitute a crime. If the law is interpreted broadly, then all sex service advertising could disappear from escort websites to alternative weeklies to classified ad websites like Craigslist and Kijiji. That extreme scenario is what NOW editor Alice Klein is bracing for.
Her publication currently contacts the phone number that will be published to verify it is correct and confirm the information in the ad, but does not examine who is placing the ads for whom – whether a sex worker or someone on their behalf.
"We are not investigators or police," Klein says. "It is likely impossible to verify ... but the bill — as I understand it — makes it illegal to publish anyway."
Enforcement of the laws could prove extremely difficult, costly and resource intensive.
Sex ads are already purposely covert, says Tim Lambrinos, executive director of the Adult Entertainment Association of Canada.
Terms such as "full service" or "oral massage" are code words for easily identifiable acts to anyone in the know, but aside from the suggestively posed models and pithy acronyms, it is easy for a publisher to claim ignorance as to what they are actually selling, and the legislation will not change that, he adds.
"All it says is you can't advertise sexual services, it doesn't say anything about scantily clad women. It doesn't say anything about acronyms. That's always going to be debateable."
Bill C-36 has some way to go before the effects of its advertising provision will be tested in courts. It is slated for second reading in the House on Wednesday. A court challenge stemming from a criminal charge could take years to work its way through the system and the government has indicated it has no intention of getting the legislation reviewed by the Supreme Court.
In the meantime, Lambrinos says, sex will continue to sell in newspaper back pages – but advertisers might have to get even more clever with their innuendo.
Popular in the Community