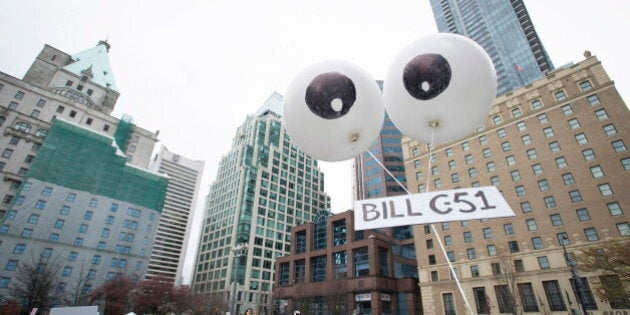 People don't care about policy. As a candidate in the 2015 federal election with a masters in public policy, this is something you hear a lot on a campaign. And in early 2015, the Conservatives "Anti-terrorism Act, 2015" policy sounded good enough to most people. We're all against terrorism, right?
In February 2015, a Angus Reid poll found that support for the bill was at 82 per cent. By early March according to Forum Research it was down to 45 per cent, and at the end of March it had plummeted to 33 per cent. More than three-quarters of Liberal, NDP and Green voters said they disapproved of the legislation, and 13 per cent of Conservative supporters agreed. What happened?
I go to a lot of protests, and have been attending actions since I was a teenager in Niagara protesting the treatment of animals at Marineland. Ask any organizer, it's hard to get folks out. People are busy. They're also not always convinced that showing up, holding a sign and chanting makes a difference. On March 14, 2015, I headed over to Nathan Philips Square in downtown Toronto on a damp and dreary Saturday morning, only to discover 1,500 people banging drums and holding colourful signs with playful taglines like "Kill Bill C-51." Walking through the diverse and passionate crowd, I asked one older man why he was there. He told me, "I lived this, I'm from Poland. I can't let this happen in Canada."
At its core, Bill C-51 is simply unCanadian: it's vague legislation that violates the human rights and freedoms which define us as a country.
Across the country, citizen driven days of actions against Bill C-51 like this one, combined with social media campaigns, drew the attention of the press and people became more aware of the bill. In University-Rosedale where I live, home to what I often call "angry intellectuals", people were Googling and reading the bill. This led to big questions and public concern around free speech, surveillance, privacy, and increases to the power of the police and CSIS.
With both the Liberals and Conservatives supporting the bill, and the NDP, Green Party and Bloc Québecois opposing it, for several months it was a top election issue, one that helped keep the NDP in the lead. With a longer election, by mid-September the attention and interest in Bill C-51 had faded, as image-driven issues like the Syrian refugee crisis and the niqab and citizenship ceremonies received more media attention, and as a result, more interest from the public. While there was a time in the campaign when card carrying Liberals were cutting up their membership cards in protest to Bill C-51, in the end, the Liberals won a historic majority government, attracting new voters to the polls through a change campaign, and in their victory speech declared "sunny ways" ahead.
There's no shortage of issues for the new government to address right now, from climate change to the rise of ISIS/ISIL (or as they don't like to be called, Daesh), to pressing indigenous issues and a commitment to 25,000 Syrians refugees. But as Canadians openly welcome Syrians, and Prime Minister Justin Trudeau personally tells them "you are home," we owe it to them to revisit a piece of legislation that targets them as Muslims, as well as other groups like indigenous people, environmentalists, or anyone who creates art that explores terrorism or criticizes the government of the day.
At its core, Bill C-51 is simply unCanadian: it's vague legislation that violates the human rights and freedoms which define us as a country. Four former prime ministers, Supreme Court judges, justice ministers, prominent Canadian business leaders, artists, civil liberties activists, lawyers, academics, the privacy commissioner, Amnesty International, and every human rights expert in the country opposed the bill. The United Nations also expressed grave concern, and two groups have taken it to court (The Canadian Civil Liberties Association and Canadian Journalists for Free Expression) to challenge the constitutionality of the legislation.
The Liberal government has committed to rewrite what they describe as "problematic elements" of Bill C-51 and introduce new legislation that strengthens accountability in regards to national security, balancing this with rights and freedoms. Amnesty International Canada and the International Civil Liberties Monitoring Group recently issued a report urging the new government to go further.
This is our chance. Let's show the government that we don't have to choose between security and human rights and civil liberties. While it may be a campaign tactic, fear is not a policy. And it's also not a Canadian value.
Jennifer Hollett is an award winning broadcast journalist and digital strategist who uses social media for social justice. She has her Master of Public Administration from Harvard Kennedy School, and was the federal NDP candidate in the downtown Toronto riding University-Rosedale.
Follow HuffPost Canada Blogs on Facebook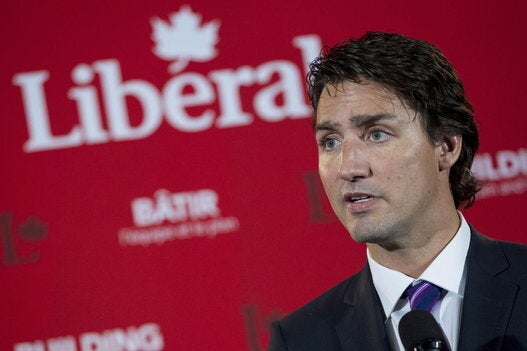 What Liberals Would Change About Bill C-51