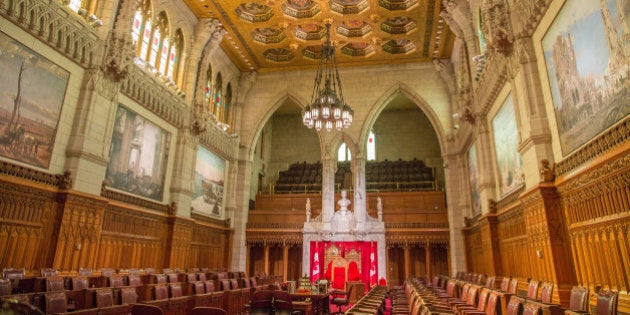 It took only a few minutes, but with a quick motion in the House of Commons last week, the new Liberal government moved to repeal two appalling pieces of federal labour legislation brought in by the former Harper government, Bills C-377 and C-525.
Almost immediately, Conservatives in the Senate promised to do all they could to block that repeal. We can't let that happen. For those who thought this particular struggle was over, there is still much work to be done.
Bills C-525 and C-377 were a direct attack on unions by the former Harper government.
Bill C-525 removed automatic certification for workers in federally regulated sectors once more than 50 per cent of employees signed a union card, making it more difficult for workers to organize and too easy to decertify.
The purpose of Bill C-377 was to tie unions up in red tape with onerous public reporting rules on salaries, any expenses over $5,000, and require unions to estimate how much they spend on political activities. Unions would also be required to publish the names and addresses of anyone whose goods or services they purchased.
The Liberals certainly deserve to be commended for bringing in legislation to repeal these two undemocratic and unjust bills.
The labour movement, including Unifor members, made the defeat of the Harper government a top priority in last fall's federal election. These bills were just two of the attacks that government had launched against working people and their families during their decade in power. And that, in turn, mobilized thousands across the country to get engaged in the election by volunteering on local campaigns, participating in workplace canvasses and voting.
But our work to make the government work for us is not yet done. The Liberals campaigned on promises to champion the needs of the middle-class and to make job creation a top priority. Much work is also needed to repair damage done to Employment Insurance and Canada's cherished health care system, including bringing in a new Health Accord with the provinces, and to expand the Canada Pension Plan. Bill C-4, which limits the rights of workers to refuse unsafe work, must also be repealed.
So, while we celebrate the victory of seeing the legislation needed to repeal C-525 and C-377, we must prepare for the next struggles -- including the Conservative senators' pledge to block this repeal.
Appallingly, the Harper government brought in these two bills, so obviously aimed at blocking workers' rights to organize and for their union to work on their behalf, under the guise of promoting democracy -- even though that had nothing to do with it.
Now, the Conservatives want to use the undemocratic Senate to block their repeal - which just shows that these two bills never had anything to do with democracy, and everything to do with trying to thwart the good work done by unions in this country. Work that must, and will, continue.
A vote in the Senate could be close. The Conservatives have 45 seats, compared with 28 for the Liberals. There are also 10 independents, and two Conservative senators (Diane Bellemare and Nancy Ruth) who had the courage to vote with the Liberals the last time around.
Conservative senators have shown even more courage on these bills in the past, thanks in large part to the effort of former senator Hugh Segal -- a lifelong Conservative, who recognized the damage these two bills would cause and their unconstitutionality.
"My Canada is one where trade unions and free collective bargaining make Canada a better place to live," Segal told Unifor's first Ontario Regional Council in 2013.
He was right then, he's right now, and I am calling on Conservative senators in the Red Chamber today to recognize that fact, and not stand in the way of the democratic will of Canadian people by blocking the repeal of these two bills.
Follow HuffPost Canada Blogs on Facebook