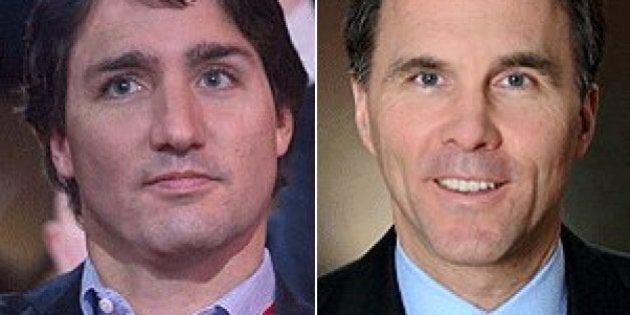 OTTAWA — The head of a conservative think tank is stepping down after the Huffington Post Canada reported he intends to run for the Liberal party in the next federal election.
Bill Morneau was chair of the C.D. Howe Institute when he took the stage Saturday to speak to delegates at the Liberal party's convention in Montreal. He delivered a partisan speech that irked at least one member of the Institute's board of the directors.
The Ottawa Citizen's Glen McGregor quoted Morneau telling the crowd that the Harper Conservatives were focused on "partisan politics of the very worse kind."
"This business person, for one, is frustrated by government cabinet ministers who like to talk about growth" but are instead concerned with "politics without purpose, politics focused solely on beating the other side rather an leading Canadians to the other side," Morneau is quoted telling Liberal delegates.
Just before addressing delegates, HuffPost reported that Morneau would seek the Liberal nomination in Toronto Centre. That riding is currently held by another star Liberal candidate, Chrystia Freeland, who intends to run in 2015 in the Toronto riding of University —Rosedale. Morneau, sources say, originally had his eye on the riding of Don Valley West, but was told to run in Toronto Centre after the former Liberal MP Rob Oliphant put up a strong internal fight.
Fellow C.D. Howe board member Catherine Swift, from the Canadian Federation of Independent Business, told the Ottawa Citizen over the weekend that she was "surprised that Bill would say something that partisan."
"He shouldn't have done that," Swift said.
Swift, interestingly, has occasionally been used and promoted by the Conservative party as a spokesperson for their small-business-friendly proposals
"With my new role as an adviser to the Liberal Party of Canada, however, I believe that I should stand aside before the end of my term this May to ensure that the Institute's non-partisan reputation remains intact," Morneau said in a press release.
William Robson, the president and CEO of the C.D. Howe Institute, said Morneau "understands the critical importance of non-partisanship, and is doing the right thing by stepping down."