OTTAWA — If Finance Minister Bill Morneau feels badly about breaking some of the Liberals' promises to Canadian voters, he isn't showing it.
"I think we've absolutely met up to our promises," he told The Huffington Post Canada during an interview in his 17th-floor corner office on Thursday.
"We said that there has been a real challenge for middle class Canadians over a generation, and we said that we're dealing with low growth over the last decade. [The] most important thing that we said to Canadians was we are going to deal with middle class Canadians' challenges, and we've started right down the path of doing that."
On Tuesday, Morneau delivered the Liberals' maiden budget. It included:
$23 billion for a new Canada Child Benefit for next year alone;
$11.9 billion over five years for infrastructure projects, such as public transit and affordable housing;
$1.5 billion over five years for more generous Canada Student Grants;
$2.5 billion over two years to improve employment insurance;
$2 billion over three years to modernize research labs in post-secondary institutions to spur commercialization of projects;
$8.4 billion over five years for indigenous education, school repairs, child welfare services, housing, drinking water and waste management.
But it also left out several key Liberal election promises. A pledge all parties had made during the campaign to drop the small-business tax rate to 9 per cent was deferred indefinitely, a promise to spend $3 billion on home care and palliative care was missing, as were commitments to cap a stock-option loophole on high-income earners and to allow Canadians to dip into their RRSPs to purchase a second home.
"I'd say to those people that they elected us to make to their lives better," Morneau, a businessman and philanthropist who ventured into elected politics for the first time last year, told HuffPost.
"To the small business owners," Morneau said, "the thing they need most of all is a growing economy … and us making investments in that economy is critically important."
By helping put more money in the pockets of middle class Canadians — through a tax break for those earning less than approximately $216,000 a year and through the monthly Canada Child Benefit — Morneau said the federal government is helping increase the customer base for small businesses.
"I'd say to those people that they elected us to make to their lives better."

— Finance Minister Bill Morneau
"If we're helping middle class Canadians and you're a small business, we're helping your customers. So I know that's what small businesses worry about first. We're dealing with that first, which we think is important."
To those who were hoping to see investments in home care, Morneau said the government is moving instead on a promise to increase the Guaranteed Income Supplement — monthly payments that low-income seniors receive — so that 900,000 seniors can receive up to $947 more a year.
"I would think that is the single most important thing that we can say."
Watch: Morneau explains benefit of lowering Old Age Security
The government remains committed to home care, palliative care and mental health, he said, adding that more money might come in a new health care deal with the provinces.
"We want to ensure that our system is a very good system, that it's efficient, comprehensive… I'm certain we'll have something to say, but I have nothing to say right now."
On closing the stock option loophole, Morneau said simply, "it's just the decision we came to."
During the election campaign, the Liberals said they were aware that tech firms are using stock options as a way of paying employees and didn't want to stifle the sector, so they would permit a cap of $100,000. On Thursday, however, Morneau pointed to the sector to justify doing nothing on stock options.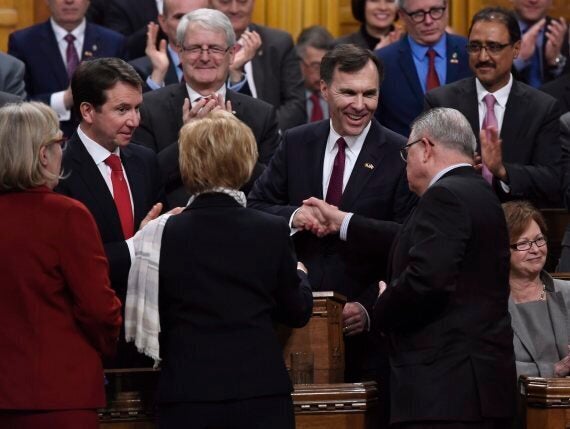 Minister Finance Bill Morneau shakes hands with colleagues following his federal budget speech in the House of Commons on Parliament Hill in Ottawa on March 22, 2016. (Photo: Adrian Wyld/The Canadian Press)
"A really important thing that we heard [during the pre-budget consultations] is we need to think about how we have a more innovative economy," he explained. "And we heard that those organizations that are the most innovative in our society do use stock options as a legitimate form of compensation and we decided that was a platform decision that we would not move forward on."
No apologies on benefits for high-income families
Over the coming year, Morneau said, the government will be focused on developing an innovation agenda focused on how to turn students into innovators with investments in labs, incubators, and the creation of clusters inspired, it seems, by Silicon Valley's model.
In his spare office, only two books are noticeable. Our Kids: The American Dream in Crisis is a New York Times bestseller by social scientist Robert Putnam on how social class helps determine achievements in life and how difficult it is to jump socioeconomic brackets. The Public Wealth of Nations: How Management of Public Assets Can Boost or Bust Economic Growth, by economists Dag Detter and Stefan Fölster, argues that commercial state assets should be taken out of the control of politicians to make them more competitive and to guard against corruption.
Asked whether he personally felt bad about breaking some of the Liberals' election promises, the finance minister shrugged his right shoulder.
"I think that we've done really great things in this budget. We've improved middle class Canadians' lives," he responded. "I also recognize that we have a four-year mandate and there are things that we'll continue to do throughout the course of our mandate that will make a difference for Canadians."
Morneau also made no apologies for focusing some of the Liberals new benefits not just on low-income and middle-income Canadians but also on families making six-figure incomes.
The Liberals' tax cut, for example, which was implemented in December and kicked in in January, gives tax breaks to everyone with taxable income of up to approximately $216,000 a year. The generous Canada Child benefit is phased out progressively – giving lower income families significantly more money – but it still gives households with $170,000 more than $2,000 in benefits annually if they have, for example, two children under 6.
I think that we've done really great things in this budget. We've improved middle class Canadians' lives."

— Finance Minister Bill Morneau
Six-figure income households "get less and less and less," the minister said. "You don't want to have too dramatic a cut-off, otherwise you create a situation where the next dollar of income is a problem for people.
"What we've done is, we've centred the advantages for people who are in the lower and in the low-middle and into the middle so that if you're the woman who is earning $30,000 a year and you have one child — that is someone who is clearly having a challenge, because that's not easy — the amount of benefit you get from the Canada Child Benefit goes up significantly, goes up $6,400 a year. That's important."
But do families who earn more than $150,000 a year need government handouts?
"People will debate exactly the nature of the curve. We took the decision that, as we relooked at the impact, we would have the greatest impact go to the people with the greatest need," Morneau responded. "We think we've chosen the right target, and we think that Canadians who will get that much money through the Canada Child Benefit will be very pleased with what we've chosen."
Watch: Morneau explains how the budget helps middle income families
Chief among the Liberals' election promises, of course, was a pledge to run deficits of no more than $10 billion, to return to balance by 2019-2020 and to ensure that the debt-to-GDP ratio would fall in every year of the Liberals' plan.
The Liberals' budget missed all those targets.
Finance minister: 'Our goal was to be prudent'
Morneau now projects a deficit of $29.4 billion in 2016-2017, and $113.2-billion in new deficits over five years. The federal government offers no firm timeline to get back to balance and will also increase the debt-to-GDP ratio slightly every year until 2020-2021.
Still, the finance minister insisted that the Liberals kept their promises.
"What we showed Canadians was that we are going to do what we said we were going to do," he said.
"Our goal was to be prudent," he explained of the government's low-balled growth projections and its $6-billion deficit cushion next year.
By investing in young people and in a new innovative economy, the Canadian economy can have a higher rate of growth in the future, Morneau said.
"That is what we aspire to do."
"By making the investments we are making, we are on track, we believe, to have a better rate of growth, and that better rate of growth will get us to a balanced budget over five years.
"But I want Canadians to understand our situation. I want to be open and transparent about what the potential upside and what the potential risks are, and I think that's what people expect of us, so they can see that."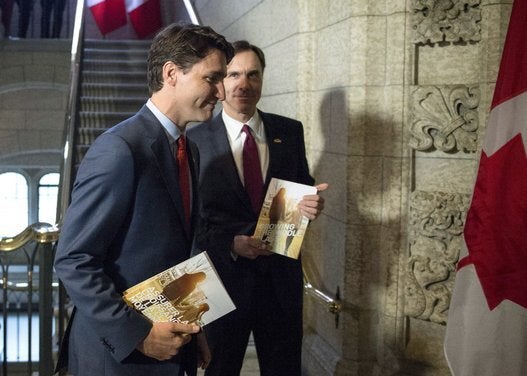 Federal Budget 2016 Highlights