 The Nielsen Company and Billboard released its year-end report for the Canadian music industry this afternoon, one which saw Adele, Celine Dion, Gotye and Carly Rae Jepsen fare quite well according to their data. It also showed that sales overall are down slightly with digital sales increasing and physical sales decreasing. And if you're a jazz fan, well... 2012 wasn't a good year at all.
Overall the industry as a whole saw album sales in total decrease by two per cent. Digital track sales soared 21 per cent in 2012 over the previous year while physical sales dropped 12 per cent. Holiday season albums also didn't fare as well, dropping 12.2 per cent from 2011.
Nielsen reported only three genres saw album sales rise, with a 23 per cent increase in country album sales with moderate increases for alternative and metal categories. Jazz sales suffered the worst, plummeting by a staggering 43 per cent. Finally 2012 was also the very first year that digital sales cracked the 100,000,000 mark with digital track sales at 114.3 million.
The trend in consumers purchasing music in "mass merchant/non-traditional" outlets (places like Walmart and Future Shop as opposed to record stores) rose to 64 per cent, up six per cent over 2011 and 30 per cent higher than it was back in 2006. Meanwhile digital album sales accounted for 34 per cent of all album sales, a massive increase from 2008 when it accounted for only nine per cent.
Adele's 21 album was the Billboard Top Ten Selling Album in the country with 457,000 units sold. The album distanced itself from second place finisher Taylor Swift's Red who sold 240,000. Canadians cracking that category included Celine Dion's Sans Attendre (209,000 units), Justin Bieber's Believe (179,000) and Leonard Cohen's Old Ideas (132,000).
Adele also topped the Billboard Top Ten Selling Artist list (for entire discography) with 534,000 units sold with British boy band One Direction in second (424,000). Dion (267,000), Bieber (240,000) and Cohen (194,000) also made the list placing fifth, sixth and seventh, respectively.
On the digital side, Gotye's "Somebody That I Used To Know" topped the Top Ten Selling Digital Songs with 639,000 units sold. Canadian pop singer Carly Rae Jepsen's "Call Me Maybe" was runner up with 547,000 units and Fun.'s "We Are Young" coming third (507,000). As for one-hit wonder Psy and his "Gangnam Style," the Korean placed fourth (502,000).
In terms of digital album sales, only Mumford & Sons' Babel cracked six figures with 100,000 in sales. Adele's 21 (96,000) and One Direction's Up All Night placed third (68,000). But Adele's 21 again soared over the competition in terms of Physical Album sales with 361,000 units sold. Second was Dion's Sans Attendre (195,000) with Taylor Swift's Red in third (175,000). Bieber's Believe (137,000) and Cohen's Old Ideas (112,000) placed seventh and ninth, respectively.
On the radio side, Gotye's "Somebody That I Used To Know" was the Top 10 Most Played Song with 76,000 "detections." The song edged out Jepsen's "Call Me Maybe" (75,000) with Fun.'s "We Are Young" third (69,000). The only other Canadian to crack the list was Hedley with "Kiss You Inside Out" finishing seventh (60,000).
As far as overall artist airplay, Katy Perry was first (202,000) followed by Hedley (150,000) and Adele (145,000). Carly Rae Jepsen placed eighth with Nickelback cracking the list for the first time in ninth (120,000)
The report also revealed the Top Selling Albums in the Soundscan Era (1995 to 2012). Topping the list was Shania Twain's Come On Over with 1,941,000 units sold. Celine Dion's Let's Talk About Love placed second (1,491,000) with Adele's 21 third (1,394,000). The Beatles' 1 compilation was fifth with Twain's Up! ranking seventh. Sarah McLachlan's Surfacing was the other Canadian to crack the list in ninth spot. The Top Selling Artist was Dion following by Twain and Backstreet Boys. Others making the list (in order) were: Eminem, U2, Beatles, Sarah McLachlan, Michael Buble, Tragically Hip and Andrea Bocelli.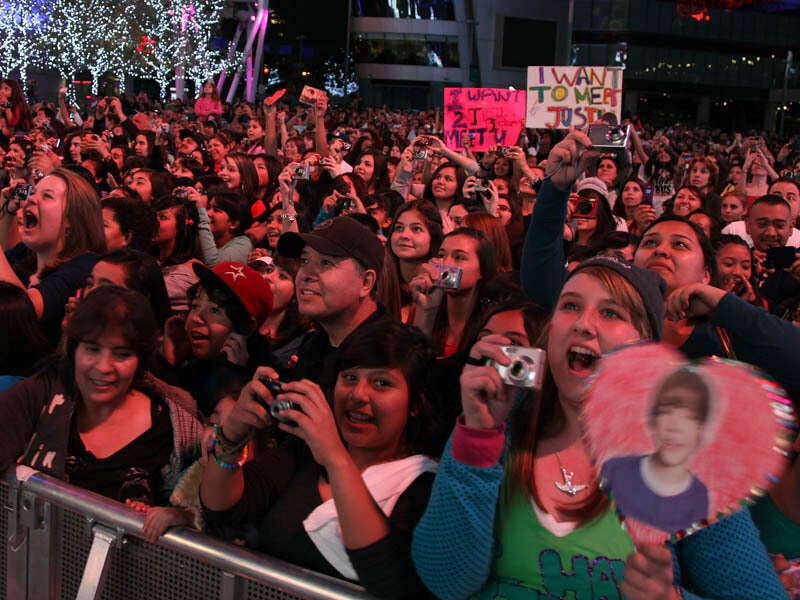 20 Best Justin Bieber Moments Of 2012
THE NIELSEN COMPANY & BILLBOARD's 2012 CANADIAN MUSIC INDUSTRY REPORT
Billboard 2012 Top Ten Selling Albums (Units Sold)
2. Taylor Swift - Red (240,000)
3. One Direction - Up All Night (234,000)
4. Mumford & Sons - Babel (212,000)
5. Celine Dion - Sans Attendre (209,000)
6. One Direction - Take Me Home (184,000)
7. Justin Bieber - Believe (179,000)
8. Various Artists - Star Academie 2012 (156,000)
9. Rod Stewart - Merry Christmas Baby (135,000)
10. Leonard Cohen - Old Ideas (132,000)
Billboard 2012 Top Ten Selling Artists (Units Sold)
2. One Direction (424,000)
3. Taylor Swift (301,000)
4. Mumford & Sons (289,000)
6. Justin Bieber (240,000)
7. Leonard Cohen (194,000)
10. Rod Stewart (165,000)
Billboard 2012 Top Ten Selling Digital Tracks (units sold)
1. Gotye - "Somebody That I Used To Know" (598,000)
2. Carly Rae Jepsen - "Call Me Maybe" (546,000)
3. Fun. - "We Are Young" (502,000)
4. Psy - "Gangnam Style" (476,000)
5. Flo Rida - "Wild Ones" (389,000)
6. Maroon 5 - "One More Night" (374,000)
7. Maroon 5 - "Payphone" (373,000)
8. Fun. - "Some Nights" (368,000)
9. Flo Rida - "Whistle" (364,000)
10. One Direction - "What Makes You Beautiful" (357,000)
Billboard 2012 Top Ten Selling Digitial Albums (units sold)
1. Mumford & Sons - Babel (100,000)
3. One Direction - Up All Night (68,000)
4. Taylor Swift - Red (65,000)
5. Of Monsters & Men - My Head Is An Animal (57,000)
6. Black Keys - El Camino (48,000)
7. Fun. - Some Nights (48,000)
8. Lumineers - Lumineers (47,000)
9. One Direction - Take Me Home (46,000)
10. P!nk - The Truth About Love (43,000)
Billboard: Top Ten Most Played Songs
1. Gotye - "Somebody That I Used To Know" (76,000 detections)
2. Carly Rae Jepsen - "Call Me Maybe" (75,000)
3. Fun. - "We Are Young" (69,000)
4. Maroon 5 - "Payphone" (68,000)
5. The Wanted - "Glad You Came" (68,000)
6. Kelly Clarkson - "Stronger" (66,000)
7. Hedley - "Kiss You Inside Out" (60,000)
8. Katy Perry - "Wide Awake" (58,000)
9. Maroon 5 - "One More Night" (57,000)
10. Adele - "Set Fire To The Rain" (57,000)
Top Selling Digital Songs of SoundScan Era (from Feb. 13, 2005 to Dec. 30, 2012)
1. LMFAO - "Party Rock Anthem" (778,000 units)
2. Maroon 5 - "Moves Like Jagger" (685,000)
3. Adele - "Rolling In The Deep" (674,000)
4. LMFAO - "Sexy And I Know It" (673,000)
5. Black Eyed Peas - "I Gotta Feeling" (656,000)
6. Gotye - "Somebody That I Used To Know" (653,000)
7. Carly Rae Jepsen - "Call Me Maybe" (601,000)
8. Pitbull - "Give Me Everything" (541,000)
9. Adele - "Someone Like You" (522,000)
10. Fun. - "We Are Young" (518,000)
Top Selling Digital Albums Of SoundScan Era (from Feb. 13, 2005 to Dec. 30, 2012)
1. Adele - 21 (310,000 units)
2. Mumford & Sons - Sigh No More (125,000)
3. Mumford & Sons - Babel (100,000)
4. Michael Buble - Christmas (98,000)
5. Coldplay - Mylo Xyloto (98,000)
6. Eminem - Recovery (94,000)
7. Black Keys - El Camino (73,000)
8. Lady Gaga - The Fame (72,000)
9. Coldplay - Viva La Vida (71,000)
10. Arcade Fire - The Suburbs (70,000)
Popular in the Community