When Kate entered an Ottawa-area walk-in clinic for birth control, all she got was a doctor's note explaining "no."
In a post on XOJane, Kate wrote that the note was set on top of a pile of others just like it, each outlining that any requests for birth control, vasectomies, abortions, the morning after pill, or any other form of artificial contraception would be denied due to the doctor's "professional ethical concerns and religious values."
"I only provide one form of birth control, Natural Family Planning," read the letter signed by CareMedics Dr. Edmond Kyrillos. Shocked, Kate folded up the piece of paper and left the clinic to look for another that would grant her access to contraceptives.
"It almost felt like I was doing something wrong. I felt truly embarrassed having to leave in front of a group of people because of something that someone thinks is shameful and not right," wrote Kate about the experience.
On Jan. 29, Kate posted an image of the letter to a pro-choice Facebook group called Radical Handmaids, a name derived from Margaret Atwood's dystopian novel, "The Handmaid's Tale," about women's rights. It was captioned, "So, yes – this is real. Yes, this is a real doctor. No, you are not in a time warp."
Reaction was swift and predictably critical.
"There is no respect in that letter. Just male chauvinism and a deep disrespect for all women," wrote Bika B. Several people in the photo's thread also panned the note as archaic. One man raised the observation that "it's 2014." But others weren't interested in biting the gender and religion bait.
"The issue isn't the doctor's sex or religion. The issue is the failure to provide adequate care to patients because of religion," said Angelica Moreno.
Despite the fiery backlash, Kyrillos acted legally, according to a group that represents Canada's doctors, residents, and medical students. As far as the Canadian Medical Association can tell, Kyrillos was acting well within its policy when he cited moral and religious beliefs as a reason to not offer abortions – but what about the ethics around denying a woman access to birth control?
That's a medical grey area, admitted Canadian Medical Association's Jeff Blackmer, who told the Ottawa Citizen, "We don't expect [doctors] to check their morals at the door; we recognize they will continue to hold personal views."
The newspaper also reported that Kyrillos is one of three doctors at the same company of clinics who deny similar services on moral and religious grounds.
A week after Kate posted her letter, a 27-year-old Catholic patient from the same clinic defended its choice to stick with "natural family planning," saying the health care choice shouldn't make doctors the target of social media kangaroo courts.
"They are not duping women," said Andrea Pawlowsky to the Citizen. "I am quite sure all the women who go there go because they know what they want and they are going there for that reason."
TAKE A LOOK AT THE LETTER BELOW:
What do you think? Is it wrong to deny women access to birth control on moral or religious grounds?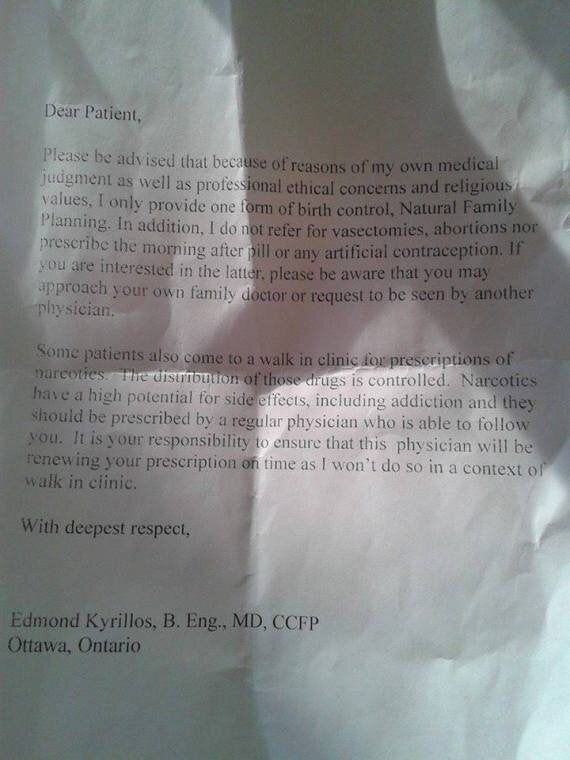 Dear Patient,

Please be advised that because of reasons of my own medical judgment as well as professional ethical concerns and religious values, I only provide one form of birth control, Natural Family Planning. In addition, I do not refer for vasectomies, abortions nor prescribe the morning after pill or any artificial contraception. If you are interested in the latter, please be aware that you may approach your own family doctor or request to be seen by another physician.

Some patients also come to a walk in clinic for prescriptions of narcotics. The distribution of those drugs is controlled. Narcotics have a high potential for side effects, including addiction and they should be prescribed by a regular physician who is able to follow you. It is your responsibility to ensure that this physician will be renewing your prescription on time as I won't do so in a context of walk in clinic.

With deepest respect,

Edmond Kyrillos, B. Eng., MD, CCFP

Ottawa Ontario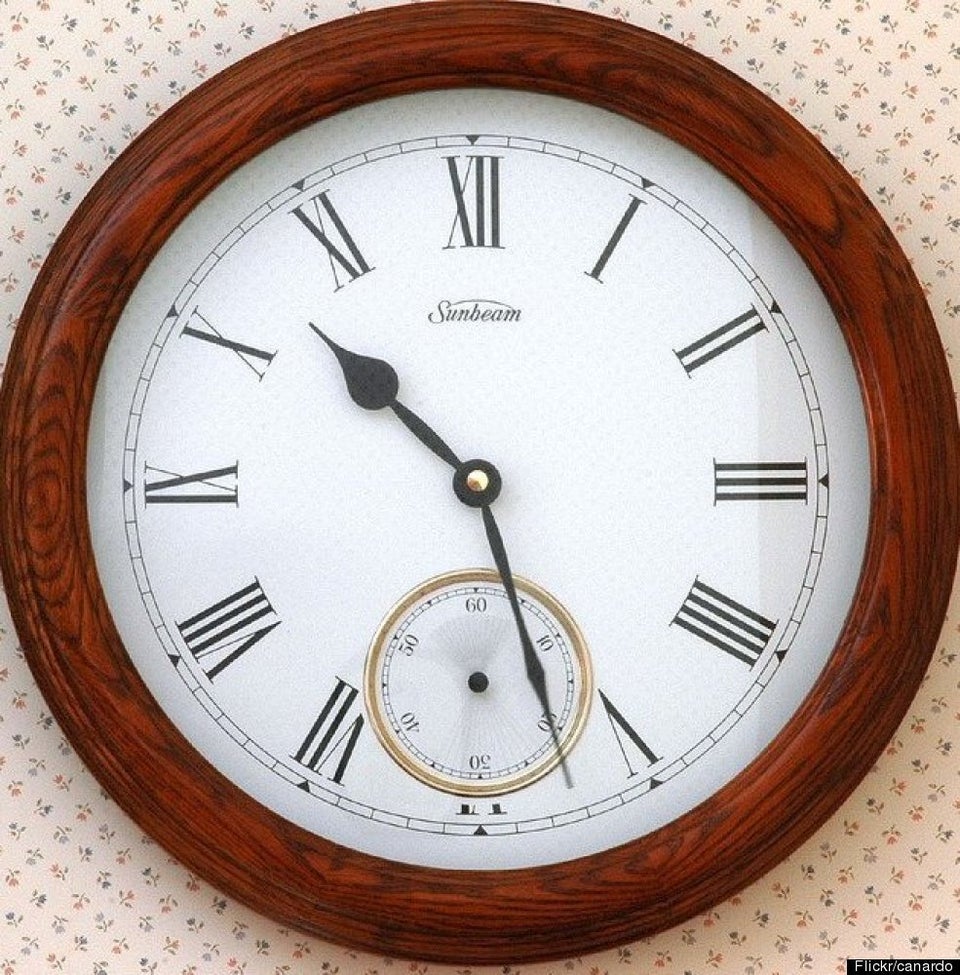 Bad Birth Control Habits
Popular in the Community