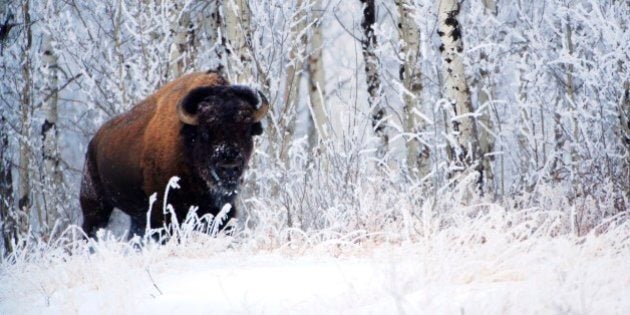 It's been over 100 years since wild bison roamed the hills of Banff National Park, but they're about to make a comeback.
Parks Canada is working on introducing between 30 and 50 wild bison back into to the area by the end of 2017. If the reintroduction is successful, Banff could end up housing one of the largest herds of plains bison in of North America.
"The successful reintroduction of bison into Banff would represent a significant global step towards conserving this iconic species," reads a paper published Wednesday by Parks Canada and the University of Montana.
The International Union for Conservation of Nature said bisons' grazing would play a vital role in the prairie ecosystem. It added that the animals are also cultural icon in Canadian history — which makes the chance to spot the animals in their natural habitat an exciting opportunity.
Marie-Eve Marchand, a member of the Bison Belong campaign, says the news is extremely promising for conservation.
"There's only a few herds [in North America] over 1,000 and this paper says that Banff could hold over 1,200. We're looking at the mid-long term before we even get there. I would say it's probably going to be something for the next generations," Marchand told CBC News.
However, the reintroduction progam — partly funded with a $6.4-million grant from the federal government — doesn't come without challenges.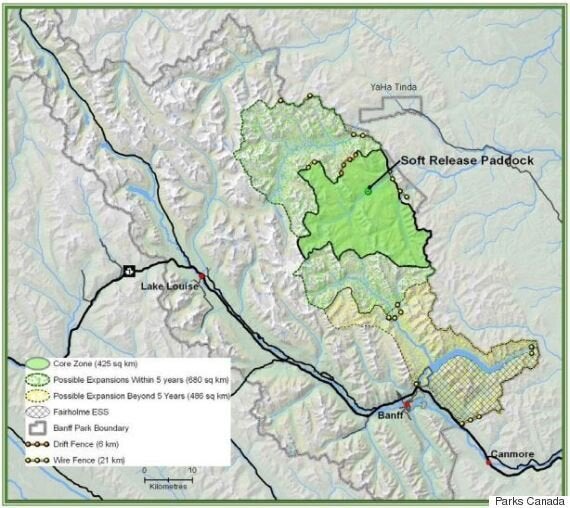 The bison will be released into a 425 sq.-km. zone north of Banff. (Map: Parks Canada)
Parks Canada said it needs to look at how the bison will interact with other animals in the wild, to what will happen if one manages to leave the park — potential difficulties will only pop up more often as the herd grows.
"We are taking our time because we want to make sure we do it right and respect stakeholders," Dave McDonough, superintendent of Parks Canada's Banff field unit, told the Rocky Mountain Outlook.
"This reintroduction effort is potentially going to be really cool."
Concerns aside, the effort is a good sign for future of the animal.
"Bison need areas like this to survive and there's not a lot of areas for bison to expand, especially where they are now, so that's why this reintroduction effort is potentially going to be really cool," Robin Steenweg, University of Montana student and lead author of the report, told the Calgary Herald.