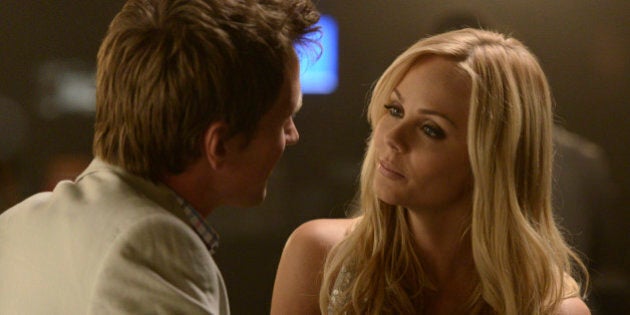 Sharpen those fangs, "Bitten" fans! There will be more to sink your canines into very shortly.
Picking up after an exhilarating Season 1 finale, there will be 10 additional, one-hour episodes for Season 2. Production is expected to begin this summer and will once again be shot on location in Toronto and the surrounding area.
"'Bitten' has been such an exciting addition to Space," said Phil King, President - CTV, Sports, and Entertainment Programming. "When we signed on for Season 1 we knew it was a unique series, and when fans and critics agreed with us, we knew we had a hit. Here's to another season of making great television with our terrific production partners."
"We're thrilled to be a part of the killer team bringing another season of 'Bitten' to the fans," said Margaret O'Brien, President (Canada), Entertainment One Television. "This action-packed series has resonated extremely well with viewers and across social media. We look forward to building upon the success and excitement established in Season 1."
Since its debut in January, "Bitten" has amassed a loyal following with an average weekly audience of 347,000 viewers on Saturdays at 9 p.m., making it Space's #1 original series of all time and the #1 program on Space this broadcast year. Each week, "Bitten" reached more than 1 million viewers, and to date has reached nearly 5 million viewers.
Based on the critically-acclaimed series of novels by Kelley Armstrong, "Bitten" stars Laura Vandervoort ("Smallville," "Ted") as Elena, the world's only female werewolf, along with Greg Bryk ("A History Of Violence," "Rookie Blue") as The Alpha pack leader Jeremy Danvers, and Greyston Holt ("Alcatraz," "Durham County") as passionate Clayton Danvers.
Viewers who have yet to join The Pack can catch encore episodes Sundays at 11 p.m. ET on Space. Full episodes of "Bitten" are also available 24/7 on the Space website. Season 1 in its entirety encores on CTV this summer.