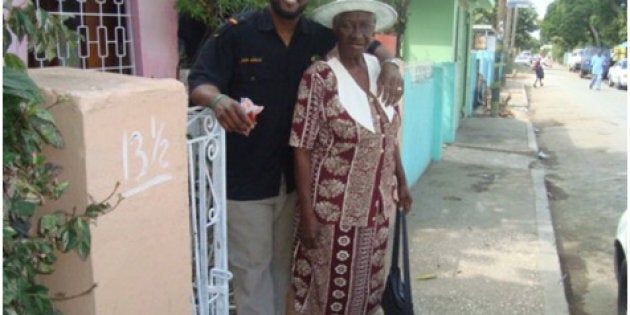 I am the son of a murder victim.
But I'm getting a little ahead of myself. So let me begin, as they say, at the beginning.
I am the only son for my mother Lornalee Anderson and the second of eight children born to my father, Brian Hay. I was born in Jamaica in the late '70s, where I was raised by the combined love and discipline of my mother and grandmother, the indomitable Joyce Hay (my Dad's mother). My grandmother was a devoted follower of her Pentecostal church. She lived in a Garrison community called Maxfield Avenue, in the parish of St. Andrew.
My mother and I called several Kingston communities home during my first decade of life. To this day, I have fond memories of living, exploring and playing in Patrick City and Red Hills. The two neighbourhoods were a patchwork of blue collar and working-class areas.
But my favourite place to be was in the Garrison community my grandmother lived in. I spent a lot of time on Berwick Road and it is here that I the foundation for everything that I do today was born. On Berwick Road I learned the importance of community and the importance of giving your neighbour a piece of the little that you had because he/she had even less. This is where I learned the importance of giving, serving and having faith (in God and my community). All of these valuable lessons were gifts that my grandmother and her neighbours passed on to me.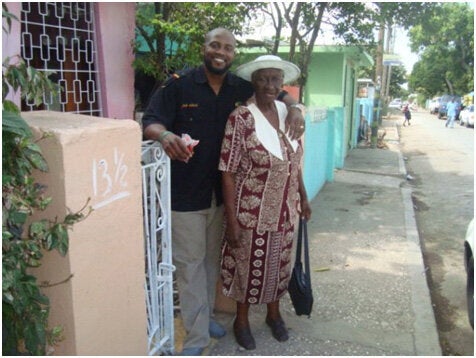 When I immigrated to Canada in 1990 at the age of 10, the culture shock of the concrete jungle that is Toronto took my breath away. Add to that the demotion in class position (my mother, who had a senior position in the banking industry back in Jamaica, was now cleaning banks here in this unfamiliar city) and it is safe to say that my world was turned upon its head.
During this time, my mother was both my rock and my protector. And even though she struggled with me, she always did her best and never left me behind. Even at such a tender age, I was only too aware that her decision to keep me with her instead of leaving me with a relative was one that was not often taken by others in similar positions.
In school the school administration placed me in the English as Second Language (ESL) program -- even though my mother tongue was English. Not surprisingly, the other kids identified me as a suitable candidate for taunting and other forms of abuse -- a situation that was not helped by the fact that my wardrobe options were drawn from Bi-Way and Honest Ed's. I suppose that it goes without saying that during this time, I didn't really get too much love from the ladies.
To say that I was angry at my father for his failure to guide me through what at the time was the most challenging period of my young life would be a gross understatement. He was living it up in Jamaica, while my mother and I were struggling to eke out a new life in a foreign land that seemed more like a prison of snow and skyscrapers than a so-called First World nation.
I can still recall the times when he would call and my mother would have to implore me to speak with him. When I left Jamaica, I called him Daddy, but the passage of time made him almost a stranger to me. By age 15, I didn't know what to call him anymore.
At the age of 16 I got the chance to go back to Jamaica for the first time since I had left six years ago. I still remember the tears that welled in my eyes as the plane circled Norman Manley airport. I can still almost feel the beads of sweat that poured down my face even before the plane's wheels touched the tarmac and how my heart sang when the plane finally landed; and I can still recall the heat of the asphalt on my lips as I knelt to kiss the ground.
My older brother Mark and my Dad were waiting for me in the arrivals area. With joy in my heart, I embraced my brother and shook my father's hand as if he were a stranger who I was meeting for the very first time.
During this trip, the somewhat rocky relationship between my father and me underwent a transformation of sorts. I realized that in order to establish a new relationship with my Daddy, I would have to forgive him for his transgressions. This realization also served to free me from the cancerous effects of the festering bitterness held in the heart of a child abandoned by his father.
During our time together, my father taught me many valuable lessons. He shared, by example, the value of hard work and of defining yourself as you see fit. Time and time again, he emphasized the importance of not allowing society to have the final say in who you thought you were.
Over the years, my father became one of my best friends, someone who I would call to "reason (discuss)" about challenges that I was going through. We talked about everything -- from the difficulties that I faced in my relationship with the mother of my child (now my wife) and finding employment, to what my role is as the man of the house.
He always had an answer that made me feel comforted by the conviction of his words.
And then it all came tumbling down.
On a chilly Sunday morning in March in 2004, I received a long distance phone call from my older brother Mark. In a voice trembling with emotion, he informed me that our father was murdered the night before in a bar that my father had recently opened up.
Our dad -- our father -- was dead.
When I landed in Jamaica a few days after receiving the devastating news, my brother met me at the airport. I was emotionally drained. My brother drove me to the morgue where I viewed my father's body lifeless and stiff, the nine bullets that snuffed out his tomorrows leaving the evidence of their presence across his upper torso.
My dad -- my father -- was DEAD.
It was real now. He was gone. I felt my knees starting to buckle underneath me, as the façade of composure that I fought to maintain gave way to wordless, soul-deep grief.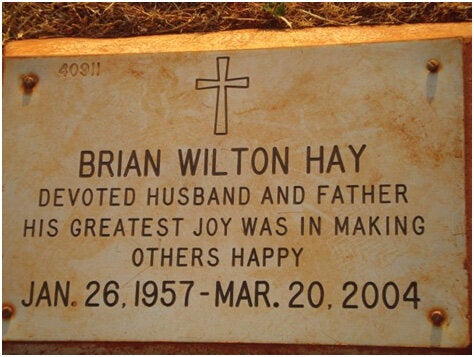 A week after my dad's funeral, I went to the police station in Spanish Town (or "City of the Dead" as my younger brother calls it, due to its alarmingly high murder rate). When I spoke to the detective assigned to my father's case, he told me that my dad was murdered by an 11-year-old boy who was paid the equivalent of $200 CDN (or 30,000 $JDS at the time) to carry out the killing.
And in a tragic instance of karmic justice, this same prepubescent killer was himself murdered by the people who had hired him to execute my father. The detective then informed me that these sorts of things happened more often than he would like to admit and that this pattern, unfortunately, had become a normal part of life in the island of my birth.
So a child had killed my father...and this was normal?!?!?
"NO!" I wanted to scream. this is NOT and never, ever, should be seen as normal!
But the sad truth is that as tragic as my personal story may be, I can draw literally hundreds of similar tales from the lived experiences of the denizens of this fine city here in the pale bosom of a so-called First World nation that casts itself as the envy of the world.
One young Jamaican father who, like me, emigrated at a very tender age, shared his father story with me. He tells me that he had to find it in himself to forgive his father for his many absences, but that he still needed him around, still needed to have his daddy close. So he tattooed his name over his heart -- that way, he would always be with him. Unlike the father whose presence is always in doubt, this father, born in the marriage of ink and needle, would be in his child's life forever.
Another father relates the pain that he felt upon discovering that the man whom he had thought was his father was actually not his daddy. "I just broke down crying," he said, eyes fixed on the floor.
These are stories of father hunger. A hunger that has the capacity to harden the hearts of black boys. Of course, father hunger is not exclusive to black community; indeed, it is an equal opportunity affliction that cripples poor and rich, male and female, black and white. But when that betrayal is played out in a society that has racism as one of its operating principles, the likelihood that acts of seemingly senseless violence (carried out by the black male children of absent fathers) will emerge as the medium through which this heartbreak is articulated increases exponentially.
No matter the area that you choose -- Jane and Finch, Rexdale, Lawrence, Falstaff, Driftwood -- there is a normalization of crisis among the people of colour who call these places home. And although the pattern of vicious racial discrimination has a long and sordid history in this land, with everything from police brutality to the over-representation of black males in the juvenile detention centres and prisons limiting our chances for upward movement in society, I firmly believe that there is still something that we -- the black community -- can do.
More to the point, I asked myself: what can I do?
I saw that we desperately needed programming that spoke directly to our reality. We needed to see men who looked like us -- who had "travelled along our lonely road" -- providing us with the hard-won wisdom drawn directly from their lived experiences. We needed tools that we could use to become the fathers of our greatest imaginings.
We needed to provide an entirely new definition of what black fatherhood looks like, so that our male children will grow up to give their kids a childhood that included access to an emotionally and physically present father.
It is out of the need to address, in meaningful, culturally specific ways, these and other challenges in my community that I created the Black Daddies Club.
I'd love to see branches of the Black Daddies Club in every Black community in Canada, the U.S., the U.K. and throughout the Caribbean.
That, of course, would include Jamaica, the land of my birth and the site where my father was killed.
Imagine for a moment that the child who murdered my daddy had a father who was emotionally available to him. A father who had learned a new way to interact with his son as a result of attending BDC sessions. Do you think that that child would have been as willing to pick up the gun and transform his pain into death-dealing violence?
And what of the young, black men who enlisted the services of that pre-teen hit man? If they had access to a community of BDC-schooled black fathers whose love and compassionate example provided them with a working model of a different way to be a black man, would they have come to view the extinguishing of not one, but two precious, black lives as an incidental matter?
I see the Black Daddies Club becoming an invaluable part of the movement to significantly improve the lives of Canadians of African descent. Until we speak directly to the obstacles that are keeping our children from seizing their birthright -- a loving father who is present in all of the ways that matter -- our future will continue to be blighted by heartbreak, violence, prison and funerals.
It may be wildly optimistic, but like the good Dr. Martin Luther King, Jr., I, too, have a dream. A dream that no Toronto child of African descent will ever again have to begin a presentation with the eight words that introduced me to you in Part One of this two-part article.
Through the work of the BDC, I will do everything in my power to make this dream a reality.