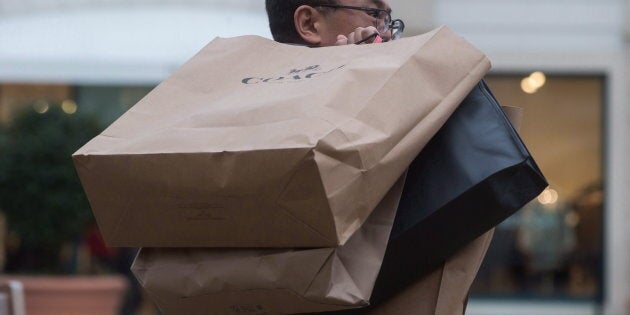 Among Canadians, Boxing Day is out and Black Friday is in, a new survey has found.
The Retail Council of Canada (RCC)'s holiday shopping study, released Monday, shows 40 per cent of Canadians are planning to shop Black Friday sales, compared to 25 per cent who plan to shop Boxing Day deals.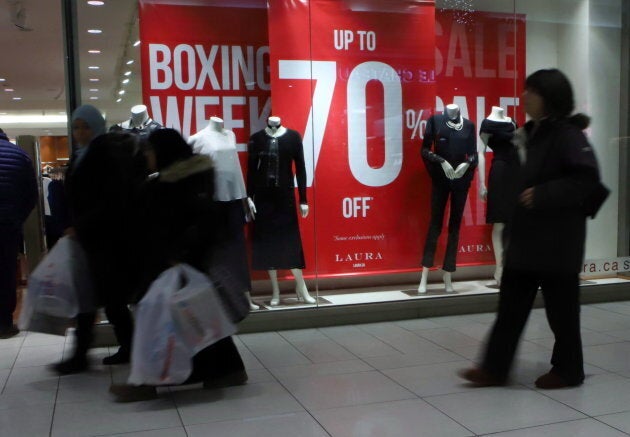 Michael Leblanc, senior retail advisor for the RCC, said Black Friday became popular when the Canadian and U.S. dollars were on par, and Canadian retailers wanted to keep shoppers north of the border.
"Consumers like the fact that there's a holiday before the 25th, so it's an opportunity to shop gift-giving before Christmas," Leblanc told HuffPost Canada.
Leblanc said Black Friday — which this year takes place on Nov. 23 — usually marks the start of the holiday shopping season. Though by that point, 20 per cent of Canadians have already started their shopping, according to the RCC's survey.
John DeFranco, chief commercial officer for Staples Canada, told HuffPost Canada that Black Friday is a "more powerful and higher volume holiday than Boxing Day."
Staples' hottest holiday gifts are technology, but DeFranco said video gaming chairs have also been surprisingly popular.
"Having the best gaming chair to be your best at Fortnite is really important, so we're selling a lot of gaming chairs."
Emphasis on buying Canadian
Two-thirds of Canadians are planning on spending the same amount as they did last year for the entire holiday season, which on average is about $675.
A large majority of Canadians (87 per cent) believe it's important to support Canadian retailers during the holiday season. More than a third of Canadians also said it's more important to buy Canadian this year than it was last year.
Diane Brisebois, RCC president and CEO, said negotiations for the United States Mexico Canada Agreement (USMCA) seem "to have stirred national pride."
"While our shopping habits appear to be shifting and becoming more in tune with our neighbours south of the border, Canadians are showing a greater interest in keeping our dollars at home this year," Brisebois said in a release.
The study was conducted online by Leger with a nationally representative sample of 2,504 adults from Oct. 10-22, 2018 using Leger's online panel, in both English and French. A probability sample of the same size would yield a margin of error of +/- 2 per cent, 19 times out of 20.
Popular in the Community